WITNESS APPEAL - ARMED ROBBERY - FAZAKERLEY
MERSEYSIDE Police are now appealing for information following an armed robbery at a social club in Fazakerley on Monday, 13 September 2010. At about 12.45am two men entered the Holy Name Social Club on Mosspits Lane armed with knives. The men approached the two members of staff and threatened them and demanded cash. They then stole an amount of cash before leaving the club. The staff, although unharmed, have been left very shaken following the incident. The offenders are described as being white men aged in their 20s with Liverpool accents and wearing dark clothing. One was around 6ft tall, of skinny build, with blue eyes. He wore black leather Timberland boots with a grey stripe along the side. Both men had their faces covered by scarves or masks. Police are appealing for anyone with information to contact them on:- 0151 777 4811 or Crimestoppers anonymously on:- 0800 555 111.
Old Swan Shooting, Liverpool
MERSEYSIDE Police have confirm that the 42 year old man who died following an incident on Baden Road in Old Swan on Tuesday, 21 September 2010 was Colin Hughes. Emergency services were called just before 1am. Mr Hughes was taken to hospital but died of his injuries. A post-mortem has now taken place and has revealed that Mr Hughes died as a result of a single stab wound to the chest. The scene has been cordoned off for forensic examination and enquiries are on-going in the area. A high-visibility police presence will remain in the area to provide reassurance to the public. Anyone who witnessed the incident, or saw anyone acting suspiciously in the area or has any other information is asked to call Merseyside Police on:- 0151 709 6010, or Crime stoppers, anonymously, on:- 0800 555 111.
NEXT OF KIN APPEAL - BRIAN GIPP
LIVERPOOL Coroner's Office are appealing for the next of kin of a man who died on Tuesday, 14 September, 2010, to come forward. Brian Gipp, aged 71, was found dead at his flat in Seymour Road, Broad Green, Liverpool. There are no suspicious circumstances surrounding his death. The coroner's office is now trying to trace his next of kin. Any next of kin, or anyone who knows of his next of kin, is asked to contact Liverpool Coroners Office on:- 0151 233 4707.
JOHN PUGH MP PROMISES LOCAL COWS THAT HE WILL VOTE FOR RAINFOREST FREE FOOD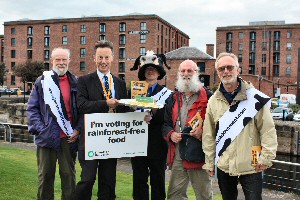 SOUTHPORT'S MP John Pugh took time out from the Lib Dem conference in Liverpool on Wednesday, 22 September 2010, to pose with local campaigners to pledge his support for a new law to halt the environmental damage being caused by factory farming.

John joined a herd of Southport Friends of the Earth campaigners to highlight the hidden chain linking meat and dairy from British factory farms to wildlife and rainforest destruction in South America. Animals in British factory farms are fed soy grown by destroying forests and other natural habitats in South America. The campaigning group was handing out local organic cheese from animals reared on a soy-free diet to show that you can have delicious meat and dairy without trashing the planet.

Friends of the Earth is supporting the Sustainable Livestock Bill and is campaigning for MPs to vote for it in Parliament on Friday, 12 November 2010.

Southport MP John Pugh said:- "I'm backing the Sustainable Livestock Bill because I support a fairer and more planet-friendly future for farming. We must reduce our reliance on imported soy for animal feed which is causing forest destruction overseas – and instead support local farmers to graze their animals, grow their own feeds and get a fair return for their produce."

Southport Friends of the Earth Campaigner Lou Simans said:- "Hundreds of local people have been putting their hooves down for rainforest-free food over the summer. It's great that John Pugh MP will be supporting the local appetite for planet-friendly food and farming by voting for a strong new law that supports British farmers to feed animals a homegrown diet."
Liberal Democrat Conference - Liverpool 2010
SOUTHPORT has been home to many Liberal Democrat conferences, but this year the party has moved to Liverpool, due to the huge interest that now follows them. Many unions and other bodies have also gone to the conference with the intention to express their views. For that reason Merseyside Police liaised with a number of groups prior to the Liberal Democrat party conference to ensure they could protest safely. This type of protest has never followed the Liberal Democrats before and, for some onlookers it shows just how divided the Liberal Democrats are and for others it shows Labour and the Unions attempting to destabilise the coalition that many said would not last. Ever since Nick Clegg was voted in as MP for Sheffield Hallam and found his party plunged into a political landscape like no other before in UK politics, questions have been asked as to whether the Liberal Democrats have not "lost our soul" by going into coalition with the Conservatives. This coalition which has not only made the Liberal Democrats more powerful, but also divided them and in the views of many Unions and other political parties, like Labour, it has made then a soft target and the weak link in the government. So can the speeches by the Deputy Prime Minister and Liberal Democrat Leader Nick Clegg MP speech, on Monday, 20 September 2010, which urged members to:- "hold our nerve," lead to a calming of the political storm? In his address to delegates in the Liverpool Arena and Convention Centre, Mr Clegg defended the partnership with the Tories by saying:- "We confounded those who said that coalition government was impossible. We created a government which will govern and govern well for the next five years. Of course there are those who will condemn us. We are challenging years of political convention and tradition and our opponents will yell and scream about it. But I am so, so proud of the quiet courage and determination which you have shown through this momentous period in British political history. Hold our nerve and we will have changed British politics for good. Hold our nerve and we will have changed Britain for good." So what are your views? Are they correct in what they are doing? Do you agree with Nick Clegg that the Liberal Democrat's should "take risks in government?" and they "will never lose our soul?" Have they lost sight of the true values they stood for or do you agree with Nick Clegg's statement, "We haven't changed our liberal values. Our status is different, but our ambition is the same." It had not been bad news though for Liverpool as it has been in the headlights of national and international media throughout the week. It is estimated by Liverpool Council to have boosted the local economy by £10,000,000.The resultant impact of the intense media coverage focussed on the city has yet to be seen. The event has been hailed as a major success for the city and could see many more Conferences moving to the city.

Deputy Prime Minister and Liberal Democrat Leader, Nick Clegg said:- "Outside of an election, the autumn party conference is simply the biggest and most important event in our party's political calendar. And this year it has been the biggest conference in our party's history. We received an incredible welcome from the people and businesses in Liverpool - the city has been a wonderful host. All the staff at ACC Liverpool, Merseyside Police and many of the hotels around the city have worked around the clock getting ready for our arrival, and I am extremely grateful for everything they've done - they have been great ambassadors for the city. The ACC has been an excellent choice of venue for our first conference as a party of Government in more than 70 years and we are proud to have been the first major political party to hold an autumn conference in Liverpool." Adding to this Councillor Joe Anderson, Leader of Liverpool City Council, said:- "This conference has demonstrated quite clearly the city's ability to successfully deliver large-scale conferences. We now have the infrastructure in place to stage events of all types, however big. But just as important is the way the city's people have reacted to the conference. Regardless of any political affiliations they may have, they always make people welcome and show their pride in their city. Many of the delegates have commented on how friendly, for example, the taxi drivers have been - with one telling us he had taken five taxi journeys and every driver had been fantastically helpful with a great knowledge of the city. We now look forward to the Labour Party conference next year when I am sure we will experience another huge success for the city." Leader of the Opposition, Councillor Warren Bradley, said:- "I know personally from speaking to many of the delegates that they have had a fantastic time here in the city, and have been bowled over by the warm welcome they have received. It was a perfect venue and the many hundreds of people associated with the event from arena staff to police officers deserve praise for their hard work, and for making sure it ran so smoothly. I am confident many of the delegates will return to the city in the future, providing a further boost to the city's economy." Bob Prattey, Chief Executive of ACC Liverpool, added:- "This has been one of the most high profile conferences we have ever staged, given the attendance of the Deputy Prime Minister and the focus of local, national and international media attention both at the venue and across the city over the last five days. It has been a resounding success, with the venue exceeding delegates' expectations and the arrangements for security and event organisation running smoothly. This conference has delivered huge value for the city, not just in terms of visitor spend, but also in the way it has acted as a shop window for Liverpool and all it has to offer as a world-class business, leisure, tourism and investment destination." So please let us know your views... Email us to:- news24@southportreporter.com and lets us know!