Captain America Filming In The North West!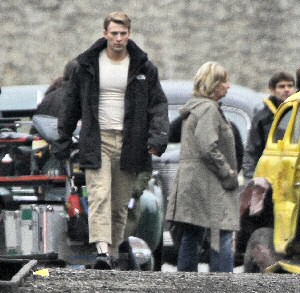 LIVERPOOL and Manchester have been used heavenly for big screen film making by Bollywood for a ling time now, but not many Hollywood films have been shot here. This new film being shot by Marvel Entertainment International Ltd. called "Captain America" is hoped to be the start of many more to come. The last big Hollywood film shot in Liverpool was in 2001 called:- "51st State".
If you do not know the story this is what the latest film being shot is all about. Chris Evans plays Captain America, aka, Steve Rogers. The Marvel Comic character Steve Rogers is too weak for the army in World War II, but still wants to signing up and do his part for his country. So to be able to do his part he enlists to become part of an experimental Super Soldier program and becomes an iconic super hero. The program increases Steve Rogers abilities and his also gives him his fabled shield making him into a weapon called Captain America. He is then tasked to defeat Red Skull and the Nazis before disappearing. This all American icon then goes on to protect the innocent from threats street-level to intergalactic.
From what we have found out in this film the enemy is called HYDRA, an evil terrorist organization that Captain America must stop to save the day, so as we are told... These pictures are of Chris Evans on the set in Liverpool, with the fleet of American period cars on the Liverpool dock. This sequence being shot is believed to be one of the main action set pieces, turning the Victorian docks into 1940's New York. The work turning the area into the set we have been told involves a massive 500 people, that is cast and crew! It took over a year of planning and work on location started in August 2010. We will bring you more soon...! But for now enjoy these shots taken for us by Ian Fairbrother on the first day of shooting in Liverpool on 27 September 2010.
What will come of Captain America now? We will just have to wait to it hits the cinema! Well, we might give you a bit more down the line....

Have anyone seen any of the other cast members in Southport, Formby or Liverpool. If you get a shot of them, email us to:- news24@southportreporter.com. Standard T&C apply.
IS YOUR BUSINESS AFFECTED BY A RENT RELATED PROBLEM?
LIVERPOOL based businesses have reporting an issue that could see many of them closing for good. On the 27 September 2010 we got a call from quite a few worried employees of businesses that are located in buildings that had been owned by Ethel Austin Ltd. The firm acting as the agent for one of the properties, Mason Owen have shocked an award winning business that is just starting to recovering from what they say as having been "year of hell." As of yet, we have not got both sides of the story, despite our best efforts, so we are delaying the publication of it. For now, if you are affected by the administration of Ethel Austin Ltd. and its legacy let us know. At this point we are attempting to get all the information in, but it is not clear as to who is doing what or who can talk. We will be bring you a report in next weeks issue, but for now, if you are affected please contact our newsroom via emailing. also if you know what is going on again please let us know!

SIGN UP to our FREE daily Email News Service (ENS) today on Formby-Reporter.com. If you subscribed now, you can keep up-to-date with what's going on in and around Merseyside. Your email is kept under the UK's Data Protection Act, so you can be sure that you will not have problems with SPAM and we also run competitions on it!