Hundreds of thousands could gain access to Alzheimer's treatments
HUNDREDS of thousands of people with Alzheimer's disease who have been denied medical treatment could soon be given access to life-changing drugs on the NHS. The National Institute for Health and Clinical Excellence (NICE), Thursday, 07 October 2010, ruled that the medications, which cost just Ł2.80 per person per day, are cost effective and should be available on prescription.

The draft decision is a victory for people with Alzheimer's disease and their carers who have campaigned with Alzheimer's Society and other organisations for full access to the drug treatments since they were controversially restricted in 2007.

Ruth Sutherland, Interim Chief Executive of Alzheimer's Society says:- "This is a momentous day for thousands of people with Alzheimer's and their carers. These drugs can help people have a better quality of life at all stages of the condition. While they don't work for everyone, small but important benefits can enable many people to recognise their loved ones for longer, play with their grandchildren or make vital plans for the future. Alzheimer's Society welcomes the draft decision and will now be campaigning for more people to have access to the treatments from today."

If the draft decision is upheld three drugs – Aricept, Exelon and Reminyl – would be available on the NHS for people in the early and moderate stages of Alzheimer's disease. These treatments have up to now been restricted to people in the moderate stages. A fourth drug, called Ebixa, would also be made available to people in the moderate to late stages.

Anne-Marie Cagliarini, Alzheimer's Society's Merseyside Locality Manager says:- "This is fantastic news for people living with Alzheimer's in Merseyside and all over the UK. If this guidance is issued, doctors will be able to prescribe treatments which are in the best interest of their patient. It will also be a strong incentive for GPs to diagnose Alzheimer's disease earlier and will hopefully encourage people who are worried about their memory to visit their doctor. Early diagnosis and intervention mean better choice and control in the support and care available."

Phil Dickinson, 53, from West Derby, Liverpool, Merseyside, is a part-time carer to his step-father, John Williams, 79. Phil says:- "My step-father was diagnosed with Alzheimer's in 2006, having previously been misdiagnosed with Parkinson's. After discussions with medical specialists, I battled for a reassessment. After further tests, my step-father was immediately diagnosed with Alzheimer's and given Aricept. The important thing for us is that Aricept has helped my step-father keep his independence. This new guidance from NICE is great news, as hopefully it will benefit others."

There are 465,000 people with Alzheimer's in the UK and 62,000 people develop the disease every year. In compiling its latest guidance, NICE used a different model to assess the cost-effectiveness of the drugs and concluded they can now be shown to offer value for money. Also NICE is inviting people to comment on the draft decision by 28 October 2010, with a second meeting of the Appraisal Committee taking place on 25 November 2010.
PUB WATCH LAUNCHED IN WEST DERBY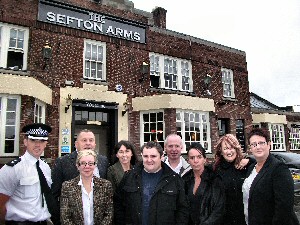 THE eyes are ears of local licensees are helping to crack down on crime in West Derby, as publicans join forces with Merseyside Police to launch a pub watch scheme.

The initiative, is being introduced in West Derby, after members of the local neighbourhood team met with representatives from local pubs in the area, which led to a number of licensees showing their full support by signing up on the spot.

Pub watch links licensees with the police, so that they can tackle an anti-social behaviour or criminal activity together. By working together and sharing information, pub watch will identify problematic customers and the police will be notified immediately. Officers will take positive action against anyone who is acting in a disorderly manner and if necessary banning orders will be issued to deny people entering all pub watch premises.

Neighbourhood Inspector Steve Powell said:- "We believe that this joined up approach will make a big difference in the area. We hope it will reassure local businesses and members of the public that we are committed to taking action against anti-social behaviour and irresponsible drinkers. The scheme is expanding to new premises on a daily basis and we hope in the future to involve local restaurants and shops as well. West Derby is a great place to come and have a drink or a meal and we will be working closely with a variety of partners to make sure it stays that way."

Heather Davis Chairperson for the West Derby Pub Watch:- "The West Derby pub watch will be run with the full cooperation of local pubs, businesses and also Merseyside Police. West Derby is a safe and friendly place where people can enjoy a night out with family and friends."