Detailed planning approval granted for third building at Liverpool Science Park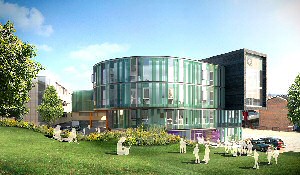 THE award-winning Liverpool Science Park achieved another significant milestone today as the city council planning committee gave the go ahead for a third building at the city-centre site.

'Innovation Centre 3' will play a vital role in the long-term development of Liverpool's Commercial Knowledge Economy by providing much-needed R&D offices and laboratory space to support and retain the region's thriving life sciences sector and to exploit the commercial potential of the city's world class physical sciences research base.

The life sciences sector is already a major contributor to Liverpool's economy, employing over 4,000 people and generating turnover of around £250M a year.

The new four storey 42,000 sq ft building featuring flexible office space, fully serviced laboratories over three floors, meeting rooms and a ground floor café accessible to the public, will complement the nearby MerseyBIO incubator facility, which is currently at capacity.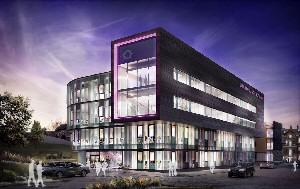 A public and private funding package is now being assembled to deliver the facility, which is anticipated to be in place by March 2011.
Chris Musson, CEO of Liverpool Science Park, said:- "The third building is the next piece in the evolving jigsaw of Liverpool Science Park's unique offering. Receiving detailed planning permission is a key step along the way to realising this third building. These commercial laboratories will enable us to nurture and support the full range of organisations that make up Liverpool's growing knowledge economy and will complement both MerseyBio's existing offer and our planned floor of laboratories in our second building, which we hope to open in the spring. They will be a tremendous asset to the city, further helping to harness talent and create a pipeline of high value jobs. We want Liverpool to be the first choice for science-based organisations."

Gareth Callen, lead architect from Liverpool based Ryder Architecture, said:- "The high quality design of the building has been achieved through the use of a simple, elegant and visually striking palette of materials including natural slate and a glass channel system that complements and enhances the special character of the surrounding buildings within the Mount Pleasant Conservation Area. The mass of the building has been carefully designed and articulated to respond to the visual impact from the Metropolitan Cathedral and open parkland to the north whilst providing a strong and appealing frontage along Great Orford Street. A holistic approach to environmental strategy and sustainable design has been developed that incorporates floor to ceiling height glazing to maximise natural daylight and ventilation to flexible office accommodation. "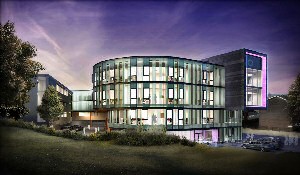 Innovation Centre 3 (ic3) will be built on a 0.55 hectare site over the existing car park of Innovation Centre 1 (ic1), off Mount Pleasant, to the south west of Liverpool Metropolitan Cathedral. It will include 36 under-croft car parking spaces, 30 cycle spaces and newly landscaped areas.
The high-quality design of the building, with floor to ceiling glazing to maximise natural light, mirrors the limestone and slate features of ic1 and compliments the surrounding buildings within the Mount Pleasant Conservation Area.

A double-storey bridge will link ic3 to the existing ic1 building, with visitors being directed to ic3 via the current main entrance of ic1.
Liverpool Science Park - a joint venture between Liverpool Council, Liverpool John Moores University and the University of Liverpool - commenced operational activity in 2006 as a special purpose vehicle to support and drive forward Liverpool's commercial knowledge economy.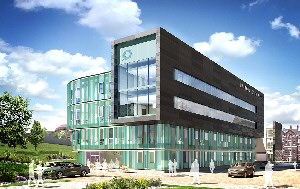 The life sciences sector has been identified as having significant growth potential and the creation of laboratories within Liverpool Science Park is one way of capitalising on this, while contributing towards the Park's long term objective of being market responsive and wholly self-sufficient. Liverpool Science Park, which sits besides its two partner universities, has introduced a number of new initiatives in recent months, including a Soft Landing Centre to attract companies from outside of the region and overseas, and a Graduate Enterprise Centre to help young entrepreneurs launch businesses in the city. Innovation Centre (ic3) is expected to open by Autumn 2012.

For more information about Liverpool Science Park visit:- liverpoolsciencepark.co.uk.
CHARGES LIVERPOOL NORTH - DRUGS OPERATION
MERSEYSIDE Police Officers in Liverpool North have executed 20 warrants on Thursday, 30 September 2010, and made 16 arrests in an operation targeting drug dealers.

This morning's drugs operation centred on the Anfield, Everton, Kirkdale and Walton areas and is a culmination of an extensive policing investigation. The houses are currently being searched by officers and quantities of what is believed to have been controlled drugs, a significant amount of cash, a van and drugs paraphernalia have been seized so far.

Detective Superintendent Tim Keelan said:- "We know that drugs can cause untold damage to communities, individuals and their families and this morning's operation shows our commitment to ridding Merseyside of the menace of drugs which blight our communities. The amount of information that we receive from members of the public has been vital to us carrying out such operations and we would urge local residents to continue talking with officers. We want to send out a clear message that the activity of people who supply drugs will not be tolerated. We hope that be carrying out these raids along with partners, we are showing the community that we will act on all information we receive and give them the confidence to keep coming forward with information."

Merseyside Police have now confirm that the following people have been charged.

The following have been charged with conspiracy to supply Class A heroin and cocaine and have appeared at Liverpool City Magistrates Court, Friday, 1 October 2010.

Wayne Hincks, 27 years of Hillary Road, Kirkdale, Lisa Whitney, 30 years of Hillary Road, Kirkdale, Daniel Murray, 20 of Zig Zag Road, West Derby, David McNally, 22 years of Cherry Lane, Walton, Carl Rutland, 28 years of Yelverton Road, Anfield, Jordan Cahill, 20 years of Leadenhall Close, Everton

The following have been charged with conspiracy to supply Class A heroin and cocaine and on Tuesday, 5 October 2010, they have appeared at Liverpool City Magistrates Court.

Mark McMullen, 20 years of Rector Road, Cabbage Hall, Thomas Parry, 20 years of Harding Close, Everton, Francis Smith, 20 years of Ettington Road, Anfield, Anthony Burns, 21 years of Byng Road, Walton, Stephen Owens, 51 years of Day Street, Old Swan

The following have been charged with supplying heroin and will appear at Liverpool City Magistrates Court on Tuesday, 5 October 2010.

Paul Hough, 30 years of City Road, Walton Michael Walsh, 40 years of Redburn Ave, Toxteth Phillip Pattullo, 30 years of Royal Terr, Southport Anthony Durney, 46 years of Church Road, Litherland Ian Melia, 38 years of Walton Lane, Walton

The following have been charged with supplying heroin and have appeared at Liverpool City Magistrates Court on Friday, 1 October 2010.

James Wilson, 28 years of Agnes Road, Kirkdale Karl Humphries, 45 years of Antonio Road, Bootle Nicola Clare Sample, 38 years of Cotswold Street, Kensington

A 44 year old man from the Anfield area was arrested on suspicion of money laundering and has been released on police bail pending further enquiries.

Anyone with any information about drug dealing should contact Crimestoppers on:- 0800 555 111.
WITNESS APPEAL - ROBBERY, TOWNSEND LANE, CLUBMOOR
MERSEYSIDE Police Detectives are appealing for witnesses after a young woman was robbed of her mobile phone as she walked along a path near Breckside Park, Clubmoor.

Officers in particular want to speak to a man pushing a pram who may have walked past the 15 year old victim seconds after the robbery, or seen the offender running away.

The incident happened as the woman walked along the cinder path from Townsend Lane towards Breckside Park, Tuesday, 21 September 2010, at around 3.30pm.

As she reached the exit of the path a man in his late teens approached her, grabbed her and demanded she hand over her phone. After she did so he ordered her to walk back along the cinder path the way she had come from, while he fled in the opposite direction.

Detective Inspector Paul Heslop said it was important that the man pushing the pram was traced in case he witnessed the robbery. "This was a vicious robbery in which a young woman walking on her own has been robbed by an older teenager in broad daylight and had her mobile phone stolen. I am sure that there will have been other people in the area at the time who may have seen this offender either loitering on the cinder path near the park before he carried out the robbery, or running away afterwards. I would urge people who use this route regularly to cast their minds back to last Tuesday and see if they remember something. In particular, we would urge the man who was pushing a pram along the cinder path at around 3.30pm that afternoon to come forward and tell us what he saw. Does he remember a teenage girl walking past him who was visibly upset, or coming across anyone acting suspiciously further along the path? If so, what he saw could be crucial to us catching this offender."

The offender is described as a white man, around 19 years old and 5ft 8ins tall. He had dark hair with a long fringe and was wearing a dark blue hooded top with the hood up, and black tracksuit bottoms and a black scarf across his face. A man who may have been the offender's friend or accomplice was sat on a wall at the end of the path but no description is available for him.

Anyone with information is asked to call DC Jane Arthur at St Anne St CID on:- 0151 777 4811 or Crimestoppers on:- 0800 555 111.
Swedish government learns lessons from Liverpool
A top team of government officials and civil servants from Sweden are coming to Liverpool to see how the city is tackling environmental, employment and social issues.

The 15 politicians and civil servants from the District of Fosie in Malmo are spending two days in the city on Thursday 7 and Friday 8 October 2010.

The group are coming as a result of a partnership called CoNet in which Liverpool Jobs, Education and Training Service (JET) and Plus Dane Housing are working together to tackle worklessness. As part of the project they share best practice with nine other European cities looking at ways of building and improving communities.

Councillor Steve Munby, cabinet member for neighbourhoods, said:- "We are delighted to be hosting this visit from our colleagues in Sweden. Liverpool has had a lot of success in tackling issues such as crime and anti social behaviour, employment and delivering improved exam results, and we are happy to be passing on the lessons we have learned. It is also an opportunity for us to hear about what they are doing to tackle similar issues in their area and see if there is anything that they are doing that we could implement here."

The delegation will look at the work of the Tackling Knives Action Programme run by the Youth Offending Service, and the DISARM project which is aimed at preventing young people from getting involved in gangs.

They will spend time with the North Liverpool Action Team task force which has been launched to improve life for residents in Anfield, County and Kirkdale.

The group will visit St Hilda's Church of England High School to look at its work as a business and enterprise specialist school, and will also spend time at Vauxhall Children's Centre looking at how it is helping give youngsters the best possible start in life.

They will also go to charity and social enterprise Create UK in Speke, which helps create employment and deal with environmental and social issues, and visit Dingle Opportunities to see how JET and partners work together in the School Gates project to help people into employment.

Sonia Bassey-Williams, Head of Enterprise Development for housing association Plus Dane Group, said:- "Tackling problems like crime and unemployment cannot be done in isolation. The best results come when organisations work together for the common good, to enhance quality of life and offer opportunities for everyone. It is encouraging that people from other nations are coming to Liverpool to see the fruits of this partnership working."