Learning in Union
MERSEYTRAVELS award winning learning and development organisation, Merseylearn will be hosting an exhibition "The Occupation of Crocky Comp" at its Hatton Garden headquarters in Liverpool city centre on Tuesday, 19 October 2010.

Created by Alt Valley Learning Champions in partnership with National Museums, Liverpool, "The Occupation of Crocky Comp" explores how community activism has helped to shape a neighbourhood by charting the progress of a deprived community from North East Liverpool and how they took on the local and national Government to successfully fight a school closure.

The occupation of "Crocky Comp" came about in July 1982 following a campaign to save the school from threatened closure. The occupation attracted national attention and became a beacon for resistance to school closures throughout the country.

The exhibition and drop in session will be open between 3pm to 6pm for members of the public to speak to community learning champions about their work across the city and how their positive influence has encouraged residents, families and whole communities to undertake learning opportunities.

Neil Scales, Merseytravel chief executive said:- "Merseylearn is a key element to everything that we do at Merseytravel – we recognise the value in supporting people to realise their potential and the benefits that increased education can bring. The work that community learning champions do to encourage learning across the community is something that we are happy to support."

Advisors from the national careers advisory service "Next Steps", UK interactive learning project "myguide" Unionlearn and Merseylearn will be available with information and advice throughout the session.
Everton v Liverpool Derby Match Travel Advice
AS part of Merseytravels planned maintenance work in Kingsway tunnel, one tube will be closed this weekend, meaning a contra-flow will be in operation. This will particularly affect those fans crossing the river for Sunday, 17 October 2010's, Premier League fixture between Everton and Liverpool at Goodison Park.

Supporters who are planning on driving to the match are advised to allow plenty of additional time for their journeys, or use Queensway (Birkenhead) Tunnel, which will remain open throughout the Kingsway work. Experience tells us that Queensway operates freely in these circumstances.

Supporters may also like to take advantage of the Soccerbus, which, at just £1 return in addition to the standard Merseyrail fare, connects fans to and from Goodison Park from Sandhills station. Concessionary and prepaid bus and rail pass holders can use this service for free!

A Merseytravel spokesman said:- "We would like to apologise to anyone affected by these works. The scheduled work includes re-laying part of the roadway, and therefore it is unfortunately impossible for the tube to be opened for any part of the day."
MEP welcomes language support for Brits in court
BRITISH citizens accused of crimes elsewhere in Europe are to gain the right to free interpretation services. Liberal Democrat MEP Chris Davies believes that the EU measure will help ensure fair trials and make it easier for British citizens to protect their liberty. Said Davies:- "Being accused of a crime while in a foreign country is a frightening experience for anyone but it is many times worse when you can't speak the language. The EU is adding value to the role of national governments. Free translation and interpretation is a vital safeguard to protect innocent people from having their rights trampled on in the rush to bring criminals to justice."
Dogs Trust Merseyside rehoming appeal for canine buddies Eric and Kane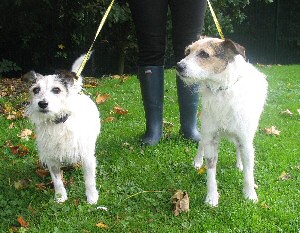 MEET Eric and Kane, two 9 year old Terriers being cared for by Dogs Trust Merseyside, who are sniffing out a special home after their homeless owner could no longer look after them and sadly had to give them up. The canine duo lived mostly in a cemetery and were their owner's constant companions. Staff at Dogs Trust Merseyside are now desperate to see the pair rehomed together and are appealing for anyone who can offer them a home to get in touch.

Georgina Lowery, Rehoming Centre Manager at Dogs Trust Merseyside, says:- "It's touching to see how close Eric and Kane are - they've clearly spent a long time together as buddies. They were loved dearly by their previous owner, but they haven't had a fixed abode, so to be offered a permanent home, however humble, would be extra special for them. They're friendly and inquisitive and just need a lot of love and a bit of time to settle into a new environment. To see them rehomed in time for Christmas would be the icing on the cake for all the staff here as we've grown particularly fond of them in the short time they've been with us. You might think that as older dogs they'd be stuck in their ways, but they have adapted very quickly to their new routine. I suspect it wouldn't take long for them to get used to a charmed life with new owners who can give them the TLC they deserve!"

If you think you can offer this special pair a lasting home, or would like to find out more about rehoming a rescue dog from Dogs Trust Merseyside, please get in touch on:- 0151 480 0660 or visit the Rehoming Centre at:- Merseyside Whiston Lane, Huyton, Liverpool, L36 6HP.