Three fine male choreographers LEAP into unity as part of Homotopia 2010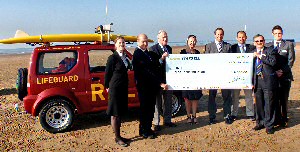 LIFEGUARDS from the Royal National Lifeboat Institution on Merseyside have taken delivery of a £9,000 lifeguard patrol vehicle donated by the Civil Service Motoring Association (CSMA) and financial services provider, LV=Frizzell.

The CSMA, in conjunction with LV=Frizzell, has supported the RNLI for 26 years, purchasing a range of equipment for RNLI lifeboat stations and the lifeguard service throughout the UK.

These include four inshore lifeboats and lifeguard rescue water craft, as well as launching tractors and other lifeguard patrol trucks. The CSMA and LV=Frizzell are also the recipients of the prestigious RNLI Lifetime Achievement Supporter Award for their fundraising efforts.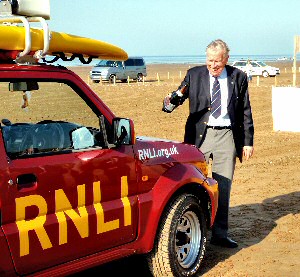 Speaking at the handover ceremony on Tuesday, 12 October 2010, Vice-President and Charity Co-ordinator for CSMA, Tony Richardson, said:- "Our partnership with LV=Frizzell has so far raised over £576,000 for the RNLI and we are delighted to be able to assist the charity with the purchase of a lifeguard patrol vehicle for Merseyside. Much of the money we raise comes from a monthly prize draw for our members and it is their generosity that allows us to support the great work of the RNLI in such a comprehensive manner."

Geoff Eteson, CSMA Chairman, added:- "After 27 years, Tony is standing down as the Club's charity coordinator and I thank him profusely for his efforts, both for the Club and the RNLI, who have benefited tremendously from his commitment and support over the years."

RNLI lifeguards patrolled four beaches on Merseyside for the first time this summer after Sefton Council handed over responsibility for the lifeguarding service to the charity.

The seven-day-a-week service provided by RNLI lifeguards on Crosby, Southport, Ainsdale and Formby beaches matched the service previously provided by Sefton Council who continue to provide financial support. RNLI lifeguards also continue to patrol Crosby beach throughout the winter.

The new lifeguard patrol vehicle donated by CSMA and LV=Frizzell is a Suzuki Jimney, which will be used alongside the services' existing Mitsubishi L200 patrol trucks.

Rory Smith, Deputy Divisional Lifeguard Manager, said the Jimney will be a great addition to Sefton, allowing increased coverage of the lifeguard patrol zones.

He added:- "All equipment provided to lifeguards is done so on the basis of extensive trials to make sure it is fit for purpose. Just as we have a number of classes of lifeboat that perform specific roles, we also have a variety of vehicles to ensure that we have the right tools for the job. The Suzuki Jimney adds to our flexibility and provides a lightweight four-wheel drive that we have found suited to the conditions on Sefton's beaches."

BARNARDO'S FURNITURE SHOP HOLDING VOLUNTEERING EVENT
THE charity Barnardo's only furniture store in Huyton is holding a volunteering day on 26 October 2010 from 11am to 3pm, to offer local residents a valuable insight into the work of the charity, which helps vulnerable and disadvantaged children.

By giving up just four or more hours of their time per week, volunteers help to raise funds towards Barnardo's vital work. The shop's new branch manager, Anne Barry says:- "We very much value the support of people from Huyton and the plan is to make this the area's most successful second hand furniture store. Every year we help thousands of children turn their lives around, but we cannot do it without our volunteers."

The shop is also making an urgent appeal for donations of quality furniture; tables, beds, sofas etc.

"By making donations to our furniture shop on Huyton Hay Road, you will enable us to raise essential funds to support children who are facing extremely difficult issues, such as poverty, sexual abuse and neglect. Every little helps; just £10 a month can help us maintain the 'runaway helpline' for children who have runaway from home, £20 a month can feed a child trying to escape sexual exploitation and £100 can pay for psychologist sessions to help a child rebuild their life after sexual abuse."

For more information about volunteering, call into the open day on at:- 18 Huyton Hay Road, L36 5RT.
To arrange free pick-up of your donation, please contact Barnardo's on call on:- 0151 449 2070.
Institute of Motoring industry drives enterprise at St Hilda's C.E. High School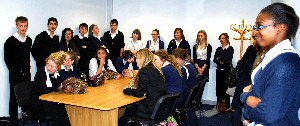 ON Tuesday, 12 October 2010, year 12 pupils at St Hilda's on Croxteth Drive, Liverpool, took part in a brand new Enterprise day, delivered by the Institute of Motor Industry (IMI). The day focused on highlighting the jobs available within the motor industry and how to get them.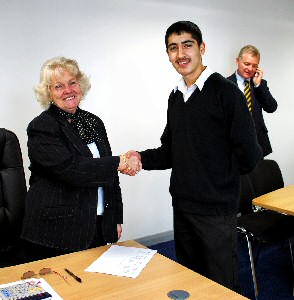 A high percentage of our year 12 pupils are females and traditionally the motor industry is not a sector that they would consider as it's normally perceived as an oil and rag industry. The IMI are keen to change this perception and show young people that the Motor industry can offer so much more.

As part of the day the students had the opportunity to visit Peoples Ford, Speke where they met with Jackie Waterhouse, Director & General Manager and Ian Mc Farlane, Group Marketing Director who spoke to the pupils about the various jobs available within the industry.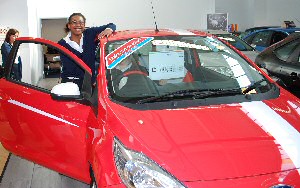 Joanne Poole, Enterprise development officer at St Hilda's commented:- "With the demand for University places at its highest and the job market being so competitive we feel students need to be more informed of opportunities available to them when they leave school."

We hope that the day has enthused pupils and open their eyes to other possibilities not just in the motor industry but in other sectors that they may have dismissed as non-traditional to their sex.

The day concluded with a selection of presentation about the various high level jobs available within the industry.
Run wild for the RNLI at Knowsley Safari Park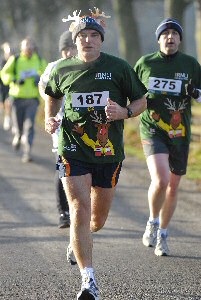 RUNNERS are being urged to run wild for the Royal National Lifeboat Institution (RNLI) at the charity's popular Reindeer Run at Knowsley Safari Park next month on Sunday, 28 November 2010. The Merseyside Reindeer Run is one of a series held throughout the country in the run-up to Christmas and offers both professional and fun runners the opportunity to test their athletic abilities while raising money for the charity that saves lives at sea. RNLI Events Manager, Lisa Rutter, said with more than 900 runners taking part last year, the Knowsley Park event is one of the charity's most popular Reindeer Runs. She said:- "We were overwhelmed with the support we received from people who signed up to last year's Reindeer Run. Lord Derby, who allows us to stage the run in his private grounds, took part with his three children, alongside runners of all ages and abilities who together helped raise a tremendous £15,000 for the RNLI." The 10km and 5km routes take runners through the private parkland of the safari park, while the 3.5km Santa Saunter walk, past the petting zoo and amusement rides, is ideal for little legs. Entry fees for the Reindeer Run are £12.50 for the 10km, £10 for the 5km and £5 for the Santa Saunter. Families are encouraged to raise sponsorship money for the RNLI and join the charity's mascot, Rookie Reindeer, in running with a pair of antlers on their heads! Lisa said:- "The RNLI receives no Government funding and relies on public donations to operate its lifesaving service around the UK coast. Every penny raised benefits our volunteer lifeboat crews and lifeguards and even the smallest amount of sponsorship helps. A pair of gloves for our volunteer lifeboat crew members cost £16 and a pair of yellow wellies cost £42 each, so it's easy to attribute your sponsorship money to a piece of lifesaving kit." All entrants to the Reindeer Run will receive a free pair of reindeer antlers to speed them on their way and a mince pie at the finish line. To register for the Knowsley Park Reindeer Run go to:- rnli.org.uk/reindeer You can also do it via email or telephoning:- 0161 787 8779.