Halloween Spook Tacular - Scare - Fest 2010!
THIS is a unique event for readers of the very best in scares and thrills: An evening audience with 5 great authors who will tell you all about their spooky, scary and chilling books... and we will have hugely exclusive prizes real one offs

"Trapped by Monsters" is a website for the authors who spend their time writing about the dark and mysterious world of fantasy and horror. Four of them are free to lure us into their worlds…

Tommy Donbavand is fast becoming the must read for those that like their chills with thrills and a dash of dark humour. Scream Street is up to book 9 and a TV series is on the way. He has visited Sefton several times and this is a chance for fans to get the brand new book just in time for Halloween.

David Gatward is relatively new he has just two books out in his dark and extremely scary series so far, The Dead and The Dark, but everyone wants to read them and be ready for the finale, The Damned. Can Lazarus Stone turn 16 and still live? David is reminiscent of Clive Barker but has his own chilling vision of what is scarier than…

Jon Mayhew released Mortlock to huge acclaim this year and we are all desperately waiting for The Demon Collector which is out in March 2011, I can say having read an early draft that it is stunning and even better than the debut.
He really brings Victorian Gothic to the 21st Century. A real new talent.

Sam Enthoven is a seriously cool writer; he is a martial arts expert and super funny too. Black Tattoo is a journey to Hell with the most exquisite and disturbing detail, he travels in strange ways… He then wrecked London with Tim, a huge "G.M" T-Rex and nanotechnological bots. Now he takes you to the theatre and scares you rigid with Crawlers a cross between big brother and George Romero with added bite.

Joseph Delaney, Winner of the 2007 Sefton Super Reads, and numerous other school reading prizes and runner up in the Lancashire Book Awards, will join them.

His Spook's Stories are soon to be filmed and we have all grown to love finding out about Tom and Alice and their perilous times in the County.

He has a spooktastic collection of 5 short stories out with Witches and has just released a sensational Bestiary illustrated by the man who created Valhalla, Ulek Heller. This is a must have for fans and will be sought after in years to come.

Get your tickets and come to the Civic for a seriously scary evening of thrills and chills, smoke and lights, readings and a live scary story written on the night.

Thursday, 21 October 2010, at Crosby Civic Hall from 7pm to 9pm. Tickets are from £3 to £5 from Sefton Libraries libraries or Pritchards Bookshops, Formby. Also go to:- prichards-formby.co.uk for more information!
Twilight Fans Take Note!!!!
DO you need something to keep your Twilight fan happy?
Forget Vampires Suck... Yes we have an ideal opportunity... Flying to the UK for the very first time and luckily able to come to Formby is the one and only Lauren Kate.
Fallen and Torment are really really racing and equally racy and ravishing and readable and would make a seriously fantastic present although they aren't vampires... It is all about Angels.. falling from grace and to earth and the consequences there of...
Fallen:- is first and a normal pb at £6
Torment:- is the sequel and the nice larger size at just £8
Send names/details in by close of play TUESDAY to avoid disappointment, although unless we sell out at the 2 schools on the day we will have some able to be done on the day...

This maybe the only chance of getting these books signed bar the Twilight Convention she is at on the Saturday... You can also go to:- pritchards-formby.co.uk for more information!
Sector Security Gets a Buzz out of Schools Project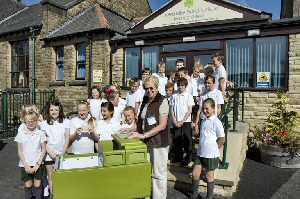 SECTOR Security Services Group Chairman, Margaret Wilson's latest community engagement project harnesses her own infectious enthusiasm for bees and beekeeping by giving schools that extra buzz. Margaret commented:- "The idea is to support the survival of the honey bee in the UK and help to counter the effects of Varroa, a small blood sucking mite that can decimate colonies. We plan to do this by promoting the development of more colonies, introducing schools to beekeeping and educating children and staff about these amazing creatures which are so important to our environment, so the benefits are two-fold."

The first school to benefit from the project 'Get a Buzz out of School' is St.Patricks RC Primary School in Higher Walton. Bernadette Loffler the school caretaker has had a lifelong interest in bees and had been looking for help and advice on how to introduce beekeeping to the children. Unfortunately her initial enquiries weren't particularly fruitful until she came across an article about Margaret Wilson and Sector Security's roof garden beehive in the local press. Having contacted Margaret, Bernadette has been delighted by Margaret's positive response and subsequent support.

Margaret said:- "It is a pleasure to be of assistance. Bernadette's initial enquiry has led to the development of the 'Get a Buzz out of School' project which is very exciting. St.Patrick's Bee Haus is already installed and we will populate it in the spring. In the meantime myself and fellow enthusiasts shall be visiting the school to offer advice, training and talk to the pupils."

St. Patrick's head teacher, Kath Gleave commented:- "Since meeting Margaret it has become clear that projects such as this are essential to help grow the bee population but it is also a wonderful experience for the children and has already stimulated a lot of interest. We plan to run a number of class-based projects about the bees across the curriculum as well as involving the children in the beekeeping and honey extraction process. We are very grateful to Sector Security Services and Margaret for giving the children this opportunity."

Margaret is hoping to carry the project forwards on an annual basis sponsoring a different school each year by providing a Bee Haus, training and support to raise awareness of the bees plight and the benefits for us all of beekeeping.

Anyone interested in becoming a beekeeper and honey production please call Margaret Wilson on:- 01772 794729.
HALF TERM HALLOWEEN TREATS AT BLACKPOOL ZOO
BLACKPOOL Zoo are gearing up for an action packed Halloween themed half term, with tantalising treats in store for visitors and animals alike!

Pumpkin carving, Halloween trails, giraffe feeding, and additional bird displays will all take place from Monday, 25 October 2010 to Sunday, 31 October 2010.

Each day at 1.30pm pumpkin carving workshops will be held in the elephant house. The completed creations will be filled with tasty treats and fed to different animals from 3.30pm.

If last year's results are anything to go by we know that the big cats will go crazy for their meat filled treats whilst the monkeys go mad for the mid-afternoon munchies. There will be prizes galore in the daily Halloween trails and the magical experience of hand feeding giraffes is expected to be a firm favourite with visitors young and old. As an extra special treat the ever popular bird displays are being held every day at 11.00am and 3.00pm.

Jude Rothwell, Marketing and PR Coordinator at Blackpool Zoo, said:- "We have a great programme of events lined up for half term and we are hoping to kick start our 2011 fundraising campaign for the EAZA Year of the Ape with the money from each activity. With so many beautiful apes here at Blackpool Zoo, including our latest addition Meisie the Western Lowland Gorilla, we are proud to be supporting a campaign that is dedicated to the protection of these majestic creatures. Our 2010 fundraising campaign for the Mediterranean Monk Seals was a huge success and we raised £6500 with the help of our generous visitors."

For details on prices for half term activities and how to book please visit:- blackpoolzoo.org.uk.