Mason Owen heralds a Southport retail revival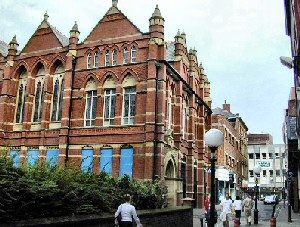 MERSEYSIDE based property agents Mason Owen have spearheaded a retail revival of Southport's shopping district.

Mason Owen has secured a total of eight retail properties in and around the Lord Street area totaling at least £300k in rental income per anum and an impressive 30,000 sq ft of retail space. Furthermore, they are currently working to secure a further two deals.

The spate of signings includes the sale of a 5,960 sq ft retail premises at The Cloisters on Corporation Street to Taskers Sport and Angling for £665,000.

Rob Markland of Mason Owen's retail team said:- "This retail revival is fantastic news for Southport town centre. Southport is an attractive tourist and shopping destination but it has suffered during the downturn. The town has a certain magic and people will always visit the area but it's good to see things progressing."

The lettings secured by Mason Owen in Southport include household names such as Greggs the bakers, frozen food retailer Cooltrader and footwear companies Cushionflex and Famous Footwear. The new tenants also include a number of independent coffee shops on Lord Street including Esquires Coffee and relocation by Ermerson Menswear from Cambridge Walks to Cambridge Arcade.

Mason Owen is working to secure a further two rental tenancies in Southport town centre that are due to be completed later this month.

The news comes at a time when various parties interested in the future of the town centre are looking at a number of schemes to develop the areas retail. Sefton Council, Sefton Chamber of Commerce and Southport Business Enterprise are all looking for opportunities to encourage well known brand names and retail groups to the town.

Town centre manager Steve Booth said:- "These new lettings are positive news for Southport. We need to attract more major retail brands to the area to enhance the shopping experience as well as continue to complement Lord Street and the independent retailers - which will always remain the jewel in our crown. The diverse retail offer in Southport has continued to attract a wide variety of shoppers from around the area and beyond. Southport has an excellent catchment area, with a lot of wealth within the area and we attract millions of visitors every year."
The holiday starts at the Airport as 'Happy Hour Fridays' come to JLA
IN an initiative aimed at bringing the fun back to air travel, Liverpool John Lennon Airport (JLA) are to trial free entertainment, giveaways and flight prizes for passengers travelling through the Airport this Friday, 29 October 2010.

A DJ from world renowned Liverpool nightclub Cream will be on hand from 11am to 7pm, creating a party atmosphere in the Airport Departure Lounge with passengers able to enter a competition for two return tickets courtesy of easyJet, to Brussels, their latest destination to be served from JLA.

A host of retailers throughout the Airport will also be joining in the fun with staff in costumes offering various customer discounts, food and drink tastings and even complimentary hand massages and mini makeovers to help passengers look good as well as feel good ahead of their flights.

The Airport hopes to roll out a year round program of similar initiatives.

Matthew Thomas, Commercial Director for Peel Airports commented:- "Friday is often the day of the week when passengers set off on a few days holiday or a weekend break and we want to give our passengers a departure to remember by putting the fun back in to travelling from JLA on Fridays. We have made a number of big improvements at the airport recently, with work in the departure lounge now nearing completion. This initiative will help to showcase these improvements and is a way of saying thank you to passengers for choosing to fly from here, giving them the opportunity to experience a range of goods and services from various retailers throughout the airport."
Letters to the editor:- "Sweet Charity"
"AS a teenager, the most exciting that Southport's Lord Street gets is beige skirts and pearl earrings. It's not surprising that the majority of the younger generation flock to Chapel Street where H&M and New Look have recently opened, so new that the smell of wet paint still lingers in the air. Until recently chains such as Topshop, Dorothy Perkins and River Island had the monopoly over young customers. These shops draw in consumers with atmospheric Indie music and up-to-date window displays – shopping here becomes an experience, more of a night out than a Saturday afternoon browse.
So what happens to Lord Street while the monster chain stores are guzzling up all the young customers? Presumably, the older generation would stick to their territory, while the 13 to 25 age group would not think to venture beyond Chapel Street. However, creeping up on the radar of fashion's trendiest are the once dismissed charity shops! Yes, that's right. Charity shops were at one time avoided at all costs by the fashion pack; now the edgiest of fashionistas can be found rummaging through rails of Save the Children and Oxfam in search of a one-off piece.

Charity shops are the latest way to update your wardrobe at low prices. A lack of funds has always been an issue for students and young people, making it difficult to stand out from the crowd. The likes of Primark deliver 'fast fashion' but are not unique or made to last. In charity shops however, there is always the possibility of finding a wonderful designer label. With a bit of updating (new buttons, shorter hemlines) a garment can look like it's fallen off the catwalk at London Fashion Week.

A major obsession at the moment is vintage; Lily Allen and her sister Sarah Owen are in the midst of setting up their own business, 'Lucy in Disguise,' which rents and sells vintage outfits. With influential people embracing all that is 'old', females are practically running into these shops to snap up pieces from yesteryear. For consumers who don't wish to pay these inflated prices, you can always snaffle a bargain at one of the many charity stores.

Not only are charity shops useful for providing garments and accessories, but they are vital money-raising organisations. Many charities are desperate for donations and need every penny they can get, so there is also the satisfaction that comes with helping those in need. The next time you stroll past a second-hand shop, stop to consider that inside there may lie a retro eighties jacket similar to the one you have been coveting in the glossy magazines. For teenagers there is no need to worry about saving for months for that Zara dress or Mango skirt. Charity shops are coming to the rescue!" Lydia Tomlinson aged 15.
Trading Standards Warns About Rogue Doorstep Traders
TRADING Standards officers in Sefton are backing a national campaign which highlights rogue doorstep traders offering winter home improvement services. The Office of Fair Trading and Age UK have joined forces to warn people, particularly those in later life, the vulnerable and their friends and family, of the problem as winter approaches. The awareness drive highlights the financial risks of being scammed and the emotional toll it can take. It is being supported by resident agony aunt at ITV's 'This Morning', Denise Robertson.

She said:- "I receive many letters from people who have been swindled by illegitimate doorstep handymen. They often feel too embarrassed to talk about it, even with their closest family and friends. I hope that by bringing this issue into the open, people will feel more comfortable to talk about it and also more confident, if they are approached, to say no or ask for time to consider, rather than agree to work on the spot."

While canvassing on the doorstep is not illegal and there are many legitimate businesses selling to people in the home, rogue doorstep trading is an ongoing problem in the UK. Last year, advice service Consumer Direct received more than 5,300 complaints about traders offering home maintenance work on the doorstep, a 16 per cent rise from the previous year.

Sefton Council Trading Standards manager, Andrew Naisbitt, said:- "Only in the past couple of weeks we have had complaints from residents in relation to callers turning up on the doorstep offering services. Some residents have also been contacted over the phone. These have been in relation to roofing repairs and selling alarm systems, the type of services people consider as winter approaches. Work or service carried out by these traders is sometimes unnecessary, of a poor standard, much more expensive than originally quoted or not done at all. Our advice is to try and ignore such sellers. If in doubt, call Consumer Direct on:- 08454 040506 or visit their website."