Studio Liverpool....... are you ready?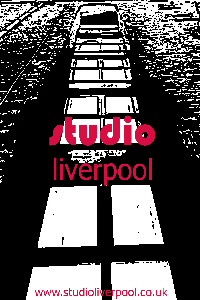 THE challenge is out, November 6 is the day that the doors are thrown open of studio Liverpool, a hub for all that is creative and vital in live performance.

Liverpool has a wealth of new and emerging talent, scattered near and far, always looking for fresh challenges and new audiences, studio Liverpool's mission is to bring all this talent together under one roof; theatre, music, open mic and spoken word, new writing, Shakespeare, modern classics, modern vaudeville and so much more....and that's just to start with....

studio Liverpool is modelled on and twinned with studio Salford, the M.E.N award winning fringe theatre and performance venue housed at The King's Arm's in Salford. A by word for all that is essential and compelling in fringe theatre, studio Salford has seen work created and developed under its roof go on to play to critical acclaim at The Lowry studio and The Library Theatre.

studio Liverpool seeks to use this model in its theatre program, with 2 in house companies to begin with (Falcon Productions & Trickster Theatre) studio Liverpool will seek to invite 3 more Liverpool based companies to join as in house companies, giving them the platform to develop their work with the support that studio Liverpool can provide.

Also....Embryo, the ever popular modern vaudeville night pioneered by studio Salford will have another home from December 2010, every 6 weeks or so studio Liverpool will host Embryo, giving artists and performers, musicians, film makers, animators & poets, comedians and writers a platform to try out their work in 10 minute slots, get audience feedback (always passed on, good or bad!) and develop their work in a tangible way.

Our final (for now) service is venue hire, studio Liverpool is in the unique position to generate revenue and finance its work by offering the space for hire; rehearsals, performances, conferences or private functions, the space is multi functional and available at competitive rates for everyone.

More to come on our official launch night....6 November...are you ready? info@studioliverpool.co.uk.
Littlewoods.com and Coleen Rooney Search for Great British Design Talent
LITTLEWOODS.COM and Coleen Rooney are carrying out a nationwide search to unearth the very best of British design talent, ahead of a showcase at the Pride of Britain Awards on:- Monday, 8 November 2010.

Mums and their families are being offered the chance to see their very own designs brought to life in this unique search. Coleen and Littlewoods.com are inviting them to create an outfit that they feel encompasses what makes them proud to be British inspired by the colours of the Union Jack. Whether it is a flowing summer dress or a new uniform for the NHS, the outfit will show off the best of British pride.

Littlewoods' style ambassador Coleen Rooney will be judging the nationwide search and declaring three winners. The winners from across the country will be invited to attend the star-studded Pride of Britain Awards where the designs will be unveiled and brought to life with an overall winner being crowned.

Littlewoods.com are proud sponsors of the Pride of Britain Awards this year, the ceremony takes place on the 8 November 2010, and will, for the 12 year running, bring to life the extraordinary stories of bravery, kindness and endeavour that go on day–to-day in our local communities.

Visit:- littlewoods.com/prideofbritain for more information on how to be in with a chance to not only win a wardrobe for the family worth £750, but attend the Pride of Britain awards, meet Coleen Rooney and be crowned the winner of 'Proud to Dress Britain'.
LIVERPOOL LAUNCHES TURNAROUND CRUISE CAMPAIGN
THE Leader of Liverpool City Council has launched a campaign to gain turnaround status for the city's Cruise Terminal and help drive the regional economy. Councillor Joe Anderson has written to The Rt. Hon Mike Penning MP, Transport Minister responsible for ports, calling on the new government to overturn last year's decision that prevents the publicly-funded Mersey facility from expanding its day visit business and creating much needed private sector jobs.

The campaign, which if successful would more than double the terminal's £6m a year economic impact, comes in the wake of a change at both local and national government and two major developments, since Liverpool's first submission was rejected, namely:-

1. The May 2010 European Cruise Council report which shows Liverpool's UK market share as a turnaround terminal at maximum capacity would be just 3% - half of what was stated in its original submission.

2. The confirmation by Fred Olsen Cruises that they will dramatically reduce their operation from the Mersey at the end of Spring 2011.

Councillor Anderson is inviting the Department of Transport to consult again with competing UK ports and cited the Prime Minister as a supporter after his call to arms for cities to drive the UK economy and for recently praising Liverpool as a 'role model' to the country for its rebirth as a major tourism destination.

Councillor Anderson, who currently chairs the Liverpool City Region Cabinet, said:- "This campaign is not just Liverpool's - this terminal has the potential to be the North West's gateway for cruise holidays. From today I will be calling on the support of all councils and MPs from Cumbria to Cheshire to support a cause which will reap economic dividends for the whole region –and one which would make the start of a cruise holiday for thousands of people a more relaxing and less costly prospect. For the spiritual home of the maritime industry, last year's rejection to turnaround status was a real kick in the teeth to Liverpool – but the evidence for this was fundamentally flawed and the economic and political landscape has since radically altered in our favour. In the current economic climate it is essential that Liverpool is allowed to develop its port infrastructure for the maximum benefit of the city and the rest of the region. The restriction currently imposed upon the terminal is hampering the style of sustainable economic growth Prime Minister David Cameron is calling for. Turnaround cruising from Liverpool will also be in addition to, and not instead of, current levels of business from other UK ports so there are additional benefits to the UK balance of payments. This is a genuine opportunity for the public and private sector to stimulate the kind of growth which will be of benefit to the whole country and I urge the Department of Transport to grant the permission required.''

The City of Liverpool Cruise Terminal was opened in September 2007 after receiving a £15m European grant. It has since handled more than 70 visits by some of the biggest cruise and navy vessels in the world such as Cunard's Queen Mary II and the Ark Royal, collectively carrying 100,000 passengers and crew which in turn has attracted 300,000 visitors to the Mersey waterfront and generated an economic impact of £20m.
Lord Mayor launches Poppy Appeal
THE Liverpool Lord Mayor, Councillor Hazel Williams will launch the 2010 Poppy Appeal on Saturday, 30 October 2010, in the shadow of a WW2 Spitfire.

To commemorate the 70th anniversary of the Battle of Britain, the backdrop to the poppy launch will be the fighter aircraft, flown by the RAF during the Second World. The hero of the skies will be on display at Liverpool One all day.

Large crowds are expected to gather as the Lord Mayor presents Merseyside's first poppy to a member of the University of Liverpool Air Squadron.

Councillor Hazel Williams said:- "It is important that we never forget the sacrifices that our armed forces made, and are still making today. I urge everyone to wear a poppy and show their support for Liverpool's Poppy Appeal. The Royal British Legion works tirelessly to benefit those who have suffered, and who still suffer as a result of war."

Royal British Legion County Manager for Merseyside, David Murray, said:- "The Royal British Legion stands shoulder to shoulder with all who serve now and in the future for as long as it takes. The past nine years of conflict have increased the need for our help both today and for years to come."