Christmas Dinner Just Got Potty!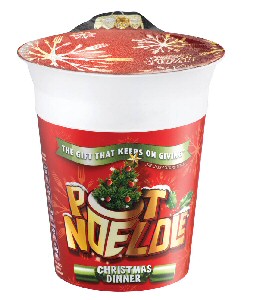 THIS year forget roasting the Turkey, you can now have it done within minutes. No it is not in the Microwave! It is hard to think that back in 1977 the snack was thought of as exotic. If you go by the story of the convenience told by the original manufactures Golden Wonder, the idea came from Japan's love of 'cup noodles'. Now this product has grown into a massive range of flavours and is now owned by Unilever. Its factory in the Welsh town of Crumlin in South Wales is thought to produce a staggering 155 million pots every year! Many of us in the UK have grown up with Chicken and beef flavour, and many others, including the newer flavours Asian style, Posh Noodle, the incredibly hot Bombay Bad Boy and Sizzling Bacon, but the latest has captured the attention of world wide media! So what is the connection? In a press release marked:- "The First Noel-Dle", Pot Noodle unveiled to the world press its new festive flavour to spread goodwill to British troops... Yep, on 25 October 2010 the company launched its new flavour, Pot Noeldle, Christmas Dinner In A Pot. This Pot Noodle is in honour of the Royal Air Force and as a result all sales of this new flavour is in will see 2p donated to help give troops overseas more call time to their loved ones over the Christmas period, via RAF Association's Wings Appeal to support their 'Miles More Minutes' project. The snack is now available in all good supermarkets from at the cost of £1.10p RRP. So what was the connection with the RAF? The Pot Noeldle was originally developed and trialled last year for personnel serving on 27 Squadron, RAF Regiment with the help of national radio station Absolute Radio and it's breakfast show host Christian O'Connell. Sgt Ian Hobbs, a member of the RAF Regiment, got in touch with the Christian O'Connell Breakfast Show and revealed Pot Noodle was a real home comfort for the troops who were missing home at Christmas.

Head of RAF Licensing, Squadron Leader Stuart Balfour, said:- "We are all really behind the new Pot Noeldle. The snack is enjoyed by so many of the troops and it's great to know that every pot sold will help them keep in touch with loved ones at what is a really important time of the year."

The Christmas dinner flavour contains a festive fusion of turkey and stuffing with all the trimmings. Not content with a great tasting Christmas dinner in four minutes the Pot Noeldle also includes a foil lid that doubles up as a Christmas bauble, six collectable Christmas jokes, and a mulled wine sachet…!

Brand Manager for Pot Noodle, Tom Denyard says:- "We're especially proud of the Pot Noeldle, it's been 12 months in development, with several taste tests involving the troops themselves. It's the first time we've produced a flavour from a home-grown story."

Absolute Radio Breakfast Show Host Christian O'Connell said:- "I'm looking forward to seeing Pot Noeldle in the shops, what started out as an idea on a radio show is now on the shelves- it shows the power of the people!"
NAAFI TURNS BACK THE CLOCK TO CLASSIC RECIPES
AS the nation prepares to turn back the clock on the night of 30 October and morning of 31 October 2010, NAAFI (Navy, Army & Air Forces Institutes) is encouraging people to take a 'NAAFI Break' during the extra hour and serve up traditional war time recipes to welcome in the dark nights.

To coincide with its 90th birthday and the clocks going back, NAAFI has re-introduced seven reliable recipes which were originally published in its Imperial Club Magazine in 1940. The dishes proved to be real winter warmers in wartime Britain and in these challenging economic times, may help many people to appreciate how wartime families were able to provide square meals despite rationing.

The seven dishes – originally introduced to help people get the most out of meagre meat supplies - were sausage pie, vegetable pie, cheese pudding, rice and cheese pie, liver a la Francais, kidneys with mushrooms and sugarless cake.

The recipes, recreated exactly as they were in 1940, are available online at:- naafi.co.uk

Reg Curtis, NAAFI Chief Executive Officer, commented:- "With the dark nights and cold weather now upon us, we're encouraging families across Britain to turn back the clock and try one of these original wartime recipes. These were often used in staff canteens and military bases as well as in the home and with meat heavily rationed during the war years it was necessary to introduce a selection of dishes. We have reintroduced some tasty yet very traditional recipes from over 70 years ago to coincide with our 90th anniversary and we hope that these dishes will stir a few memories for many people, as well as tickling the taste buds of a whole new generation."

Since NAAFI's formation in 1920, the daily NAAFI Break has long been associated with a period of downtime; a chance to unwind over a cup of tea and a bun, catch up with friends or take a glance at the daily newspaper. Today the term is still commonly used and 189,000 British servicemen and women on duty around the globe still take time out for a NAAFI Break each day, with 300,000 cups of tea brewed up in Afghanistan alone.

Reg said:- "For Forces personnel serving in theatre, the daily NAAFI Break is a vital part of their busy working day. In the context of Force's life a NAAFI Break is much more than a tea break – it is a vital link to the familiarity of everything that is British, providing a real, heart warming, taste of home."

2010 marks a major milestone in the history of NAAFI, as the not for profit organisation and British institution celebrates its 90th anniversary this year. Since its inception, over 550 NAAFI staff have paid the ultimate price for their loyalty to serving the Services and the organisation has organised a number of events this year to commemorate their staff, both past and present.
To find out more about the official trading organisation of HM Forces, providing retail and leisure services to the services go to you can visit their website at:- www.naafi.co.uk.
If you served and have any memories of the NAAFI please do email them to us at:- news24@southportreporter.com.
Editorial note:- Mind you despite them being 90 years old we cant see why the idea in The Goon Show, that the NaffI should became "The Jet Propelled Guided NAFFI." ever court on... Also the drains never got fixed in Hackney...