LIVERPOOL MAN NAMED NATIONAL FINALIST IN INSPIRATIONAL AWARDS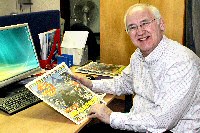 WHEN Tom Dowling was 20 years old he had the world at his feet, but little did he know a horrific accident would change his life forever.

Tom, who now runs a charity newspaper, has been named a National Finalist in the 2010 Barclays Trading Places Awards, which recognise people who have beaten the odds to succeed in business.

Thirty-six years ago, Tom was returning from an overland journey to the Himalayas with three of his friends, when they became the victims of an armed robbery on the roadside in Iran. One of his friends miraculously recovered from being shot in the head, but the bullet that ripped through Tom's back left him permanently paralysed from the chest down and confined to a wheelchair.

Tom, who comes from Liverpool, was a young reporter at the time and counted himself lucky that with the support of his family and friends, he was able to pick up the pieces and rebuild his life. He soon realised that apart from the physical and psychological challenges facing families affected by disability, the biggest obstacle was the lack of relevant and readily available information to help them.

Determined to do something about it, in 1983 Tom started a column in the Liverpool Echo called I Can Do That! specifically to address disability issues. The column was an immediate success, becoming the Echo's longest-running feature, and in 1997 the paper decided to launch a new publication with the same name, and appoint Tom as editor.

Seven years later, I Can Do That! was finally closed for commercial reasons but Tom refused to give up on the idea. He left the company and set up a new charity called All Together Now! to produce a bi-monthly publication and online magazine covering health and disability issues.

With 60,000 copies distributed free to more than 400 outlets across the North West of England, All Together Now! has also helped to raise awareness amongst the general public. Copies can now be found in mainstream venues such as garden centres, museums, visitor attractions and libraries, as well as in hospitals and health centres.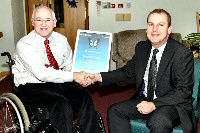 Steve Cooper, chair of the judging panel and Managing Director, Barclays Business, said:- "The Barclays Trading Places Awards are a celebration of people who, in spite of great personal challenges, have taken steps to establish a sustainable business and in doing so, changed the direction of their lives for the better. I congratulate Tom on becoming a National Finalist and hope her inspiring story will prove to other people in Liverpool that self employment can be possible if you've got a dream and the guts and determination to succeed."

Mark Prisk, Minister for Business and Enterprise, added:- "I am delighted to have the chance to support the Barclays Trading Places Awards. These awards are a great opportunity to celebrate the accomplishments of people who have set up their own business in difficult circumstances. The Government is committed to helping make the next decade the most enterprising in history. The Trading Places entrants are an inspiration to everyone and embody the best of the UK's entrepreneurial spirit. I would like to congratulate all those involved and wish you the greatest success for the future."

Barclays will present the overall winner with a cheque for £10,000, and the runner-up with £5,000 for their business at a prestigious black-tie gala dinner at The Savoy in London on Tuesday, 30 November 2010. Awards supporters Microsoft and Yell will also be offering tailor-made packages for the 10 National Finalists, including the latest business software and special multi-media advertising packages. This year there is also a special award and a cheque for £3,500, courtesy of Barclays, for the Trading Places finalist whose business is helping local people by putting something back into the community. Other Awards partners include youth charity The Prince's Trust, Leonard Cheshire Disability, the NFEA, Crisis, PRIME, and the cdfa.
New survey shows employers cracking down on sickness absence
AGAINST a background of recession and looming widespread job cuts many employers are tightening up their sickness absence procedures, while sick workers are increasingly reluctant to take time off for fear of being sacked or made redundant.

These findings are confirmed in the results of a survey of union reps and safety reps carried out by the Labour Research Department (LRD) In October 2010 to establish up-to-date information and trends relating to workplace sickness absence and sick pay procedures.

Many of the changes reported to LRD were designed to make sickness procedures tighter and in some instances, potentially harsher in operation. Examples of the kind of penalties reported include:-

► loss of up to the first two days of sick pay where absence target is not met (private sector: food manufacturing, print journalism)

► cut in year-end bonus entitlement if individual sickness record falls below target (private sector: manufacturing, financial services, technology)

► loss of contractual sick pay if an individual is off sick on more than three separate occasions in a calendar year (private sector: journalism)

► loss of contractual sick pay once the employee reaches "Stage 2" of an absence procedure (private sector: fast food retail)

► loss of contractual sick pay if off-sick for more than four days a year (local council)

► loss of a proportion of a six-monthly attendance bonus and annual profit share (private sector: technology)

► managers setting "zero absence" targets (private sector: financial services)

► cut in Christmas bonus (construction: private sector)

► cut in wages by one Grade for a maximum of six months following more than three absences in any rolling 12 month period. (construction: private sector)

The survey results have been used to illustrate a detailed new LRD guide, Sickness absence and sick pay — a guide for union reps, which also examines the rise of "presenteeism" (coming into work when ill), the debate over public and private sector absence levels and the need to uncover the underlying causes of sickness absence, as well as absence management policies, changes introduced as a result of the new Fit Note and employees' rights to sick pay.

The booklet also looks at special circumstances that regularly occur in relation to sickness absence, such as pregnancy sickness and sickness related to a disability, focusing in particular on the impact of the Equality Act 2010. It also contains information about changes to the law governing sickness absence and holidays.
Do your kids like Chocolate?
THE Chocolate Cellar on Hanover St. next to Liverpool One is holding a fantastic Chocolate Workshop. So if your kids like chocolate, get their name down fast... on 28 November 2010, the award winning venue will be hosting a 1 hour workshop for children aged 6 to 16. The "Advent Calendar Workshop" only has a few places are left.
As you can see in the video, the adults fully enjoyed it... The kids will truly love it! So if you want to know more or want to book your kids places visit:- chocolatecellar.co.uk today...
You can also call in to the shop on Hanover Street, Liverpool 1. from