DINOMANIA REMINDER!
AN 80 million year old dinosaur egg went on display at the World Museum in William Brown Street, Liverpool, on Thursday, 18 November 2010. This heralds the arrival of Dinomania! This was the first appearance in Europe of a 14ft long T Rex, that is coming to roam around this very museum in December.

Forget the film, 'Night at the Musuem', this is no ancient curse causes the animals and exhibits to come alive... This is your chance to come and meet Rex, the juvenile Tyrannosaurus Rex during four days of prehistoric hysterics from 2 December to 5 December 2010... and it is all for free!

The animated dinosaur has been a sensation in the United States and Australia where it has given thousands of people the opportunity to see a walking, moving T Rex.

To get visitors in the mood, the dinosaur egg has reappeared on display, for the first time in decades, at World Museum. It is one of 25 eggs laid by an Oviraptor – a small dinosaur that lived in Mongolia.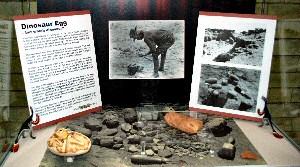 The nest was discovered by renowned palaeontologist Roy Chapman Andrews in 1923. Andrews was a flamboyant explorer said to have inspired the Indiana Jones film character played by Harrison Ford.

The egg comes from the late Cretaceous Djadochta Formation, a geological area rich in fossils. It was presented to the Liverpool Free Public Museum (now World Museum) in 1929.

Dinomania! features the T Rex making regular appearances throughout the day between 1000 and 1700 hours on Thursday, Friday, Saturday and Sunday (2 December to 5 December 2010).

In addition, Dino-nite at the Museum features face-to-face meetings with T Rex between 1730 and 2130 hours on Friday and Saturday, 3 December and Sunday, 4 December 2010. The event includes a dino-dinner, disco and craft making. Children cost £9.50, adults £12.50 and a £40 family ticket is available. Advance booking essential at the museum or call:- 0151 478 4999.
Southport chef set to make mincemeat of rivals this Christmas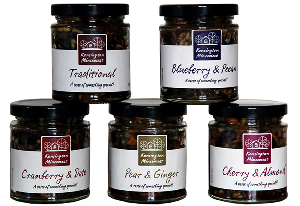 A secret recipe created by a cordon bleu cook in Southport is set to become a best seller this Christmas. Julie Henderson from Southport originally created her jars of homemade mincemeat to sell at a local Christmas fair three years ago.

The fruit-packed mincemeat was a sell out so Julie began making jars to give to family and friends at Xmas time.

When relatives started placing more and more orders, Julie realised she had created something special and took her range of traditional range of mincemeat to a Dragon's Den-style event organised by Booths buyers looking for new and innovative new products.

Julie's recipes passed the taste test with flying colours and two of her delicious 'Kensington Mincemeats' will now be sold in selected Booths stores. These are 'Cherry and Almond' and 'Cranberry and Date', in 200g jars.

Booths buyer Leigh Anne Carr says:- "We knew Julie had created something special when we tasted her range of fillings. They're unlike anything on the market and what's great is that Julie makes them all by hand in her own kitchen. Booths always goes out of its way to support small artisan producers and we've worked with Julie to develop her recipes into a proper brand that we know customers will love."

Each of the mincemeats is filled with a mix of dried fruits and spices to give them mouthfuls of flavour.

Unusually the mincemeat is raw so that it is only cooked once when you bake in the oven. This gives it a freshness and flavour all of its own.

Julie says:- "It was a friend of mine who suggested I go along to Booths – I never imagined my mincemeat would be sold in their stores! It's been such a great learning experience working with Booths. All of the fillings are still handmade, hand jarred and hand labelled by me in my kitchen. You can tell because the odd label may be a little wonky!"
Bankers Bonus Law
A new European law to tackle bankers' bonuses was be formally signed on Wednesday, 24 November 2010, in the European Parliament. North West Labour Euro MP Arlene McCarthy, the Parliament's draftsperson for the new law, said:- "In the week the ConDem govt pledged £7 billion of taxpayers' money to the Irish rescue package to deal with the fallout of bank failure, Chancellor Osborne has still not committed to implementing this new EU law to tackle the £7 billion bonus pot set aside by UK banks. I am calling on the Coalition Government to implement the rules and apply the law to the upcoming bonus round. The Government have continued behind the scenes attempts to weaken the law, but must now get on with reforming the bonus culture and stop letting the banks off the hook." A key provision of the new law, introduced by Arlene McCarthy, is a strict limit on upfront cash bonuses, to ensure bankers aren't paid for failure. The UK Government has been trying to weaken this position and allow up to 50% of a bonus to be paid in upfront cash. Arlene added:- "It is completely unacceptable for banks to continue to pay big cash in hand bonuses for risk taking that could lead to failure. This kind of bonus incentive led to the crisis. At a time when the government is making substantial cuts, scaling back public services and cutting support to families and businesses, our constituents expect banks to prioritise stability and lending over bankers' pay and perks. This Government must now respond to the public's concerns by implementing these tough reforms to end the obscene bonus culture."