COULD YOU BE SOUTHPORT'S NEXT TOP MODEL?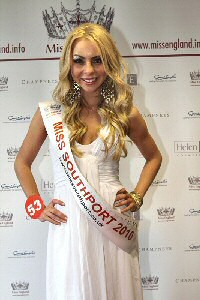 THE hunt is back to find Southport's most glamorous girls as the Miss England competition returns to the region. After making it all the way to the final of Miss England 2010, organisers are hoping this year's Miss Southport will go the extra mile to bring home the crown.

Current Miss Southport holder, Abi Bridgeman, is urging contestants to come forward, she said:- "Miss Southport has opened up some fantastic opportunities for me, I have actually just returned from a shoot in Italy where I was modelling on a boat in the Mediterranean. I originally wanted to be a World Class athlete, but after suffering from a back injury I had to think of a new career. I wanted to do something I could be recognised for and be passionate about, and my time as Miss Southport is really helping me achieve this."

In a twist to this year's application process, people are being urged to nominate someone they believe is the perfect ambassador for Southport.

Organiser Mark Jones said:- "We always have a great response from the local heats, which is why this year is even more exciting. The next Miss England can often be hiding in the crowds, not even thinking of entering. It could be someone's friend, daughter, granddaughter or girlfriend. The nomination process, therefore, opens the competition up to a whole new group of contestants".

For the first time, this year's successful entrants will take part in a full catwalk show and glamorous awards ceremony in May 2011.

Miss Southport will be hoping to follow in the footsteps of the current Miss England Jessica Linley. Jessica wowed the judging panel this year by showing she was not just a pretty face.

The law student from Nottingham, who is also treasurer of the law society and finance officer for the Athletic Union, scooped the crown and represented England in Miss World in Sanya, China.

The prestigious title gives opportunity to girls from any background with little or no modelling experience.

The winner of Miss Southport 2011 will, amongst other prizes, win £250 cash and a place in the Miss England semi-final where she will have a chance to go onto Miss World 2011, where the main prize is $100,000.

They must be aged between 17 and 24 on 31 December 2011, and must never have been married or have children.

This year Miss England aims to raise money for the Variety Club Children's Charity through contestant fundraising and activities.

Contestants for Miss Southport have until 31 December 2010 to enter via the Miss Southport website.
Employment tribunal system heading for major changes
THE employment tribunal system is under pressure and heading for major changes, according to a leading Liverpool law firm. A surge of claims locally and nationally has now put the system under pressure and the government is now looking at ways to combat the problem.

Merseyside solicitors Maxwell Hodge have dealt with a high number of tribunal claims in the past few months, and Laura Chalkley, an employment law specialist at the firm, said:- "The 2009/10 figures from the Tribunal Service reveal there has been a 56% increase in claims compared to 2008/09. Employment tribunals are at the highest I have ever seen them, no doubt as a direct result of the impact of the recession."

Prime Minister David Cameron has appointed Lord Young to conduct a review into the burden of employment law on small firms. The government is already considering changing the rules that staff have to work for the company for 2 years before lodging a claim for unfair dismissal, compared with 1 year at the moment.

Laura Chalkley added:- "With more job cuts due to the economic climate, more people are lodging complaints against companies. Small and medium sized businesses are suffering from the increase of tribunal claims and the government is helping to cut the red tape for businesses when it comes to employees looking to lodge a complaint against them. Businesses which are making redundancies should take legal advice and ensure the correct procedures are in place to prevent any claims being lodged."

Maxwell Hodge is one of the region's leading law firms operating from eight offices stretching from Formby to Wirral with a city centre office in Liverpool.
Royal wedding highlights bridezilla syndrome
ROYAL wedding bells in the air highlight the risks to photographers from bridezillas with unrealistic expectations, say insurance experts.

With the average cost of a wedding standing at £21,000 and wedding photography costing up to £2,000, experts say brides are becoming more demanding than ever before.

Steve Hewlett, director of In Focus Insurance, says photographers are being stung by couples trying to blame them for all manner of perceived failures. Steve told us that:- "More professional indemnity claims are being made each year because of angry bridezillas. As celebrity weddings are plastered all over our magazines, blushing brides want the same treatment as them. The royal wedding will only serve to heighten the trend with more pressure on brides to look perfect. We've seen many cases where images are actually of a high quality, but the bride just doesn't like how she looks and has refused to pay the photography bill. In some cases, brides have even sued for damages! Its vital photographers have insurance so independent advisors can be appointed to check if the photography is of an appropriate standard. It's understandable brides expect the highest quality, yet in reality, most celebrity wedding shoots cost far more than the average bride spends on professional photography. If the pictures don't turn out the way the bride wants, then photographers are in big trouble. We've dubbed it 'bridezilla syndrome' and the number of claims is rising."

Professional indemnity cover protects photographers from alleged failures and mishaps such as not taking all the requested photos or losing the camera film. Insurance protects photographers from having to pay costs personally.

If you want to find a photographer we recommended you go to the Society of Wedding and Portrait Photographers (SWPP).