Liverpool Science Park laboratories get the green light
WORK will begin this week on the project to install high-tech laboratories at Liverpool Science Park. The project will see 5,000 sq ft of biology grade specification laboratories created within Liverpool Science Park's ic2 building on Brownlow Hill.

Life sciences is a major contributor to the city's economy, employing over 4,000 people and generating turnover of around £250M a year. This sector has been identified as having significant growth potential and the creation of new labs is one way of capitalising on this.

The five new bespoke 1,000 sq ft laboratories start to address the current shortage of commercial laboratories in the city, and mark an important milestone in the long term development of Liverpool's knowledge economy.

The arrival of laboratories at Liverpool Science Park reflects the science park's close partnership with the University of Liverpool's renowned MerseyBIO incubator, which is currently at capacity.

The new laboratories mirror MerseyBIO's offering and the two organisations will be working in conjunction to promote the city's additional laboratory space to a national and international audience.

Chris Musson, CEO of Liverpool Science Park, said:- "These laboratories enable us to diversity our offer and support the full range of organisations that make up Liverpool's commercial knowledge economy. We are meeting the market demand for bespoke purpose-built laboratory space and sending a clear message to the life sciences sector that Liverpool is open for business. We are delighted that, in these difficult financial times, our partners are backing our commercial judgment, taking Liverpool Science Park another step closer to becoming self-sustainable."

The unique city centre based Liverpool Science Park is a joint venture between Liverpool Council, Liverpool John Moores University and the University of Liverpool.

The project will cost £660K to complete and the laboratories are expected to open in Spring 2011. Professor Michael Brown CBE, vice chancellor of Liverpool John Moores University and chairman of Liverpool Science Park, said:- "Liverpool excels in the field of life sciences and these new laboratories will provide the perfect environment for this sector to continue to flourish. The laboratories will be a tremendous asset to the city, helping to harness talent and create a pipeline of high worth jobs."

Dr Geoff Wainwright of MerseyBIO said:- "This is excellent news. These are the first new purpose built commercial laboratories in Liverpool since MerseyBIO opened in 2003. There has been a lot of pent up demand for laboratories and we look forward to working closely with our sister organisation, Liverpool Science Park, to service that demand."

John Flamson, Director of Partnerships and Innovation at The University of Liverpool, and a member of the Liverpool Science Park board, said:- "The popularity of MerseyBIO proves the strength of the bio science sector in Liverpool and we are delighted to be supporting Liverpool Science Park in creating more laboratories. We want Liverpool to be the destination of choice for science based organisations."

The laboratories support longer term proposals to create a third building at LSP and dovetails with plans for a bioinnovation centre as the first element of a BioCampus on the Royal Liverpool hospital site. Cllr Nick Small, cabinet member for employment and skills at Liverpool City Council, and a director of Liverpool Science Park, said:- "The life science sector plays a vital part in powering Liverpool's economy and laboratory space at LSP will significantly enhance the City's offer".

Liverpool Science Park was established in 2006 as a special purpose vehicle to support and drive forward Liverpool's commercial knowledge economy and it is the second fastest growing science park in the UK.

The award-winning science park, which is within walking distance of its two partner universities, has introduced a number of new initiatives in recent months, including a Soft Landing Centre to attract companies from outside of the region and overseas, and a Graduate Enterprise Centre to help young entrepreneurs launch businesses in the city.

Planning permission to create 5,000 sq ft of biology grade specification labs within Liverpool Science Park's ic2 building on Brownlow Hill was granted in September 2010.

In October 2010 Liverpool Science Park received detailed planning approval for a third building, innovation centre 3 (ic3), to increase the size of its facilities by 42,000 sq ft.

For more information about Liverpool Science Park visit:- liverpoolsciencepark.co.uk.
Award for gas safety advice
LIVERPOOL City Council has scooped a top prize for its campaign to cut the number of deaths from carbon monoxide poisoning. The authority was presented with a Helping Hand Award from the charity CO Awareness in a ceremony at the Houses of Parliament. The award was presented at the national launch of CO Awareness week and the council's recent poster campaign on this issues received high praise .CO Awareness said the award had been made in recognition of its past and ongoing support in reducing the number of those affected by Carbon Monoxide poisoning. It has been estimated that five million homes in the UK may be at risk from CO poisoning and approximately 500,000 of these are in the North West. Older people, mothers with children and others who spend a lot of time in the home are especially at risk. Carbon monoxide is responsible for 50 accidental deaths and nearly 200 serious incidents every year in England and Wales and it is believed that many more cases go undiagnosed. Councillor Joe Anderson, City Council leader, said:- "We are pleased to receive this award which recognises an important campaign. We will continue to raise awareness of the dangers of carbon monoxide poisoning."
Restoration Of Sefton Park Has Been Completed!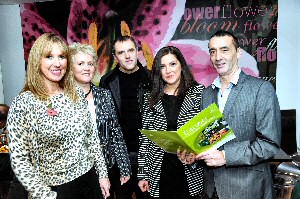 THE £7m restoration of Sefton Park has finally been completed and was funded by a £4.7m grant from the Heritage Lottery Fund with Liverpool City Council providing the remainder of the money. The extensive series of improvements have brought the park and its facilities up to date without losing its historic character. The restoration of the café was made possible in part thanks to the hard work and investment of tenant Gino Ferraiolo who worked alongside Suzanne Dickson from SD interiors of Bolton who created the striking interior.

The former Aviary Café to be named 'Oasis in the Park' and the restaurant 'The Panoramic' have undergone an extensive makeover, creating a contemporary interior with a re-planned terrace area, multi-purpose community room and a Park Ranger station. Gino Ferraiolo owner of the café and restaurant said:- "It has been a long time coming but finally it is all complete and looks incredible. I have been working on this project for two years and finally I can see all the plans and ideas have finally come to life. My vision of the project has now become a reality and it is even better than I imagined. My thanks must go to Suzanne who without her interior design ideas, dedication, guidance and forward thinking this project would not have happened and I would not have been able to complete it on time and to budget"

The re-working of the Café building to increase its size, has allowed it to become a multifunctional facility that caters for every visitor from the runner in the morning stopping for a quick breakfast. To families and day trippers relaxing with a cappuccino or ice cream in the impressive surroundings of the 'Oasis in the Park' café. To the dog walker who can rest with a hot cup of tea on the terrace area and even the dog gets a well earned bowl of water. To the stunning 'Panoramic restaurant' where diners will be able to experience the culinary delights of fine Italian cuisine.

The stylish new boathouse kiosk over the other side of the park is a cutting edge building where you can stop for the loo, a brew and a view across the lake which is quite breathtaking.

Suzanne Dickson senior designer at SD Interiors had this to say about the project:- "We took inspiration from the dramatic park setting and the ever changing colours of the landscapes, and aimed to create an atmosphere of calm and warmth within the café area. Our interior was intended to be accommodating to all park users and also to be a desirable venue for special occasions. The rich browns and fuchsias used in the colour palette reflect the natural surroundings of the park and aim to connect the interior space with the exterior panoramic views. All this and more is available in Sefton Park and will attract people to continue to visit this historic park with its fantastic facilities for generations to come."