Council tax scam warning
A WARNING is being issued about a scam in which council tax payers in Liverpool are being telephoned and told they are entitled to a refund.

It is thought the people behind the con are trying to obtain the bank details of victims fraudulently in order to remove money from their accounts.

The council's Revenues Service – run by Liverpool Direct Limited – has been contacted by 6 council tax payers who have been targeted over the last few weeks. They all became suspicious and refused to give any information.

In one case, a Gateacre man was contacted by a woman with an American accent and told he was due a refund of £7,000, which he would receive in exchange for his bank details. He refused, and the lady then gave him a London phone number to call if he wished to claim in the future.

Deputy Council Leader Paul Brant said:- "We are urging people to beware of this appalling scam and hang up immediately if they are contacted by somebody claiming they are due a council tax refund. We never ever call people out of the blue about refunds and would always put it in writing in a letter. Refunds are usually only given when people have applied for a reduction in their council tax banding, and in these circumstances they would receive a letter from the Valuations Office. When we do give refunds we always send a cheque, so would not need their bank details."

The Revenues Service has passed the evidence it has gathered over to Trading Standards to investigate.
Don't Snooze this weekend. Go to see Sleeping Beauty!
A Christmas Pantomime staring Mark Newell as Nanny Fanny Annie, Emily Meadow as Briar Rose, Abigail Tuakli as Prince Valiant, Katy Wright as Carbolic, Abby Fisher as The Queen, Sam Denia as The King and Bethany Lewis as Fix-It, will be held at the Greenbank Theatre on Saturday, 11 December 2010 at 2pm and at 7pm. It will be repeated on Sunday, 12 December 2010 at 2pm. To book tickets call:- 01704 539 468. Adults £9.50, Concessions £4.50, Family Ticket £25.
Local Charities Are All Wrapped Up At Wayfarers
KIND-HEARTED Southport shoppers can fill their Christmas stockings and raise money for local charities at the same time, thanks to Wayfarers Shopping Arcade.

The Victorian arcade on Lord Street will be offering a charity gift wrapping service from December 4th until Christmas Eve, in which an army of volunteers from local good causes will beautifully wrap your presents in exchange for a donation.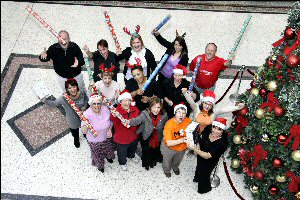 The arcade provides the charities with festive gift wrap and the use of a unit free-of-charge, so that all donations received can go directly to where they are needed most. Last year the service raised more than £2,000 for good causes and this year it is hoped to bring in even more.

Wayfarers Shopping Arcade manager, Yvonne Burns, said:- "We are getting into the festive spirit in the Arcade and have offered the charities the use of a unit in a prime spot so they can benefit from the high footfall through the arcade. We ran a similar service last year and it was very popular with our customers and also helped the charities raise a lot of money. Our customers often comment that the arcade is an ideal place to find a unique and memorable gift, so we are hoping that lots of people will use our charity wrapping service again and help us give some of our local good causes a very special Christmas present."

Wayfarers Shopping Arcade has more than 30 retailers, many of which are the town's only stockists of exclusive brands and products. It is also the ideal place to stop for a bite to eat or book in for some Christmas party pampering for your hair, nails and body.