DRIVING SAFELY AS THE TEMPERATURE DROPS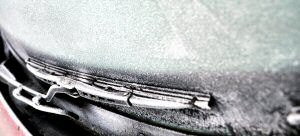 WITH Christmas just around the corner and temperature dropping, Merseyside Police is taking the opportunity to give advice to members of the public to keep them safe on the roads.

Officers are asking motorists to follow this simple checklist to keep safe on the roads this Winter.

Vehicle Safety Advice Tips

► In winter it is even more important to check you vehicle is well maintained and serviced.

► Keep the lights, windows and mirrors clean and free from ice and snow.

► Add anti-freeze to the radiator and winter additive to the windscreen washer bottles.

► Make sure wipers and lights are in good working order.

► Check that tyres have plenty of tread depth

► Remember – on cold mornings NEVER leave your car unattended with the engine running while it warms up

► When driving lock your doors

When roads are icy or slushy

► It can take ten times longer to stop in icy conditions than on a dry road.

► To brake on ice or snow without locking your wheels, get into a low gear earlier than normal, allow your speed to fall and use the brake pedal gently.

Watch out for fog

► In foggy conditions, drive very slowly using dipped headlights.

Winter sun

► Dazzle from winter sun can be dangerous. Keep a pair of sunglasses handy.

Plan your journey - During wintry weather conditions

► Ask yourself - is your journey absolutely essential?

► Make sure you are equipped with warm clothes, food, boots and a torch. In snowy conditions, take a spade.

► Always carry a screen scraper and de-icer.

If you get into trouble

► Do not use a mobile phone while driving. Stop somewhere safe or ask a passenger to make the call.

► On a motorway, it is best to use a roadside emergency telephone, because the breakdown/emergency services will be able to locate you easily. If you have to use a mobile phone, make sure you know your location from the numbers on the marker posts on the side of the hard shoulder.

► Stay with your vehicle until help arrives.

► If you have to leave your vehicle to get help, make sure other drivers can see you.

Pedestrian safety

► Cross at zebra crossings or traffic lights, do not cross between parked cars.

► Make sure drivers see you before you cross.

► Cross when traffic has come to a complete stop.

► At a traffic light, cross at the beginning of a green pedestrian light. Do not cross once the red man begins to flash or once the light has turned to red. Never cross on a red light.

► Watch for traffic turning at junctions or entering and leaving driveways.

► Wear bright or light-coloured clothing or reflective strips, when walking in dusk or darkness.
CIVIC HONOURS COMPETITION FOR DIAMOND JUBILEE LAUNCHED
A competition to create a new city to mark Her Majesty The Queen's Diamond Jubilee in 2012 is launched today. Details of the Civic Honours Competition were unveiled by Mark Harper, Minister for Political and Constitutional Reform, who is inviting local authorities across the United Kingdom to apply.

Existing cities are also invited to bid for the award of a Lord Mayoralty or, in Scotland, a Lord Provostship. The awards are a rare mark of distinction which are sparingly granted and will be made in honour of the 60th anniversary of The Queen's accession to the throne.

Mark Harper, Minister for Political and Constitutional Reform, said:- "For a town to be given city status or for a city to be given a Lord Mayoralty is a real honour. These awards are only very rarely granted and it is fitting they will be given to mark Her Majesty's Diamond Jubilee. I am delighted to launch the competition for the awards today and we look forward to seeing the applications."

Jeremy Hunt, Secretary of State for Culture, with special responsibility for the Diamond Jubilee, said:- "Marking Her Majesty's 60 years on the throne in 2012 will be a great opportunity for the nation to come together in celebration, just as it did for her Silver and Golden Jubilees. This competition will be an important part of this and will ensure that there is a lasting legacy that will remain long after the festivities are over. I look forward to hearing who's won."

Every application will be assessed on its merits, with local authorities asked to follow entry guidelines which are published online today. Local authorities now have 6 months in which to submit their entries, which will then be considered by the Government before recommendations are submitted to Her Majesty The Queen by The Deputy Prime Minister. The results of the competition will be announced in the first half of 2012.

The awards of city status and Lord Mayoralty or Provostship are purely honorific and confer no additional powers, functions or funding. The last civic honours competition was held in 2002 to mark the Golden Jubilee when Preston, Stirling, Newport, Lisburn and Newry were awarded city status and Exeter was awarded a Lord Mayoralty. For the Diamond Jubilee, the competition is on a UK-wide basis and only one award of city status and one award of Lord Mayoralty or Lord Provostship is expected to be made.
A PHONE IS FOR LIFE NOT JUST FOR CHRISTMAS......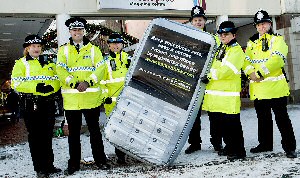 MERSEYSIDE Police are now urging mobile phone owners in Sefton to register their phones this Christmas on the National Mobile Property Register database (NMPR) and is giving members of the public the chance to win an Apple iPad when they do.

The NMPR database is an on-line property search, used by the police service to search for any identifiable item of property. Once a phone or other valuable electrical item is registered, officers are able to look up it's unique registration or IMEI number, view its registered owners details, find out if it has been reported stolen by the police anywhere in the UK, the insurance company and in the case of a mobile phone, which network it is on. Ultimately it will mean that you improve your chances of getting your phone back if its lost or stolen.

In the run up to Christmas, officers will be visiting every area across the Force to offer members of the public the opportunity to register their mobile phones via their website, to the NMPR database. Registering only takes a few minutes and officers will be able to do this on-site.

Chief Inspector Shaun Holland explains:- "Nowadays mobile phones are used for more than just making phone calls, in effect people have their whole lives are on them – family pictures, important emails, schedules and contact details. We realise that if your phone is lost or stolen it can have a big impact on your lives. We want as many people as possible to get their phones registered on the database this Christmas. It's simple and free to do, and means that if a mobile phone is found, or if we stop someone with a mobile phone that we believe does not to belong to them, we can quickly check it on the database, and return it to the rightful owner. We hope that by encouraging more and more people to register their phones, the message will get back to those who are thinking about stealing a phone, that it's just not worth it."

On Wednesday, 8 December 2010, officers will be in Aintree Racecource Retail Park and on Thursday, 9 December 2010, in Tesco supermarket carpark, Hawthorn Road, Bootle with the publicity pod and an inflatable mobile phone. Officers will be registering items and will also be giving out crime prevention advice to members of the public.

Also to register your electrical good for free and to be in with a chance of winning and iPad and for full terms and conditions visit:- merseyside.police.uk.

Members of the public are also able to register other mobile electrical items, such as iPads, net books, laptops and mp3 players for example.
How the 'Big Society' is protecting children from sexual abuse
A new report published 2 December 2010 shows that some child sexual abusers can and do seek help to manage their thoughts and behaviour so as not to harm a child. The Stop it Now! Helpline report (June 2005 to December 2009) shows that the Helpline received 11,975 calls from 5,634 callers who were looking for information, advice and support in connection with child sexual abuse issues.

The child protection confidential freephone Helpline is for adults who need advice on all matters relating to child sexual abuse – with target groups including abusers and potential abusers concerned about their own thoughts or behaviour, those worried about the behaviour of another adult, child or young person and professionals needing case advice.

Over 50% of calls were made by adults concerned about their own thoughts or behaviour towards children, 25% were made by adults concerned about another adult and 4% were made by adults concerned about the sexual behaviour of a child or young person. Other calls were from professionals (8%) and survivors of child sexual abuse (4%).

In most cases the caller had not had any contact with any child protection agency at the time of calling but wanted to take action to protect a child. The Helpline operator listens, encourages, supports and agrees one or more actions for the caller to take immediately. In some cases this leads to contact with statutory agencies such as the Police or Children's Services. In all cases the agreed actions look to ensure that one or more children are kept safe from sexual abuse.

Use of the Helpline has increased steadily over the years, with 1834 calls made in 2005 compared with 3182 in 2009. The value of the service is demonstrated by callers making repeat calls to help address on-going issues; adults concerned about their own behaviour call on average three times each, those concerned about another adult or young person call on average twice. In addition, many decide to give up their anonymity and come forward for face-to-face help.

One of the largest increases in calls has been from those concerned about their own behaviour on the Internet. In 2009 the Helpline received 1259 calls from this group compared with 267 in 2005 – a four-fold increase – demonstrating that the Internet is a cause of concern for a growing number of callers.

Director of Stop it Now! UK and Ireland and Director of Research and Development, Lucy Faithfull Foundation, Donald Findlater, said:- "Telephone helplines for children are a key part of child protection services. However, it is ultimately the responsibility of adults to protect children from abuse and helplines for concerned adults are a powerful means of protection and prevention. Many people who contact the Stop it Now! Helpline are not in contact with agencies or the authorities but want to protect children. To do this they need advice, support and information. This is the 'Big Society' at work. Current public feeling about child sexual abuse, child abusers and the continuous headlines in the media do little to make children safe. They imply that child sexual abuse is inevitable and that the only response to the problem is to identify abusers after they have offended and punish them. But child sexual abuse is not inevitable, it is preventable. We need all adults to develop the skills and knowledge they need to play their part in keeping children safe. It's easy to talk tough about known offenders. But talking tough is not solving the problem. At best, the authorities deal with only 25% of abuse. Responding to offenders after the abuse has taken place does not impact on those not reported or convicted. We need a range of solutions and a broader vision to tackle this problem. One of the key findings from our report is that only 4% of calls were made by adults concerned about a child or young person. Yet research suggests that one third of all offences are committed by those under the age of 18. Parents need to be able to pay attention to their children's behaviour, recognise issues when they arise and be confident enough to take action. If it goes unaddressed, there could be disastrous consequences for the child and other children down the road."
Key findings from the report
Adults concerned about their own behaviour – Summary:-

► Year-on-year the number of calls from this group increased substantially and almost doubled over the period of the report (304 in 2005 and 584 in 2009). 98% (1921) of these callers were men who made 5925 calls to the helpline. 2 % were women who made 111 calls to the Helpline.
► The most notable increase was from people who had offended on the Internet. In 2009 the Helpline received 1259 calls from Internet offenders, compared to 267 in 2005.

Adults concerned about their own behaviour – offline:-

► 804 callers were abusers or potential abusers, with behaviour or concerns unrelated to the Internet. They made 1916 calls to the Helpline.
► 436 of these had previously abused one or more children and wanted help to manage their behaviour. 368 had not yet abused a child but were troubled by their sexual thoughts and wanted help to manage their behaviour.
► 81% of offline abusers or potential abusers had not been arrested and were not in contact with the authorities prior to calling the Helpline.

Adults concerned about their own behaviour – online:-

► 1156 people had concerns about their behaviour on the Internet. They made 4071 calls to the Helpline.
► This group of callers increased four fold over the period of the report. (In 2009 the Helpline received 1259 calls from adults concerned about their own behaviour on the Internet compared to 267 in 2005).
► 1080 callers had already committed offences on the Internet. 15% (162) of these callers were not in contact with the police but wanted advice about ways of combating their illegal behaviour.

Family and friends concerned about another adult's behaviour

► 1497 people contacted the Helpline because they were worried about another adults behaviour. They made 3013 calls.

► The volume of calls from this group has steadily increased with 846 calls received in 2009 compared to 506 in 2005.

► 80% of callers were women.

► 89% stated their relationship to the person of concern. Partners (35%), parents (18%) and ex-partners (9%) made the highest number of calls in this group.

Parents and carers concerned about a child or young person's sexual behaviour

► 311 people contacted the Helpline because they were worried about the sexual behaviour of a child or young person. They made 533 calls.
► The majority of callers were parents concerned about their child. Other callers included carers or close family members, teachers, neighbours and child minders.
► 79% of these callers were women.
► In 2009, 76% (74) callers were not in contact with any child protection agency, statutory or voluntary at the time of calling.

Adults concerned about a child or young person who may have been abused.

► 332 people called the Helpline because they were worried a child may have been abused. They made 550 calls.
► We estimate that over half called with concerns that the child was being sexually abused by another child (52%, 173 callers, based on a 15% sample of callers in this category).
Professionals:-

► 862 professionals called the Helpline. They made 974 calls.
► Most callers were from Children's Services or Health. Social workers were seeking advice when working with families who had been affected by child sexual abuse. Callers from the Health Service included GPs, mental health workers, psychotherapists and those providing services to people with drug or alcohol issues. Many called because the people they were working with had disclosed that they had committed a sexual offence or were concerned about their thoughts or behaviour towards children.
Adult survivors:-

► 316 survivors called the Helpline. They called 406 times.
► 63% were women whilst 37% were men.
► This group included those who needed to talk about their own experiences of being abused and to gain access to survivor services. Others were concerned that the person who abused them might still pose a risk to children.
► 5% (16) of callers had suffered abusive experiences in their past and were now struggling with inappropriate thoughts towards children.

Findings demonstrate that:-

► Some individuals who have sexually abused a child want help in managing their behaviour.
► Some people recognise their thoughts about and behaviour towards children as potentially harmful and will seek help to manage them.
► Some adults are able to recognise inappropriate sexual behaviours and attitudes in those close to them and will seek help and support in protecting children and holding other adults accountable for their behaviour.
► With accurate information and support, adults can be effective agents of prevention within their family and wider community.
► Some adults are able to recognise inappropriate or harmful sexual behaviour in children and young people and they will seek help to address this.
► The Internet has become a major vehicle for harmful behaviour by adults, but it is also a place where some offenders and those close to them will seek help to ensure responsible online behaviour in the future.
► Where a sexual offence may have been committed or a child may be at risk, anxiety about repercussions, for themselves and loved ones, causes many people not to report concerns or seek help from relevant agencies.