Stamp of approval from Wallace and Gromit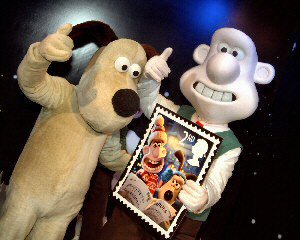 THIS year's Royal Mail Christmas stamps feature the much-loved animated characters, Wallace and Gromit and to mark this national event, the cheese loving Wallace and his faithful friend Gromit, will be at Spaceport every weekend until Christmas.

Visitors to Spaceport can meet Wallace and Gromit, have their picture taken with them and even post a letter to Santa in the Super-Santa-Spaceport Post-box using one of the specially designed Christmas stamps, before enjoying the Wallace and Gromit in Space exhibition.

Meet and greet sessions take place at 1.00pm and 2.30pm every Saturday & Sunday until Christmas.

The Wallace and Gromit in Space exhibition has been designed specifically for Spaceport and includes many features from the original film which launched the absent minded professor and his rather more intelligent dog to international stardom. Visitors will see the duos orange space rocket and the moon base where Wallace harvests cheese, collects space junk, keeps an eye on the planets and checks for lunar life. And in a further development, the popular Haynes guides have produced a Wallace & Gromit "Cracking Contraptions Manual" giving fans of the animated characters the chance to explore the innermost workings of the duo's greatest inventions in a new, fully illustrated, technical guide to their designs. The manual is available to buy alongside other Wallace and Gromit and Space themed merchandise, at the Spaceport gift shop.

Neil Scales, chief executive of Merseytravel, which owns Spaceport as part of the Mersey Ferries operation, said:- "This is a tremendous coup for us and a unique first for Spaceport. Millions of households across the country will receive Christmas cards with Wallace and Gromit Christmas stamps on and we are delighted to be a part of this."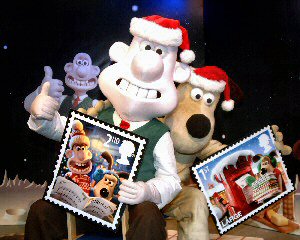 Spaceport is open Tuesday to Sunday from 10.30am, last admission 4.30pm, closes 6.00pm.

Adult £8.00 Child £4.50 (3-15 years) Family £20.00 (2 adults & 3 children) Concession £5.50.
Combined Spaceport & Mersey Ferry tickets are also available – tickets also available online through the Mersey Ferries website.

A great gift idea for Christmas! - also available on the website are Mersey Ferry River Explorer and Manchester Ship Canal Cruise Gift Vouchers, along with U-Boat, Spaceport and combined Ferry and Attraction Gift Vouchers.
Northwest MP supports Merseyside adoption agency
NORTHWEST MP Edward Timpson is backing calls for more families and individuals to come forward as potential adopters. The MP for Crewe and Nantwich is supporting the latest efforts by leading adoption agency Adoption Matters Northwest to find more homes for some of the 4,000 children currently in care, some of whom have waited years for the chance to start a new life with a new family.

Mr Timpson, currently involved with the All Party Parliamentary Group on Adoption and Fostering, has two adopted brothers, and his parents have fostered over 80 children during the last 30 years. He's backing Government aims to speed up the adoption process and reducing the waiting times for prospective adopters and the children in care.

Mr Timpson congratulated Adoption matters North West on the success of its themed poetry competition, the latest initiative by the agency to raise awareness of the shortage of adoptive parents.

"This is a great way of getting people of all ages to think about adoption a major social issue," said the MP.

The competition, which ran throughout October, received over 200 entries from promising poets across Merseyside. The competition asked people to develop a poem on this year's theme of 'Belonging', something which resonates with the MP.

"As someone who has two adopted brothers, I congratulate Adoption Matters Northwest on their creative way of getting people engaged and talking about adoption. "Any way we can help inspire and enlighten people's understanding of adoption is welcome." said Edward Timpson.

Norman Goodwin Chief Executive of Adoption Matters Northwest comments:- "We are delighted Edward Timpson has given us his support as he truly understands the issues surrounding adoption."

The charity, which has an office in Chester and covers the Merseyside area, has been delighted at the support from across Merseyside.

Norman Goodwin adds:- "The support for the poetry competition this year has been overwhelming. We are delighted that so many aspiring poets have got involved. We hope that this exercise has encouraged people to think differently about adoption, and maybe even inspire prospective adopters."

Finalists from the competition will be notified by the end of the month and will be invited to a VIP poetry evening in Manchester featuring performances from guest judges.
DRINK AND DRUG DRIVERS FACE THE RAP THIS CHRISTMAS
MOTORISTS who risk driving when twice over the legal drink drive limit increase their chances of being involved in a fatal crash by more than 30 times, is the stark warning from Merseyside Police this Christmas.

With the festive season approaching the temptation to get behind the wheel after having a drink may be a risk some drivers think is worth taking.

Merseyside Police is launching its Christmas drink drive campaign on Wednesday, December 1 and is urging people having a drink this season to not risk their lives and other people's by driving.

Instead, the message is to leave their car keys at home, designate a non-drinking driver or take public transport.

As well as targeting motorists who drink or take drugs and then drive at night, officers will be carrying out enforcement in the mornings to target those still over the legal drink drive limit or not fit to drive through taking illegal substances.

Nationally, drink-related road deaths are increasing with 130 more fatalities across the UK in 2004 than in 1998.

Although Merseyside is below the national average, up to 70 people a year are killed or seriously injured on the roads as a direct result of drink driving, which is a particular problem among the under 25s.

The number of people driving under the influence of illegal or prescribed drugs is also increasing. These drugs can affect driving ability and judgement in the same way as alcohol and these people will also be targeted during the Force's Christmas campaign.

Chief Inspector John Hogan, head of Merseyside Police Roads Policing Department, said:- "We want to challenge the perception among some people who think it is acceptable to drive after having a drink or taking drugs. Alcohol affects everybody in a different way and can remain in your system for longer than you think. Even the smallest amount of alcohol will affect your competence behind the wheel, your ability to judge speed and distance and will slow down your reactions. The number of people killed or seriously injured on the roads of Merseyside comes at a huge cost in terms of human tragedy and financial impact. One death on the roads of Merseyside is one too many and the Force will be working hard to reduce the number of collisions on the road this Christmas."

In an effort to reduce the number of deaths and serious injuries on the roads of Merseyside, the Force is working with the other emergency services to highlight the dangers of drink and drug driving. To launch the campaign the emergency services reconstructed a fatal crash at Toxteth Community Fire Station on Wednesday, 1 December 2010.

Officers are also holding five spotlight days in December targeting motorists flouting the driving laws and educating those caught breaking the rules of the road.

During these days, there will be a high visibility of officers on key roads across Merseyside taking action against people driving illegally.

Station Manager Mark Thomas from Merseyside Fire and Rescue Service knows only too well the consequences drink driving can bring. He said:- "I have been in the fire service for 18 years and I've lost count of the number of collisions that I have attended where alcohol was a factor. Sadly, experiences in my professional role became a personal reality for me and my family last July. My colleagues from Heswall and Upton attended a fatal accident in Neston where four young people had died at a horrific scene - my 19 year old niece was among them. She had been out that evening and got into a car with her friends; the driver had been drinking and it was later established that he was three-and-a-half times over the legal limit. Nothing will bring Michaela or her friends back. All we can hope is that others will learn from this tragic, needless and so easily avoidable carnage. I urge anyone thinking of drinking before driving to think again – and to passengers considering entering a car being driven by a drunk driver to think again. I would not want anyone to experience this tragedy and the sadness that our family has had to come to terms with."

Derek Cartwright, Director of Paramedic Emergency Service for the North West Ambulance Service, said:- "The number of people affected by these types of incidents goes far beyond the number of deaths when consideration is given to the impact these type of road incidents have on families, friends and sometimes even emergency services staff. On many occasions the scene of devastation can be upsetting even for the most experienced medical professional, especially when in many circumstances the accident could have easily been avoided."

Chief Inspector Hogan added:- "The size and scale of our campaign shows our determination to tackle drink and drug driving and reduce road deaths. Even a momentary lapse in concentration can result in catastrophic consequences for not just themselves but for their passengers as well as other innocent victims who could be left maimed or at worse killed. Our main objective is to reduce the number of people killed or seriously injured on Merseyside's roads by making them a safer place for all road users - drink and drug driving is a significant contributory factor in these accidents. We will continue to prosecute drivers prepared to ruin lives by drink or drug driving and they will face severe penalties ranging from hefty fines to lengthy prison sentences. Our officers, as well as other emergency services, are at the very heart of road death investigations from the crash site and liaison with the victim's family through to the prosecution in the courts. We see the carnage and devastation that is caused by drink and drug driving and with the onset of the festive season motorists, cyclists and pedestrians need to take extra care while out on the roads of Merseyside so Christmas is remembered for all the right reasons and not because of a tragedy."
Widnes Vikings submits Super League bid
WIDNES Vikings delivers its Super League bid on Friday, 3 December 2010 at 12 noon. Adam Blinston a 12 year old season ticket holder will deliver the bid to the Rugby Football League HQ in Leeds, in an Eddie Stobart truck. Adam was 1 of 20 participants who were invited to tell the club, in their own words, exactly why it should be their entry selected as the overall winner, and the youngster from Great Sankey (Warrington), submitted the following words:-

"I have been a Widnes Viking since I was a little boy. I have followed in the footsteps of my Dad and Grandad with joy. I have travelled to Blackpool and seen them win the Cup. And if I am selected, hope to bring the team good luck. With Steve, Paul and Terry, we have got a great team. Now with Denis in charge, we can really 'Dare to Dream.'"

Adam will accompany our player, Anthony Thackeray on the journey from the Stobart Stadium Halton to Red Hall in an Eddie Stobart truck, kindly provided by our main sponsors, on the aforementioned date.
Good luck to them and to Widnes Vikings!