You are never too old!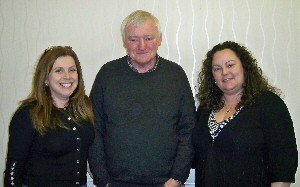 THEY say you are never too old and you're certainly never too old to care. National award winning at home care company, Home Instead Senior Care are finding more and more retired people who are just not ready to take it steady and have bags of energy to care for others, just like ex- forces man, Peter Dooley from Southport.

Local Hillside man, Peter, 69, knew he had so much more to give after retiring and with his desire to help people in the community he joined the Southport office of Home Instead in the role of Caregiver, a role that has changed his life.

Irene Hough and Anthea Pilkington, co-owners of the Southport office want to meet more people like Peter and are currently looking to recruit up to 20 more Caregivers.

Home Instead's main aim is to enable elderly people to remain in their homes for as long a possible allowing them to maintain as much independence as they can.

Commenting, Irene said:- "It is important to Home Instead that we match Caregivers to clients ensuring they can create a real bond. Peter is a brilliant Caregiver. There has been an immediate connection between Peter and his clients, with the majority being male and ex-forces themselves. They enjoy reminiscing about their regiments in the good old days."

Commenting, Peter said:- "Since joining Home Instead my life has changed. To be able to have a positive affect on someone's day is very special. Some people can become very lonely with their families being dotted across the world and they really appreciate the companionship. I never realised how lucky I was to have my family so close."

Irene and Anthea want to talk to other local people of all ages who have compassionate and caring natures and are interested in working in the care industry. Candidates don't need to have experience in the care sector as they will receive excellent training, but they may well have experience looking after a relative or friend.

For more information on joining the team or on the services provided, please call the Southport office on:- 01704 547938 or visit:- homeinstead.co.uk.
Tron Legacy
Photograph by Vamphire.com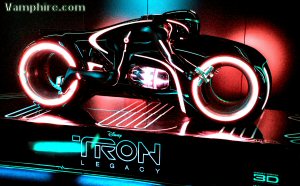 THIS is the re-birth of an action science fiction film that was in 1982 a massive hit and paved the way for many other films with computer generated worlds and adventures. Now, a decade on, this new Disney film is set to recapture that electronic world and plunge a new generation of fans into the distinctive visual world that is Tron. It is also the return of the iconic Master Control Program. We have had the privilege of being invited by Disney and Hewlett-Packard Development Company to experience in London a preview of what is to be unvalued to audiences across the world. We also got to see an amazing light display as well as the opportunity to see the light bike above. This incredible prop is around 8 tun and was shipped over to the UK from the USA, specially for the launch of Tron Legacy 3D in the UK, at the European Premier in London. To see a few clips of the amazing light display and a few more pictures, go to next week's edition. Also we have a surprises in next week's edition! So do not miss it! To find out more about Tron go to:- disney.go.com/tron.

TRON LEGACY IN CINEMAS 26 DECEMBER 2010
PUBLIC SECTOR PAY RATIO IS A "RED HERRING"
IN a hard-hitting response to the Hutton Review of fair pay, UNISON, warns that unfairness and income inequality is placing a huge burden on the economy and on society as a whole. The union says that if the Government is serious about tackling pay inequality it needs to look at both the private and public sector.

UNISON hit back at government claims that introducing a 20:1 pay ratio between those at the top and those at the bottom in the public sector, will deliver fair pay, calling it "a red herring". The union supports narrowing the pay gap between those at the top and the bottom, but, if the 20:1 ration was introduced in the public sector, it would affect a miniscule 0.0001% of the workforce.

The union highlighted the real issues blocking fairness in the public sector - low pay and inequality. It warned that the government's public spending cuts and increased privatisation, will only deepen unfairness by depressing wages and fragmenting the workforce.

Dave Prentis, UNISON General Secretary, said:- "The government's warm words on pay fairness should not fool anyone. Hard and fast public spending cuts, plus the drive to privatise local services, will depress wages, fragment the workforce, undermining moves towards fairness. The 20:1 pay ratio is a red herring, designed to grab headlines, but, an empty gesture that won't boost fairness. The real top to bottom pay gap is in the private sector. Here the boardroom bosses award themselves massive pay rises, big bonuses and generous pension perks, while those at the bottom get paid a tiny fraction of their salaries and are frozen out of pension schemes. If the Government had proposed extending the pay ratio into the private sector, this would have made a real difference, but it has no plans to do so. The real issues standing in the way of fairness are low wages and income inequality. More than one million public sector workers earn less than £7 per hour. Even more are struggling with heavy debt. Pressure on family budgets will only increase with high inflation and the imposition of a pay freeze. Low pay hits families hard, and hits women, ethnic minorities, the disabled and the young hardest. Low-income families are more likely to have health problems, live in neighbourhoods with high crime rates, and have children that are facing educational failure. Freezing public sector pay now may save the Government money in the short term, but they are storing up massive problems for the future which will cost them and society dear."

In its evidence to the Hutton Commission, UNISON says that the main reason why some public sector bosses are getting pay hikes, is because senior managers have been taken out of national bargaining, so they can award themselves bigger rises, whilst those at the bottom are hit by the Government's pay freeze.

In addition, more than 40 years after the Equal Pay Act, many public sector workers are still waiting for equal pay. The union claims that splitting the workforce off by privatising services is standing in the way of delivering a rate for the job. The union is calling for rigorous job evaluation and transparent pay and for grading structures to be truly fair, and said that it had many years of experience working with government and employers to deliver just that.

The union points to the government's spending cuts as a catalyst for a rise in inequalities, because the cuts are hitting the poorest hardest. This has huge knock on affect for our society, the taxpayer the treasury and the public pick up the bill for additional tax credits, other benefits, and the increased demand for NHS services.

Although surveys repeatedly confirm that the majority of public service workers are motivated primarily by the desire to 'make a difference' and deliver quality services to the public, throughout all sectors, a significant proportion say that their pay and/or grading does not adequately reflect the value of the work they do.