Volunteers to spark North West tree planting extravaganza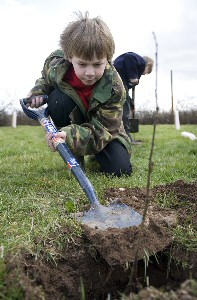 MORE than 1,000 trees are to be planted across community woodland areas of Greater Manchester and Merseyside.

Running until 5 December 2010, National Tree Week will engage local communities with the core work of the Forestry Commission; to protect the nation's trees, increase woodland cover and improve woodland diversity. And Forestry Commission rangers across the North West are seeking to inspire and galvanise as many local volunteers as possible to take part in a series of tree planting events on their community woodland sites.

Volunteers across Greater Manchester and Merseyside are leading the drive for tree planting throughout the valley.

Katie Horgan, Forestry Commission community ranger for the area, said:- "National Tree Week is an exciting time for our volunteers, and schoolchildren, who will learn much about the benefits for wildlife and recreation. The week is an increasingly important milestone for us each year. Trees are a vital component of our landscape, lessening the impact of climate change including contributing to flood control.'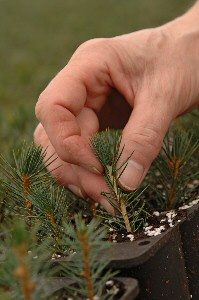 There are a range of different tasks for people of all ages and abilities to tackle, from planting and creating new woodland areas and extending edges to scrub removal, and underplanting existing woodland to improve structure and diversity.

Launched in 1975, National Tree Week is the UK's largest tree celebration which marks the start of the winter tree planting season. The UK is one of the least wooded countries in Europe, with half the average tree cover (12%) . The North West of England only has 6.8% tree cover.

The Forestry Commission manages 1,300 hectares of newly regenerated woodland across Greater Manchester and Merseyside. Sites set to benefit from the tree planting drive during National Tree Week include the community woodlands most recently created through the 'Newlands' programme; LIVIA and Town Lane as well as Sutton Manor, Wheatacre, and Hurst, Horrocks Colliers and Windy Bank woods.

Participants signed up include more than 140 local school children, community volunteer groups, the Wildlife Trust, residents groups, Incredible Edibles, the Mersey Forest, Shining Lights group, Croal Irwell Valley volunteers, Bents Garden Centre, local schools, and young people from the 'V' project.

To find out more or lend a helping hand, call the Community Woodland Team on:- 01606 882167 or visit their website to see where and when volunteering events are happening.

Volunteers are advised to wear old clothing and bring waterproofs and a packed lunch if staying all day. Gloves, tools and hot drinks will be provided. The Forestry Commission will also be launching further volunteer projects in the future, including activities such as pond works, sign maintenance and wildflower planting.
Free parking for Christmas shoppers
CHRISTMAS shoppers in Liverpool are being given an early present, free parking at council-run car parks. Yes.. free parking at all council car parks and on-street pay and display parking bays from 3pm until midnight from 1 December to 24 December 2010. And on Saturdays and Sundays throughout December parking for up to 3 hours is available for £1 for both on street parking and city council car parks.

Councillor Joe Anderson, city council leader, said:- "We want to encourage as many people as possible to come into the city centre this Christmas. It is going to be an extra special festive season with a great programme of events planned including an ice rink, a big Christmas market, and exciting street entertainment. Add to that our superb shops and it is clear that Liverpool is the place to be at Christmas. But we want to make life as easy as possible for those coming into the city so we are making parking free from 3pm throughout the whole of December so people can take advantage of it to do their Christmas shopping. We have worked with shops, restaurants and other businesses in the city centre on this proposal and they were very keen that we introduce it. Free parking gives motorists a Christmas present which I am sure will be gratefully received."

Ed Oliver, Chairman of City Central Business Improvement District, said:- "Free parking in the run up to Christmas is something our retail members have been calling on for years as it has a huge influence on where people decide to shop at what is the busiest and most competitive time of the year. I'm delighted Liverpool City Council has listened and their offer to cover the whole of December is a fantastically generous one. This is the type of business-friendly attitude Liverpool needs to build upon and we look forward to working together on making the city centre an even more desirable place to visit, shop and invest in."

Jack Stopforth, chief executive of Liverpool Chamber of Commerce, said:- "The Chamber welcomes the news of free parking in the run-up to Christmas. With times still hard for many retailers and shoppers alike, this can only be a boost to the local economy. With the rise in VAT to 20% coming in the New Year, all strategies to help commerce along can only be commended. Coupled with the fantastic programme of events lined up, we hope Christmas in Liverpool city centre will be both festive and profitable."
Southport bingo club is fundraising champion
MECCA Bingo in Southport has smashed its fundraising target by raising more than £1,600 so far this year for its chosen charity, Marie Curie Cancer Care.

The Mecca Bingo club on Lord Street beat its target by £100 before the end of the year. Activity throughout the year included holding a Blooming Great Tea Party for customers, taking part in the Great Daffodil Appeal and various other fundraising initiatives.

The money raised will all go to Mecca Bingo's chosen charity for this year, Marie Curie Cancer Care, helping to fund Marie Curie Nurses who care for terminally ill people in their own homes.
Brian Hennigan, manager at Mecca Bingo in Southport said:- "It's inspiring to see how generous people have been especially given how difficult this year has been financially for many. Our success is without doubt down to the members of the team around me and to our customers. Everyone has been dedicated to doing their bit to raise money for Marie Curie Cancer Care. We just wouldn't have achieved this without them."

Marie Curie Cancer Care community fundraiser, Lyn Fenton said:- "It's great to see how seriously the Mecca Bingo team members and customers at the club have taken trying to reach their fundraising target. Some of the ideas they've had have been fantastic which has meant they've exceeded their target before the end of the year and I'm delighted to announce that Mecca Bingo will continue to support Marie Curie Cancer Care throughout 2011. Every £20 they've raised will help provide an hour of nursing care for terminally ill people."

Mecca Bingo team members and customers are helping to raise £200,000 for Marie Curie Cancer Care throughout 2010, which will fund 10,000 hours of home nursing care.