The City of Radicals 2011
THE City of Radicals programme takes place in 2011, as one hundred years ago, in 1911, Liverpool was at the height of its power and influence. During that year three radical events took place:-

The Liverpool Transport Strike – some historians believe this is the nearest the UK has come to a revolution and was so alarming the government sent a warship to the Mersey.

The controversial Liver Building opened and was the first to use reinforced concrete in its construction.

The Bluecoat held a ground breaking exhibition of paintings by Post Impressionists, including Picasso and Matisse, showing the work alongside that of local artists.

The official launch of 2011:- Year of Radicals will take place in February when the full programme of events will be announced.

Some of next year's highlights include:-

► 'One of the Damned', a short play based on the author working on his novel will be performed at the Millennium Centre (Vauxhall) on 27 January 2011 and at The Casa (Hope Street) on 1 February 2011

► David Jacques - The Irlam House Bequest... A new artwork, produced especially for the Walker Art Gallery celebrates the centenary of the 1911 General Transport Strike.

► Liverpool Working Class Life & Music Festival

► The Writing on the Wall festival in May will mark the centenary with a series of creative events

► Liverpool, City of Radicals, a book edited by Professor John Belchem and Bryan Biggs, looking at some radical themes across the century, published by Liverpool University Press

► Art in Revolution:- Liverpool 1911, an exhibition at the Walker Art Gallery recreating the 1911 Post-Impressionist exhibition

► Exhibition at the Williamson Art Gallery, Birkenhead by Polish émigré Albert Lipczinski, a radical painter in 1911

► Democratic Promenade, an exhibition at the Bluecoat drawing on the city's radical heritage seen through the lens of contemporary artists

► Chapter & Verse literature festival at the Bluecoat, with a radical theme

Chief Executive of the Bluecoat, Alastair Upton, said:- "Radical ideas have shaped Liverpool's culture over the past century, and the Bluecoat is delighted to be working with its LARC and other partners to celebrate and explore some of this history, as well as provide an invitation for everyone to join in the City of Radicals year. 2011 will draw attention to radical achievements but also highlight where the radical is today in the culture of the city and beyond."

The programme is supported by Liverpool Trade Union Council and the Public Commercial Services Trade Union and a list of events will be announced next year.

Steve Farley NWTUC Chair said:- "The Ragged Trousered Philanthropists is a book of huge significance to the trade union movement and it is fitting that its link to the city is celebrated within the context of our proud history of radicalism. Our own celebrations of the book as part of the Unions 08 project in 2008 ignited fresh interest in the works and its themes therefore we have been pleased and proud to play a part in the organisation of these events to celebrate Liverpool's century of radicalism."
Readers help required... "Santa Cam 2011"
OVER Christmas we are running the live Farther Christmas Camera yet again, so please keep your eyes out on it and let us know if you spot Father Christmas.
See next weeks issue for full instructions!
Eyesore land transformed into family support unit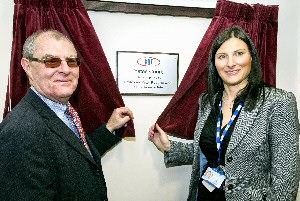 DERELICT land in Knowsley has been transformed into an eco-friendly facility to help homeless families. Knowsley Housing Trust's (KHT) family support unit was officially opened on Thursday, 9 December 2010 by Peter Roberts OBE, KHT Group Chair. The once blighted area has been used to build a green, safe and modern building that will be used to help families become more independent and find permanent homes. KHT worked closely with its partners at Knowsley Council and the Homes and Communities Agency, with the first residents moving in during February 2010. The 13 self contained apartments boast many eco features including energy efficient insulation and lighting as well as a communal garden and external parking facilities. Terry Bonner, Operational Director of Landlord Services for KHT, said:- "We are delighted and proud to be able to officially open this facility. Our partnership working has been central to the success of this project. Since 2004 KHT and Knowsley Council have had a vision to provide this essential service to the people of Knowsley. Putting that vision into what we have today has been a long journey. But with a lot of hard work, perseverance and commitment we have a facility that will provide support for Knowsley families for many years to come."
Stroke team wins coveted North West patients' award
THE stroke team at Southport and Ormskirk Hospital NHS Trust has been recognised for their outstanding patient-centred care. For the past two years, the team has been involved in a North West collaboration called Stroke 90:10. The project's aim has been to improve the management and care of patients following a diagnosis of stroke. It was the patients and carers who took part in the project who overwhelmingly chose the stroke team for the patients' award. They said they had chosen the Southport and Ormskirk team because it:-

► Was the only team to have a patient representative on the team from the very beginning

► Performed consistently against agreed quality markers

► Focussed on the emotional and psychological effects of stroke

► Had the most outstanding patient-centred care

► The award was one of four made at an event in Bolton to mark the completion of the project.

Dean Tarleton, aged 47, of Southport, suffered a stroke in 2007 and was a stroke patient representative for the Trust on the 90:10 project. He became a valued member of the Trust team which led to him being asked to join the faculty of the 90:10 team.

"What particularly singled out Southport for me was that they look after the mind as well as the body when you've had a stroke. That was important to me and, after speaking to other patients, I know that's what is important to them." said Dean.

Heather Duff, the Trust clinical therapy manager for the stroke therapy team, added:- "Stroke care is very much a team effort and we were all delighted that the care we take to treat and rehabilitate patients here has been rated so highly."

Trust chair Sir Ron Watson CBE added:- "This award is a tremendous achievement for the stroke team and reminds us how fortunate we are to have such outstanding professionals caring for us in our community."