Formby Nativity, Saturday, 11 December 2010
Photographs with thanks to Anne Dixon.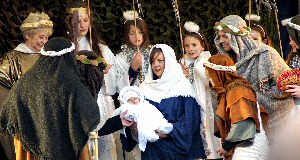 THERE was a good turn-out for the now annual Formby Churches Together portrayal of the Holy Nativity, with its venue back in the centre of the Village in Chapel Street on Saturday, 11 December 2010. This year the event was enacted from the Virgin Mother's perspective. It was acclaimed by many as the best yet. The schoolchildren of Formby, this year, played a more prominent role and featured in many ways in the play as angels, shepherds, and, of course, baby Maisie had the all important part of Baby Jesus. Everything turned out well, including the weather. It is good that Formby, Freshfield, Altcar and Hightown have the spirit and determination to spell out the age old message so loudly and clearly for all who wish to listen. A great deal of work and time must have taken place behind the scenes to achieve such a splendid effort.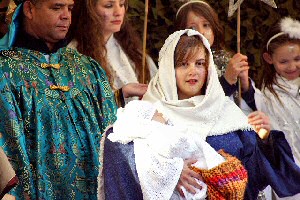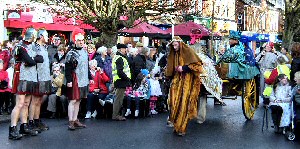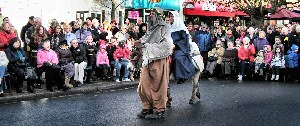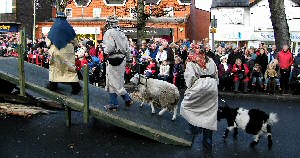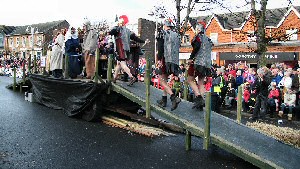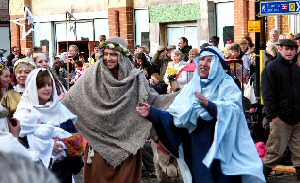 Terry Deary In Formby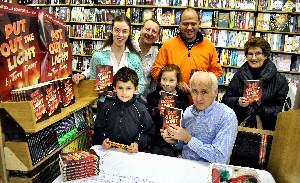 THE 'Horrid History' author and professional actor on many radio and television stations, was in Formby on Saturday, 11 December 2010. Terry Deary spent the day in Pritchard's Bookshop signing a steady line of fans who had purchased copies of his new book "Put Out The Light." The book was published on 9 September 2010 to mark the 70th anniversary of the start of the Autumn 1940 Blitz. To find out more about the book visit:- terry-deary.com/POTL.
The Ragged Trousered Philanthropists
REBELLIONS, controversy and forward thinking will all be celebrated next year in Liverpool.

Organisations across the city will host a series of events to mark a century of cultural, social and political radicalism in Liverpool.

And the city council will be kicking-off the celebrations by marking the centenary of Robert Tressell's death – one of the great socialist figures of the twentieth century, who inspired generations with his novel The Ragged Trousered Philanthropists.

Tressell, born Robert Noonan, died in Liverpool on 3 February 1911 when he and his daughter were en-route to Canada. He was buried in a cemetery in Walton, which is today on the same site as Rice Lane City Farm.

Working with the Bluecoat, Liverpool City Council has commissioned prestigious artist David Jacques, shortlisted for this year's Northern Art Prize, to produce artwork which will reflect Tressell's importance. David has received critical acclaim for his work around trade union and memorial banners and will draw on twentieth century posters, adverts and press cuttings which focus on industrial struggles.

As part of the anniversary, a banner showcasing the work will be erected on the side of a prominent terrace of listed buildings on Dale Street. The banner will also help in protecting the external façade of the terrace as well as improving its appearance.

David said:- "Tressell is often seen as a rite of passage if you're in any way involved with politics of a Leftist slant. The Ragged Trousered Philanthropists was significant for me because it addressed economics among other things and it did this in an accessible way, by weaving the subject into a story. For the most part its analysis still stands up and it's a useful point of reference given the economic crisis we're living through now."

Other plans to honour Tressell include a series of special events on the 3 February 2011, including a wreath laying at the Tressell plaque located at the former Liverpool Infirmary, a ceremony at his graveside and an evening at the Town Hall where the impact of Tressell will be debated.

Public readings of the book will take place in Dovecot, Walton, Sefton Park and Toxteth libraries, and in March, the John Moores University Roscoe Lecture Series will dedicate a session to the author.

Liverpool city council's cabinet member for culture and tourism, Councillor Wendy Simon, said:- "The significance of Tressell's book cannot be underestimated and has been described as one of the greatest English novels which highlights class conflicts. As he's buried in Liverpool it's important the city marks his cultural contribution. The planned series of events will be thought-provoking and bring this influential character to the attention of the next generation who will be able to get an insight into life 100 years ago. And the Tressell events just mark the beginning of an exciting year which will look at Liverpool's century of radicalism, including workers' uprisings and struggles."