Xmas Gifts and Bicycles for Children in Merseyside
Photographs by Ian Fairbrother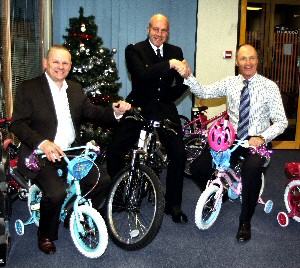 THE Goodrich Actuation Systems facility at Huyton on Merseyside has worked closely with local charities, to try and bring some joy this Christmas to children in our local community.

Employees at the site were asked to nominate local children's charities, community centres and schools where children would benefit from bicycles this Christmas. There was an enthusiastic response and a total of 11 charities were identified including, Barnado's Action with Young Carers. Barnado's work with children and young people who provide care to another family member. Other charities included the Peace Centre, Warrington and a number of local schools and scout groups. In total a 100 bicycles will be provided by Hobsons Cycles, a local bike shop who have worked in partnership with us. The first bikes will be handed over to Eastcroft Park Primary School on Wednesday 15 December at 10.30am, followed by a handed over to PC Robby Pritchard by Goodrich Vice President, Paul Lennon and a group of employees on Thursday, 16 December 2010. PC Pritchard, otherwise known as Robby the Bobby, is a local police officer who works with schools and the local community in the Croxteth and Norris Green area, with a view to reducing the fear of crime in young people and the community. As part of his role within the Safer Schools Partnership, Robby and his partners will be identifying those children most deserving of these fantastic Christmas gifts. In addition money has been donated to the Radio City Cash for Kids Appeal who aim to raise money to improve the quality of lives of children in Liverpool and the surrounding areas. Cash for Kids is currently running a special appeal at this time of year to ensure children who might otherwise receive nothing, at least receive one present this Christmas.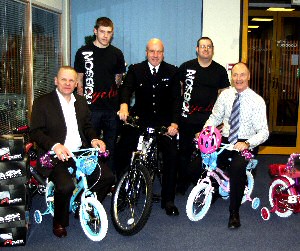 The funding for this has been donated by Goodrich and is in recognition of the hard work and contribution made by our Huyton employees. Company representative Paul Lennon said:- "It was really heartening to get involved with the distribution of these bikes and gifts and we are delighted to have been able to help so many children this Christmas."

Goodrich Corporation, a Fortune 500 company, is a global supplier of systems and services to aerospace, defence and homeland security markets. With one of the most strategically diversified portfolios of products in the industry, Goodrich serves a global customer base with significant worldwide manufacturing and service facilities. For more information visit:- goodrich.com.
FUNDING ANNOUNCED TO HELP FIGHT ILLEGAL MONEY LENDERS AND SCAMS
THE Government has announced new funding to continue the fight against loan sharks and scams. Specialist regional Illegal Money Lending (IML) and Scambuster teams run by Trading Standards will continue to be funded by the Department for Business. In order to deliver even better results and a more efficient service the Government will also be re-organising the structure of the IML teams.

The IML and Scambuster projects will be funded next year at approximately the same level as this year, also receiving £5.2m and £3.2m respectively. Funding is expected to be similar in 2012 to 2013.

The Department for Business, Innovation and Skills will also restructure the IML project - moving away from regional teams to a structure that will see one team in England alongside national teams in Scotland and Wales. Action in England will be co-ordinated by a Birmingham based team that already covers five regions and has proved to be extremely successful. Expanding its role will bring efficiency savings, but should also bring even better results – with independent research showing that larger teams have proved more successful than smaller ones.

Consumer Minister Edward Davey said:- "These are good projects - they are taking the fight to loan sharks and scammers in communities up and down the country. It is extremely pleasing that despite the huge budget deficit we have been able to find the funding to continue this important work. People who prey on the vulnerable will not be tolerated and these teams will help lead the fight against these crooks. But at a time when extremely tough public spending decisions have to be made, we have also taken a long hard look at whether we can deliver the same outcomes in a more efficient way. I believe our new structure does exactly that – I'm confident it will bring efficiency savings and even better results."

The Department for Work and Pensions has also announced today that Jobcentre Plus has joined forces with Trading Standards to help customers who are being targeted by loan sharks. Frontline staff at Jobcentre Plus are now being trained in how to spot signs of illegal money lending activity...
Did you know?
1. To date, the IML teams have:-

► Identified over 1,700 illegal lenders.
► Arrested over 500 illegal money lenders (loan sharks).
► Written off over £37 million of illegal debts (money victims would have paid back to illegal lenders if the Department had not acted).
► Secured over 182 prosecutions, resulting in prison sentencing totalling over 107 years and one indefinite.
► Helped over 16,000 victims of loan sharks including the most hard to reach individuals.
► Seized over £1.3 million in cash.
► Over £20 million of assets are being investigated (under POCA) with the intention of removing these from illegal lender.
► Referred over 600 victims to alternate (legal) sources of financial support.

2. To date, the Scambuster teams have:-

► Uncovered an estimated £55 million worth of fraud.
► Made estimated £23 million savings for consumers.
► £16.5 million worth of criminal assets seized.
► 58 defendants including organisations successfully prosecuted with sentences totalling 75 years imposed.

3. Over 150 credit unions and community financial institutions in Great Britain have benefited from the Department for Work and Pensions Growth Fund and more than 306,000 loans have been made to financially excluded people with a total value of an estimated £133m.

4. Consumer Direct works in partnership with Trading Standards and offers information on the most common types of scams and advice on what to look out for. If you think you have been a victim of a scam you can contact Consumer Direct on:- 08454 04 05 06 or via their website:- consumerdirect.gov.uk.