New EU Bankers Bonus Rules Come into Force
DID you know a new European law tackling bankers' bonuses came into force on 1 January 2011? Now the draftswoman behind the new Law on Bankers Bonuses and Vice Chair of the European Parliament's Economic and Monetary Affairs Committee Euro MP, Arlene McCarthy is calling on George Osborne to come before the House of Commons and explain the implementation of the law and its impact for the 2011 bonus round. North West Arlene McCarthy MEP said:- "It is in the public interest for the Chancellor to explain to MPs how the Government will implement these new rules. This is particularly important as the Government spent the last month trying to waterdown the rules and hesitated implementing them for the 2011 bonus round. In the United Kingdom alone over 720 Billion Pounds of support was made available to failing banks, more than an entire year's spending by the Government. These new rules are designed to put an end to the excessive risk taking culture that led to the global financial crisis. The UK Government has been forced to accept the law and failed in its attempts to weaken the rules. My proposals cut up front cash bonuses and are essential to remove the incentives for excessive risk taking that led to the banking crisis. The banks have had two years since the 2008 financial crisis to do this and have failed to act, so now this law has done the job for them. We have seen bank chiefs walk away from the ruins of their firm with a 16 million pound bonus pot, while taxpayers pick up the bill. These new rules will ensure this can never happen again. The Government must reassure the public that it will implement these tough bonus rules in full."
Liverpool Sound City 2011
CALLING all 16 to 19 year old bands and artists of any musical style! This is your chance to play a gig at the coolest city festival in May 2011. Second heat to take place on Saturday, 15 January 2011 at the Picket Music venue Liverpool, third heat on Saturday, 29 January 2011, and in February dates are still to be arranged..

To apply with the following information:-

► band name
► ages
► contact number
► email address
► myspace links

Email:- youthlive@liverpoolsoundcity.co.uk

Winners will receive FREE studio time, photo-shoot, management advice and lots of other goodies to kickstart your career!

Get your application in now! Sound City can change your life!
*16 to 19 year olds only allowed to apply

LIVERPOOLSOUNDCITY.CO.UK
FACEBOOK.COM/LIVERPOOLSOUNDCITY
WITNESS APPEAL - NEW BRIGHTON
MERSEYSIDE Police have issued an appeal for witnesses after a pensioner came off his bike in New Brighton on Wednesday, 29 December 2010. They told us that the emergency services had been called out at around 1.05pm after the 71 year old local man was found unconscious on Rowson Street opposite the funeral directors. The pensioner sustained head injuries and was taken to hospital where he remains in a critical condition. Officers are trying to establish the circumstances surrounding the incident and are also appealing for his relatives, or anyone who knows of their whereabouts to contact the Police. Anyone with any information is asked to call Merseyside Police on:- 0151 777 5771, or Crimestoppers, anonymously, on:- 0800 555 111.
Liverpool guide dog owner, Alan Briggs Completes blind drive for Guide Dogs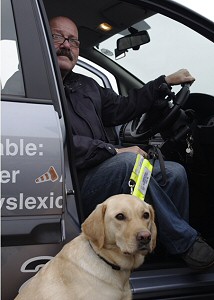 A guide dog owner whose vision was impaired following a stroke has completed the ultimate drive challenge. Liverpool resident Alan Briggs drove a specially adapted vehicle around the Vernon Sangster car park in Anfield to help raise funds for Guide Dogs. The event was organized by the social enterprise organization Diverse Road Safety, based in Dovecot.

Alan, 59, lost his sight, suffered short term memory loss and was left with mobility problems as a result of a stroke in February 2007. The stroke turned Alan's life upside down. Prior to the stroke, Alan and his wife Ann had an active and enjoyable life which included holidays abroad between their busy work and family life.

Thanks to Alan's wonderful guide dog, Edie; Guide Dogs and The Stroke Association, Alan is back on his feet and now there's no stopping him!

Alan said:- "When it all happened, I was in a state of depression and didn't know where to turn until The Stroke Association got involved." The charity referred Alan to the Christopher Grange Rehabilitation Centre for people experiencing sight loss. As a result of his time at the centre, Alan was given information about charity Guide Dogs and how to apply for a guide dog.

In February 2009 Alan qualified with his guide dog, Edie. "Having Edie has been a truly life changing experience. I now feel confident getting out and about independently, knowing that my best friend is by my side." says Alan,

It is due to Alan's gratitude to Edie and to Guide Dogs that Alan decided to help raise vital funds for the charity. Alan has raised over £300 towards the wonderful work of Guide Dogs and is still collecting sponsorship!

Julie Ainscow from The Stroke Association said:- "Visual problems are common after a stroke and can affect up to two thirds of stroke survivors. There are several different types of visual difficulties, ranging from slight to severe, but help and support is available. I'm delighted that Alan is getting back to life following his stroke, and is able to give something back to Guide Dogs."

If you would like information about the work of Guide Dogs, please visit:- guidedogs.org.uk or phone:- 0845 372 7499.

For further information about stroke, please visit:- stroke.org.uk, or ring the Stroke Helpline on:- 0303 30 33 100.

For further information about Diverse Road Safety, please contact Jo Webster on:- 07813 649407 and also visit:- diverseroadsafety.org.uk.