Change lives with free charity parachute jump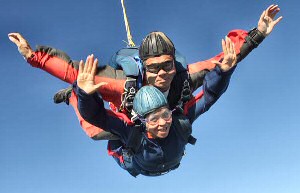 IF you are looking for a really exciting New Year resolution, why not try a parachute jump for charity FREE OF CHARGE? This is the ultimate high adrenaline activity that will give you a brand new view of the world.

The Muscular Dystrophy Campaign is giving you the chance to follow many other people from all over the UK who have experienced this fantastic thrill of a lifetime. You can enjoy this incredible opportunity completely free just by raising the minimum sponsorship required of £395 and dates are available all year round at any one of over twenty approved British Parachute association drop zones so there is sure to be one close to where you live.

Imagine standing at the edge of an open doorway in an aircraft at 10,000 feet... with the wind is ringing in your ears with only the outline of distant fields below. Then its go, go, go as you start to freefall at over 120mph! You're harnessed to a professional parachute instructor who helps you to glide safely back to the drop zone below, so you don't even need any previous experience, you just need to be over sixteen and ready for the thrill of your life!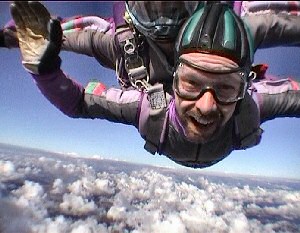 Charles Horton, Volunteer Fundraising Manager for the Muscular Dystrophy Campaign says:- "Taking the leap of faith and signing up for this parachute jump won't just change your life – it will help change the lives of the 70,000 babies, children and adults living with muscle disease in the UK. Muscle disease can be life-limiting and there are no cures. By doing a parachute jump to raise funds you will be helping us to continue the search for treatments and a cure."

The Muscular Dystrophy Campaign is the leading UK charity focusing on muscle disease. It has pioneered the search for treatments and cures for over 50 years, and is dedicated to improving the lives of all children and adults affected by muscle disease.

It funds world-class research to find effective treatments and cures; provides free practical and emotional support; campaigns to raise awareness and bring about change and awards grants towards the cost of specialist equipment, such as powered wheelchairs.

Dates for parachute jumps are available at various sites around the UK and more information is available by ringing the Muscular Dystrophy Campaign office on:- 01244 536551 or by emailing:- northwest@muscular-dystrophy.org.
Pontin's first administrators report
THE joint administrators of Pontin's Limited have issued, in line with their statutory obligations, their first report to creditors on the progress of the administration.

Key facts:-

► The level of secured creditor debt is approximately £44m
► The level of unsecured creditor debt is approximately £3.6m
► As the majority of the business' assets are fixed in nature, the return to creditors will be based on the amount raised on the sale of the business
► Unfortunately there is insufficient property to allow a distribution to unsecured creditors
► All employees have been paid arrears of wages, holiday pay and the pension scheme is up to date.

Rob Croxen, joint administrator of Pontin's and restructuring director at KPMG, commented:- "All employees, customers, suppliers and the various stakeholders involved in Pontin's have rallied throughout the administration process. Clearly this is a tough time for all concerned but the level of support really reflects the goodwill the brand has earned over its long history. We have received a great deal of interest in the business and should be in a position to make an announcement on the sale of business in the coming weeks."

Commenting on the sales process, Rob Croxen added:- "We've received a total of ten offers for the business, with the majority coming from parties who are keen to continue operating the business as a going concern and ultimately take the Pontin's brand forward. While negotiations remain ongoing, we are confident of being able to conclude a sale in the near future."
"Come on cheer the boys!"
IN the aftermath of Widnes' first pre-season outing, Vikings' Chief Executive, Julie Gaskell has commented:- "We were really pleased with the crowd figure of 3,758 at last Sunday's game against Warrington. Despite only joining the club toward the end of last season, I already appreciate the fact that when they are in full voice, our supporters' certainly play their part at the Stobart Stadium Halton and create a truly unique atmosphere which gives the players a tremendous lift, so if we can replicate a similar level of noise when Crusaders come to town on Sunday 9 January, it should be quite some occasion. Our head coach, Denis Betts has also told me how impressed he was with our fans' efforts in what was his first outing as a Widnes employee and despite the loss, both he and his team are still as determined as ever to turn our home ground into a fortress-type venue and somewhere as intimidating as possible for opposing teams to visit. 2011 promises to be an action-packed season for the club both on and off the pitch and if we can increase our fan base going forward, any momentum gained can only help us in our long-term quest of competing at the elite level. It goes without saying that Crusaders will provide Denis and his team with a tough challenge this weekend, but with the lure of it being yet another local derby we'd like to encourage as many of our fans as possible to come along once again and show their support to the team."

Widnes Vikings versus Crusaders:- Sunday, 9 January 2011, Kick Off at 3.00pm

► Turnstiles open at 1.30pm

► Cash only payment at the turnstile, priced at £10 for adults and £5 for concessions / juniors.

Any supporters wishing to upgrade to either Silver or Gold seating areas can do so via the Stobart Stadium Halton's main reception.