LESS THAN HALF OF ADULTS CAN EQUATE ALCOHOL UNITS TO DRINKS
WHILE more than 4 in 5 adults (85%) have heard of 'alcohol units,' only 2 in 5 of these (42%) can equate the term to actual drinks; according to new research published on 4 January 2010, by alcohol awareness charity Drinkaware.1

To help consumers gain a better understanding of units and their own drinking in the New Year, Drinkaware has posted 2.3 million unit and calorie calculators to households across the UK.

The survey of more than 4000 UK adults, found that when asked to choose from a list of beverages only 30% of women and 46% of men could correctly identify which drinks roughly equate to one unit of alcohol.2 The survey also showed that less than a third of adults (29% of women and 32% of men) can correctly state the recommended daily unit guidelines for alcohol for their own gender.

To try and increase the nation's knowledge of equivalents, the Drinkaware unit calculator, which features a range of alcoholic beverages, allows consumers to tot up the number of units and calories in their favourite drinks and promotes three top tips for a healthier 2011:-

► Swap your usual glass for a smaller one

► Before you start drinking set yourself a limit and stick to it

► Swap a glass of wine for a relaxing bath to help relieve stress

Chris Sorek, Chief Executive of Drinkaware, says:- "It's great to see most people have heard of the term 'alcohol units', but we want to help them understand the unit equivalents of their favourite drinks and relate those to the recommended daily guidelines. Changing the UK's drinking culture won't happen overnight but providing consumers with useful tools such as the unit calculator can help them understand what a unit is and how many are in the nation's most popular drinks. It's important we challenge the norm of people unwittingly drinking to excess, whether that's at home after a long day at work or out at a bar or restaurant. Knowing how the unit guidelines translate into everyday life, will make it easier for consumers to stick to them. The benefits of this will be felt not only by individuals; through better health and wellbeing, but also by wider society."

As a further incentive for people to have a healthy start to the New Year each Drinkaware unit calculator recipient will have the chance to enter a prize draw to win a weekend for two at Champneys luxury spa.
The first 10,000 entries at:- drinkaware.co.uk/spa will also receive a free unit measure cup.
New Brunswick Battle of the Blues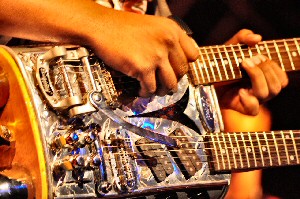 BLUES fans are in for a huge treat on 29 January 2011 as musicians across the region go head to head in a heat to find Britain's best Blues talent in the New Brunswick Battle of the Blues. The event will be held at BJ's Blues Club at the Hop Pocket in Chorley. Competing bands include: The Mighty Revelators from Bury, Mark Thornley Band from Blackpool, Chris James from Carlisle, Lee Bates and Billy Newton from Gateshead, Lucy Zirins from Burnley and the Revenues from Barnoldswick, Pendle. This search for the best of British blues has come about because the Canadian Province of New Brunswick is looking to the UK to provide new performers for its world-renowned Harvest Jazz and Blues Festival, celebrating its 20th Anniversary in 2011. Says competition organiser, Lee George:- "Knowing how much blues talent exists in Britain, Tourism New Brunswick was very keen to have an unsigned British blues band or singer/songwriter playing at the Festival. Meanwhile, we want as many blues fans as possible to come along to the heat and support their local musicians at what is going to be a night to remember."

The winner of each heat – plus one runner up chosen by the public – will battle it out at the final in London in March, with the winner getting an all-expenses paid trip to the maritime province of New Brunswick to play on one of the main stages at the Harvest Jazz & Blues Festival in Fredericton in September 2011. Lee again:- "We'd love as many of you as possible to come along on heat night and support these great musicians – and to tell us your favourite runner-up. New Brunswick is not only an incredibly beautiful part of Canada, but it has a blues heartbeat like nowhere else in the world. Travelling to the Harvest Jazz & Blues Festival could be a life-changing opportunity to perform amongst the very best and to sample 'the jewel of Atlantic Canada' and all that the Province has to offer. And you, as the audience, could help your favourite blues band to get on the road there."

All heats for the New Brunswick Battle of the Blues will be held in the second half of January and will provide a brilliant night out. Entry to the heat at BJ's Blues Club on 29 January 2011, is free of charge! Other regional heats will be held at: Beeston (Notts), Eastleigh, Southampton (Hants), Glasgow and Billericay (Essex) .For more information about the event at BJ's and the province of New Brunswick, visit:- tourismnewbrunswick.co.uk.