Joint budget work to begin in Liverpool
3 of Liverpool's political parties will make history later this week when they start work on a joint budget. It is believed to be the first time in living memory that they have united and put aside their differences to work on the city's finances. The ruling Labour administration, the Opposition Liberal Democrats and the Green Party have all signed up to be part of the budget setting process. The City Treasury has spent the last month examining scores of spreadsheets provided by Whitehall departments, to work out the total impact of changes in central government funding. The fall in Whitehall funding, combined with additional budget pressures, means the council needs to save £141 million between now and 2013. A total of £91 million will have to be saved in 2011/12 alone – which amounts to 22% of the city's controllable budget.

Council Leader Joe Anderson said:- "These are extremely challenging times and we are facing a reduction in funding the likes of which has not been seen since the second world war. I am pleased the other party leaders have agreed to work with us on the budget to examine every line of expenditure and work out how we can make savings that protect the most vulnerable in the city. We have already taken some action such as reducing the number of senior managers, doing away with bonuses and cutting spending on accommodation and marketing. But such is the scale of the budget reduction imposed by Whitehall that there is no area of council spending which will not be affected."

Opposition Leader, Councillor Warren Bradley, said:- "The Liberal Democrat group welcomes the opportunity to take part in the budget setting process, and I look forward to taking part in the process. We need to have a mature discussion about the issues that we face and how we can make sure that we minimise the impact on the elderly and the young who receive services."

Leader of the Green Party, Councillor Sarah Jennings, added:- "These are extremely difficult times and the Green Party is pleased to be able to input ideas and suggestions."

A cross-party delegation is due to travel to Westminster on Thursday, 13 January 2011, to outline the severity of the reduction to Communities Minister Andrew Stunnell MP. Liverpool City Council is due to set its budget at a meeting on Wednesday, 23 February 2011.
Could you be a European Language Label winner?
TIME is running out to find the winners of this year's European Language Label, previously known as the European Award for Languages. If you are working on an innovative language learning project, make sure you apply for this prestigious award by 31 January 2011.

The Europe-wide initiative - organised in the UK by CILT, the National Centre for Languages - celebrates new ways to inspire and motivate language learners of all ages. Primary and secondary schools, adult education, business and community projects are all invited to apply.

Winning projects must provide an inspiration to others, be replicable and involve any language other than English. This year we would especially like to hear from projects that involve language learning as a preparation for work and language learning in the community.

Catherine Stead, European Language Label Project Manager at CILT said:- "We've seen some really amazing projects submitted over the years and great enthusiasm from schools and the wider community. This award gives schools the chance to show how language learning can be fun as well as being an invaluable life skill."

Last year's award winners included a primary schools project in Devon where pupils combined language learning with PE and a project where local businesses enabled pupils to use their language skills in a real-life business situation. This year's focus for the awards is on languages that can be used in a career and on language learning in the community.

There are special prizes available, including the annual Mary Glasgow Award of £2000. Winners will attend a prize-giving ceremony in July at the new European Commission offices in London.

To find out more and to download an application form, visit:- cilt.org.uk/label.
UNISON REJECTS DIVISIVE PAY CUT FOR NHS STAFF
UNISON, who are the largest public sector trade union with over 1.4 million members, on 11 January 2011, decisively rejected the NHS employers proposal to freeze all increments for lower graded staff in return for a no compulsory redundancy agreement. Earlier the North West Region of the union unanimously rejected the proposal and mandated its National representatives to vote against. The North West Regional Health committee said that the offer was divisive and unworkable. In addition it would be discriminatory especially against low paid women workers. Delegates also expressed scepticism that the employers could or would be able to deliver on the no redundancy promise. Following the regional meeting Paul Foley NW UNISON Lead officer for health said:- "Delegates to the North West UNISON Health Committee debated the employers proposal and the unanimous view was that the proposal was unfair and loaded against low paid staff. NHS employees are already facing a two year pay freeze. This coupled with inflation running at close to 4%, VAT now at 20%, and from April workers face a further hike in National Insurance. A two year incremental freeze on top of that would make a massive dent in NHS employees earnings. Given the total abdication of the government towards tackling bankers huge bonuses, it is a disgrace that dedicated caring workers should bare the brunt of the financial sectors disastrous impact on the economy. The time has come for the government to make those responsible for the financial crisis pay, not those who deliver essential life saving services to the community." The committee agreed that if any Trust moved to unilaterally impose the freeze a major campaign would be mounted to resist the devastating attack on health workers pay and conditions of service.
Heart charity offers grants to support local organisations in the North West
THE British Heart Foundation (BHF) wants to hear from people with ideas to improve heart health in the North West. The charity wants to support local projects that would improve the quality of life for heart patients and their carers or promote healthier lifestyles for those at risk of developing heart disease. The BHF is inviting applications to its Help a Heart Grant programme which makes awards of between £300 and £2,000 available to voluntary and community groups to run projects in their local community. Grants have been used by local groups in a variety of ways. Previous examples include developing web-based resources for local heart patients. Funds have also been used to run a swimming programme to promote physical activity to groups of young carers, as well as programmes that help heart patients and their carers manage stress. Lisa Purcell, Heart Health Project Manager at the BHF, said:- "Help a Heart grants aim to support small community groups that can make a real difference to people in the North West. Even grants of a few hundred pounds can have an impact. If you're a community group with a great idea to get people fit and healthy in the North West, and improve the lives of local people affected by heart disease, then we want to hear from you." For more information download an application pack by clicking here.
THE MARTINI LOUNGE BURLESQUE SHOW
Photos by John Dietrich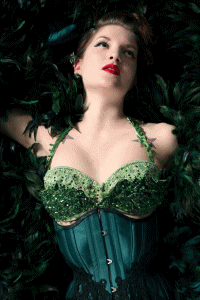 ANNA Fur Laxis and Paul Dabeck join Millie Dollar and Fred Bear for a passionate night of glamour at Liverpool's St Georges Hall! The Martini Lounge Burlesque Show is delighted to announce their first Grand Showcase of 2011. This tantalising treat of tease will celebrate Valentines in the way that only this spectacular burlesque show can.

Following rapturous acclaim from press and audiences alike at their October and December showcases, The Martini Lounge returns with a host of new friends and scintillating performances on Friday, 25 February 2011, at Liverpool's St Georges Hall. Sure to set you and your suitor in the mood for love, the Martini Lounge Valentines special promises to be as deliciously dazzling as a bottle of the finest champagne.

Hoping to pop your cork is international burlesque star Anna Fur Laxis. Praised for her creativity, humour and originality, Anna's unique take on traditional burlesque performance has seen her performing shows in Los Angeles, New York, Chicago, Las Vegas, Milan, Paris and Tokyo. A breathtaking, pulse-raising, and occasionally fatal performer, Anna is acclaimed the world over for her homage to Bettie Paige and knife/axe throwing routines. She also recently headlined the Windy City Burlesque festival in Chicago, performing to sell out audiences over the course of the weekend-long event.

Internationally acclaimed magician Paul Dabek will leave you open mouthed as he delves into his box of tricks and delivers a mix of jaw-dropping sleight-of-hand, enchanting illusions and quick-fire comedy presented with his impish sense of mischief. Paul's dynamic and high-energy style has earned him some of the most highly regarded titles in his field. He has been awarded The Magic Circle's 'Young Magician of the Year' and The International Brotherhood of Magicians 'British Shield'.

Comic burlesque diva Mysti Vine will be on hand to add the fizz to the evening with her hilarious yet titillating routines. With over 15 years of entertaining tucked firmly into her bra-strap, Mysti is an accomplished stand-up comedienne, compére, variety, burlesque, cabaret and striptease artist. The self proclaimed 'ComicGoddess', Mysti has worked onstage with Dita Von Teese and Immodesty Blaize and has also produced & performed at the Edinburgh Fringe Festival, most recently hosting the infamous Bongo Club Cabaret the festival's longest running Cabaret/Variety show.

Garnishing the evening are the musical stylings of Coco Malone. Coco is a renowned Jazz and Blues songbird who has also been known to belt out the occasional show tune. Coco has performed all over the world gathering more fans as she goes with her beautiful, dulcet tones.

A firm favourite of the Martini Lounge, the one and only Fred Bear will keep the mischievous minxes in check in his role as compére, whilst entertaining the audience with his witty banter and hysterical brand of humour. Fred will also take to the stage to perform, promising a routine which is sure to both arouse and delight the audience.

The Martini Lounge treasures the satire and performance art that evolved since its 19th Century origins and has created a classy and delightfully ludicrous night of entertainment in the most pertinent venue to reflect this tradition. On the night, guests will revel in an exclusive show program whilst enjoying a sumptuous two-course dinner that will tempt the taste buds prior to the evening performance, for which the circle seats will be opened.

At the heart of it all, the fabulous Millie Dollar, Liverpool's very own Queen of Burlesque & founder of The Martini Lounge will step out to perform one of her renowned routines. With a wink and a smile, Millie will entertain and tease you with her unique mix of rock and roll, sleaze and Las Vegas style Bump and Grind. A firm scene favourite, Millie has been performing since 2006 and has specialised in Classic style Burlesque with tributes to Sally Rand.

Widely regarded as the must-see Burlesque showcase in the UK due to its sell-out status and devoted audience. Following a spectacular Halloween show, The Martini Lounge invites you to its biggest showcase of this kind yet; an impressive night of glitz and glamour from a forgotten age. Join us as we bring an outstanding line-up of international Burlesque stars to the cultural city of Liverpool in the striking venue of St. George's Hall, continuing this alluring series of shows.
The Martini Lounge Workshop
To coincide with the show on Friday, 25 February 2011, The Martini Lounge is delighted to offer the ladies of Liverpool an exclusive burlesque master class. Following the successful events held in October and December 2010, the Martini Lounge Workshop returns on Saturday, 26 February 2011, at 1pm. This wonderful afternoon will feature a lesson in the art of tease lead by one of the Martini Lounge starlets, following in the footsteps of Kitten De Ville and Beeby Rose who lead fabulous workshops in October and December respectively. The workshop will take place on the top floor of Heebie Jeebies, 80 Seel Street, Liverpool. A perfect opportunity to learn new ways of seducing your suitor, we're sure you'll agree.
PERFORMANCE DETAILS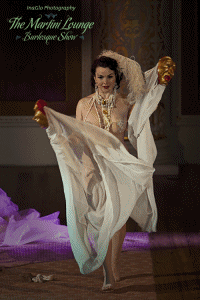 The Martini Lounge Valentines Grand Showcase
Friday, 25 February 2011 at The Concert Room, St Georges Hall... Dinner Show Guests:- 5.30pm (Doors), 6.30pm (Show) & Evening Event Guests:- 7.30pm (Doors), 8.15pm (Show). Tickets:- Dinner Show and Evening Event. Tables:– £66.70 (£59 Early Bird), including two-course dinner and evening event Evening Event only. Circle:– £24 (£21.60 Early Bird). Balcony:– £17 (limited availability, general admission). How to Book:- Book over the phone at:- 0844 888 9991 or online at:- martini-lounge.net.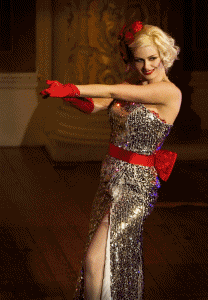 The Martini Lounge Burlesque Workshop
1pm, Saturday, 26 February 2011 at The Top Floor, Heebie Jeebies, 80 Seel Street, Liverpool. How to Book:- Places must be booked in advance. View further details online at:- martini-lounge.net.