LIVERPOOL STUDENTS RECEIVE GARDENING EQUIPMENT BOOST
STUDENTS at Cardinal Heenan Catholic High School for Boys have received a welcome donation from the construction workers building their new school in Liverpool.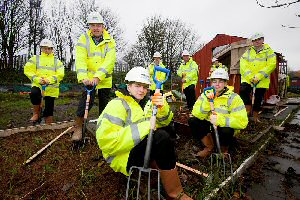 Construction company Morgan Sindall, which is currently replacing high school buildings and sixth form facilities at Cardinal Heenan and Broughton Hall High School for Girls, both in West Derby, donated gardening equipment as well as hard hats and clothing to help students working on their allotment. "We are delighted to be able to help students at Cardinal Heenan with their allotment project through this donation. We presented the school with a host of equipment including spades, forks and hammers. As a local company, we pride ourselves on supporting our neighbouring communities while creating first-class environments for people to work and live in. We are thrilled to see young people taking an active interest in outdoor learning." said Peter Durkin, Morgan Sindall senior project manager.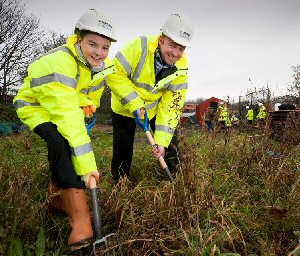 Morgan Sindall, which has offices at Enterprise Way, Liverpool, is building new teaching blocks as part of Liverpool City Council's Wave Two Building Schools for the Future scheme. In addition, the project team is creating a shared sixth form facility, which forms a bridge between the new schools, linking up the entire education complex. The project is due to be completed in September 2012.
There should be more investment to support ageing dancers
MARK Edward, Senior Lecturer in Performance and who is also a freelance arts practitioner, has been investigating the debate on ageing bodies and mature dancers. "The ageing dancer appears unwelcome, perhaps akin to the dancers' menopause: reluctantly undergoing physical and psychological changes where the aches and pains of the parents' generation now increasingly belong to me. The dancer practitioner, nearing 40, is considered geriatric. My mind repeats the same cutting question? If a ballet dancer would hang up their pointe shoes, at what point does the contemporary dancer wash their feet clean after a final performance? With the current climate of dance culture and TV dance phenomena we only need to take a look at programmes like Strictly Come Dancing to realise the full extent of the promotion of a more youthful dancing body causing much debate on dance, dancer and the relationship this has upon the ageing body. The current wave of TV dance may be the 'in flava' of journeys into dance and be the democratisation of dance – anyone can do it if they sweat enough - but it doesn't eradicate the hierarchy or ageism of dance form, it rearranges it: because not all forms are valued."

Mark's latest article More Hip Op than Hip Hop: temporality of the dancing body, published in Animated Dance Journal: Winter 2011 examines and questions the shift from performance into dance creation as the performer gets older and the prejudices that surround this process. He also takes a look at embodied knowledge and the appreciation of the mature mover.

"The paper focuses on the cumulative impact of ageing values and practices as experienced across the trajectories of my life-process, paying particular attention to dimensions of lived experience, physical and emotional pain and migrating self as well as subverting notions which discriminate against the ageing body, and highlights and celebrates instead work which evolves with the ageing performer through somatic practice, valuing the lived process and the body as a phenomenological breathing CV. The subjective nature of my investigations generates reflective research which is less scientific, and which exposes and explores, rather than sanitises, issues like emotion, friendship, pain, biography, embodiment and sensitivity. As an older artist, I can readily engage with and draw upon a range of knowledge with lived experiences. It comes as a result of change, migration and most importantly constant movements. Our bodies evolve, develop, and change and it is this richness that is brought to the studio and should be openly celebrated. Mature dancers shouldn't be discarded because of their ageing bodies and I'm glad to see that this issue is being addressed in the wider dance community, which appears at last to be moving on considerably in its appreciation of the mature mover and embodied arts practice." said Mark.

Do you, our readers agree? Email us to our news room via:- news24@southportreporter.com and let us know your views on this topic.