'Ruby' Nurses Mark 80 Years of Practice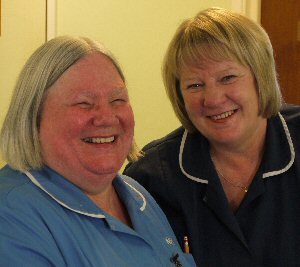 TWO friends have celebrated the landmark of 40 years service each in the NHS – after starting work at the same place and on the same day in 1971.

Georgina Morrison, District Nurse at Edge Hill Health Centre, and Sue Power, Team Leader at the Treatment Rooms in Dovecot Health Centre, met when they both started their first day of nurse training at Broadgreen Hospital on 4 January 1971.
More than 40 years later, their friendship has held strong – as has their relationship with the NHS. And just as they started their working life together, they've just both celebrated their 'Ruby anniversary' with the NHS – at Liverpool Community Health NHS Trust.

Their memories of life in the NHS are fascinating, with Georgina remembering trainee nurses needing permission by their Matrons before they could become engaged.

She also remembers living in nursing accommodation which were almost Dickensian by today's standards, with late passes only being given until 11pm at weekends.



Georgina, 59, whose career has taken her from Broadgreen Hospital to Edinburgh, Chesterfield and Gobowen in Wales, says:- "I can't believe I've clocked up 40 years. I've seen many changes during that time, but the one thing that hasn't changed is the great camaraderie amongst the nurses."

Sue, 58, has also enjoyed a varied career, which has included a short break from the NHS when she worked in Occupational Health at factory John Dickinson's, a 35 year stint as a District Nurse for Liverpool Health Authority Teaching, and a 30-year role as a District Nurse at Queen's Drive Health Centre. She says:- "It is the enjoyment of the job that has kept me here – and patient contact is what I enjoy most of all."

Georgina and Sue are now planning a 40th anniversary reunion on March 18, 2011, for any former colleagues who started training at Broadgreen Hospital in 1971.
Anyone who wishes to contact them should phone Georgina on:- 0151 487 3702.
Have you had any postal services problems this year?
IN the last few weeks of 2010, the weather was so bad that it affected postal deliveries, combined with the Christmas post. But by now most would think that the backlog has been delivered, but we are getting wide spread reports of more problems and late post. In fact we have received post from 1995 a few days back! We put that one down to a freak delivery error. Yet when we have checked most of the post seems to be getting in on time, yet some are postmarked and when opened are dated around mid November 2010. So what we now want to know is have any other readers had delayed post and if so what was the date franked on the envelope and date inside the envelope. Please email us by 12 noon Tuesday, 18 January 2011 to our New Room email address, news24@southportreporter.com.
Government plans will safeguard future of Postal Services
IN advance of the final stages of the Postal Services Bill in the House of Commons tomorrow, Minister for Postal Affairs Edward Davey on Wednesday, 12 January 2011, set out the urgency of the Government's plans.

Edward Davey said:- "Two cornerstones of British life – the Royal Mail and the Post Office – are at a crossroads. Our policy is to break away from the years of decline and push ahead with plans which promise them both a brighter future. We won't repeat the previous Government's post office closure programmes. The Post Office is not for sale. Instead we are providing £1.34 billion of new funding and developing new reasons for customers to keep coming through the door. Royal Mail has a multi-billion pound pension deficit; is faced with rapidly declining letter volumes; needs much greater efficiency and has an urgent need for capital at a time when there are huge constraints on the public purse. A visit to a sorting centre just before Christmas brought home to me once again the huge task that faces Royal Mail. Staff were working incredibly hard to ensure that endless rows of presents and parcels bought online were ready for delivery. The digital age is presenting the company with a different set of challenges – and only with fresh ideas, modernisation and more investment can Royal Mail really adapt and thrive in this new market. The Post Office also has to rise to these challenges and make the network even more attractive and convenient for shoppers - expanding new services for customers and small businesses using their local post office to drop off and collect parcels. I know how much people up and down the country value these great institutions and the vital services they provide - the Government is determined to secure the future of both."

The Government's Postal Services Bill will now be considered by the House of Lords.

Edward Davey said:- "Royal Mail has to go further and faster to innovate, modernise and adapt better to the digital age – that requires substantial investment. The Government believes this investment needs to be delivered by the private sector, to bring with it the commercial disciplines Royal Mail needs to become a world-class postal operator and to free it from the spectre of Government intervention in management decisions."

The Bill includes the following proposals:-

Royal Mail

The requirements of the universal postal service – collection and delivery of post six days a week at uniform, affordable prices are written into the Bill. The Government has no intention of downgrading them.

Royal Mail will be able to benefit from an injection of private capital - ending the dependence on funding from the taxpayer and bringing new commercial disciplines into the business.
Alongside private sector investment:

At least 10% of the shares in Royal Mail will go to its employees in the future. This will be the largest employee share scheme of any privatisation, larger than British Telecom, British Gas or British Airways.

Royal Mail will be relieved of its enormous historic pension deficit by the Government.

As part of a general reform of the regulatory regime for mail, the existing regulator, Postcomm, will be replaced by Ofcom, the communications regulator, with the Bill providing for the transfer of Postcomm's regulatory responsibility and its staff to Ofcom.

Post Office

The network of around 11,500 Post Office branches is not for sale and there will be no programme of closures under this Government. Instead there is £1.34 billion of new investment.

Under the proposals contained in the Bill, the Post Office could be converted into a mutual structure as part of innovative new plans to hand over its ownership and running to employees, sub postmasters and local communities.