Hidden Her Stories Exhibition Tours City
A unique and inspirational exhibition revealing the innermost thoughts of 28 deaf and disabled Merseyside women will go on display. 'Hidden Her Stories' is a fascinating celebration of the lives and experiences of the participants who used photos and film to express themselves candidly on a variety of subjects close to their hearts. The 20 to 70 year olds talked about issues such as family, friendship and education, but also focus on experiences which are unique to them as deaf and disabled women including segregation, coping with discrimination, political activism and their feelings about the city's deaf community. The project will tour around six libraries in the forthcoming months, launching at Dovecot Community Library on Friday, 21 January 2011. Many of the women involved in Hidden Her Stories will attend the launch. Liverpool City Council's cabinet member for the culture and tourism, Councillor Wendy Simon, said:- "The history and heritage of disabled and deaf people across the region has never really been documented, so this is a wonderful project which shines a spotlight on the various challenges and achievements in the lives of these women. I encourage as many people as possible to come and see this beautifully produced exhibition and learn more about the lives of these inspirational people."

The exhibition will tour:-

► 21 January to 28 January 2011 at the Dovecot Community Library

► 1 February to 26 February 2011 at the Kensington Community Library

► 1 March to 30 March 2011 at the Norris Green Community Library

► 4 April to 30 April 2011 at the Fazakerley Community Library

► 3 May to 27 May 2011 at the Speke Community Library

► 1 June to 25 June 2011 at the Sefton Park Community Library

Hidden HerStories was put together by community organisation, the Disabled Women's Arts Project (DWAP), which is entirely run by deaf and disabled volunteers. Natalie Markham is one of the founding members of DWAP and was heavily involved in securing the funding, transcribing interviews and working with designers and the film company. She said:- "It has been enormously hard work, but absolutely brilliant. I have always been very conscious of how the experiences of deaf and disabled women are often missing altogether, or are presented in a way which portrays misleading or negative images. The stories we have collected are so rich and varied, extraordinary and everyday, moving and funny. They are about getting through, about resilience and achievement, about finding your place and making your mark. I hope people enjoy the women's stories - identifying with some of the universal experiences, whilst maybe also having some of their expectations and assumptions challenged." DWAP are supported by organisations including Liverpool City Council, National Museums Liverpool and the Bluecoat. It was
funded by the Heritage Lottery Fund. The city council's libraries service played a major role in the initiative, providing guidance and support from the archives team. Three library staff, two who are deaf and one who is disabled, have also taken part in the DVD. Also to note... the DVD of memories will be available for loan at all of the venues.
Spark Impact opens office in Liverpool Science Park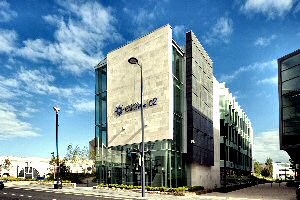 SPARK Impact, facilitator of the new £25M Northwest Fund for Biomedical, has opened an office within Liverpool Science Park. With the fund now open and applications coming in, the leading early stage venture capital company has taken an office in Liverpool Science Park's innovation centre 1 (ic1), located off Mount Pleasant. An estimated 40% of the £25M Northwest Fund for Biomedical will be invested on Merseyside, making Liverpool Science Park's central location and growing presence within the life sciences sector the ideal choice for Spark's permanent office in the region. The life sciences sector is already a major contributor to Liverpool's economy, employing over 4,000 people and generating turnover of around £250M a year.

Work started recently on plans to create 5,000 sq ft of laboratories within Liverpool Science Park's second building on Brownlow Hill, and comes just months after detailed planning permission was granted for a third building at the city centre site, featuring further R&D offices and fully serviced commercial laboratories.

Spark Impact is part of the Spark Ventures plc which has been operating for 12 years as a specialist in early-stage venture capital, providing equity investment to high growth healthcare companies in the UK and Europe. It currently manages approximately £190 million across a number of investment funds.

Penny Attridge, Investment Director Healthcare at Spark Impact and manager of the fund for the Liverpool Region, said:- "We have opened one permanent office in Liverpool Science Park because it is a dynamic facility located in the heart of Liverpool city centre, making it easily accessible to the whole of Merseyside. In addition to this, we have hot desking facilities and meeting room use at key locations around the Northwest."

Spark is one of a number of new firms to take up space at Liverpool Science Park in recent months. Other new tenants include BioEDEN, the world's first international biobank for the storage of teeth stem cells, research and development company Dynamic Water Technologies, national IP law firm Pannone and technology and innovation company Venere Tech.

Chloe Young, Business Development Director at Liverpool Science Park, said:- "Liverpool Science Park is home to a vast array of knowledge-based companies and we are delighted to welcome Spark and all of our recent tenants to the park. These organisations further enrich Merseyside's offering and we wish them every success here at the Science Park."

The £25M Northwest Biomedical Fund is open to biomedical companies based in, or prepared to relocate, to the Northwest. 40% of the fund is going to be invested on Merseyside. An estimated 54 businesses will receive investment from the fund. Initial tranches of funding for start-up companies (up to £50K) could be awarded six - eight weeks from the initial contact. Applications are now being accepted. For more information about the fund please visit:- thenorthwestfund.co.uk. For more information about Liverpool Science Park visit:- liverpoolsciencepark.co.uk.