HAPPY NEW YEAR TO OUR CHINESE READERS!

THE Year of the Rabbit has started and on the Chinese calendar, the Lunar Year is now 4709. If you do not know already, the Lunar New Year dates from 2600BC, when the Emperor Huang Ti introduced the first cycle of the Chinese Zodiac. Since then the the first day of the Chinese New Year can fall anywhere between late January and the middle of February. This year it fell on Thursday, 3 February 2011 if you use the Western calendar. Celebrations happened in Liverpool on Sunday, 6 February 2011 and also in Southport on 5 February 2011.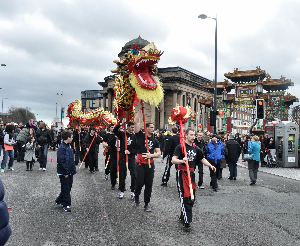 We headed in to get some pictures and video of the action in Liverpool and in Southport. So please enjoy the pictures... For now... Gung Hay Fat Choy! To see our coverage click on these links two:- LIVERPOOL and also SOUTHPORT. Video will be added very soon to our video archive website Southport.TV as well.


KEEP up-to-date with our daily news email service..
~ Sign up ~
to our new news service on Formby-Reporter.com. If you subscribed you can keep in up-to-date with what's going on in and around Merseyside. It is free and we do not send out massive amounts of emails. Also your email is kept under the UK's Data Protection Act, so you can be sure that you will not have problems.
...HAPPY BIRTHDAY...
I

f you have someone you want to say happy birthday to, for free,

then

use the email address below to send us the names

you want us say

happy birthday to, and/or a photograph.

Email us today!