Councils unite for Merseyside Month of the Environment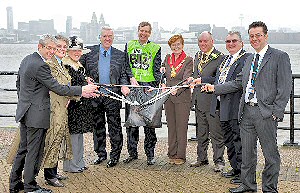 COUNCILS in Merseyside have joined forces to launch the Merseyside Month of the Environment at Woodside Ferry Terminal in Birkenhead.

The 4 week push is the latest activity from Merseyside's councils in conjunction with The Regenda Group, Vicinity and Arena Housing Group known collectively as the Merseyside Cleaner Greener Partnership (MCSGP).

For several years the partnership has campaigned to bring about positive change, that will rid neighbourhoods of litter, graffiti, fly-tipping and dog fouling.

Green activities taking place in March include clean-up events, with the largest being the Merseyside joint Big Tidy Up on Pancake Tuesday, 8 March 2011, that promises to make a real impact on ridding litter from local communities.

Local events are being coordinated by the partners, who have given the activities a social feel by incorporating coffee mornings, an 'Art from Tat' exhibition made from recycled materials and fair-trade workshops around the more serious business of spring cleaning grot spots.

Other events taking place across Merseyside includes a conference to highlight the new Envirochamps scheme in Wirral, the School's Environmental Awards. This will be aimed at recognising the initiative and effort of schools, and another one day conference will be called:- 'Managing Business Waste'. No guesses what that will be about...

Phil Barton chief executive of Keep Britain Tidy said:- "It is excellent to see partnership working bringing councils and people together. Our communities are our homes and we have a responsibility to keep them free from litter and grime."
Trust unveils quit smoking banners
SOUTHPORT and Ormskirk hospitals have unveiled banners at the entrances to both sites promoting quitting smoking. The banners build on the 'Time to Quit' campaign launched last summer. The campaign is supported with posters, leaflets and ward materials sponsored by the pharmaceutical company Pfizer and which helped part-fund the banners.

Southport and Ormskirk Hospital NHS Trust aims to offer every smoker who is admitted to hospital help to stop smoking followed by support in the community when they are discharged.

Stop smoking nurse Beverley Rothwell has built up a team of 15 staff champions to support patients while they are on the wards. Beverley said:- "There is compelling evidence that programmes to stop smoking that begin during a hospital stay and include follow-up support for at least one month after discharge are effective. It is never too late to stop smoking and these banners will give the stop smoking message a boost at both our hospitals."

Matthew Burch, Local Account Manager for Pfizer, said:- "It has been a pleasure to work with the team to help promote the service to patients, their visitors and hospital staff. The increase in referral figures show that our efforts have been successful and it's very satisfying to know that we've worked together to help more people stop smoking."

Trust chairman Sir Ron Watson CBE added:- "These banners are further evidence of the Trust's commitment to helping patients, visitors and staff who want to quit smoking. We have also improved signage to emphasise that smoking is forbidden in the grounds of the hospital as well as in the buildings themselves."
Use this link to find out more about 'Time to Quit' .
MAN CHARGE OVER ANTHONY CLARKE DEATH
MERSEYSIDE Police have confirm that Malik Albrumy, aged 24, from Laburnum Road, Fairfield, has been charged with the manslaughter of Anthony Clarke. Mr Clarke was found unconscious outside of MacDonalds at the junction of Church Street and Paradise Street, Liverpool, on 25 November 2007. He died three days later. Malik Albrumy will appear at Liverpool City Magistrates Court on Friday, 11 March 2011.