Launch success for the 18th Liverpool-Chester Bike Ride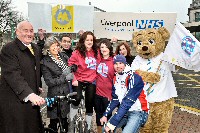 THE Paralympic Silver medallist Rik Waddon - Patron of Claire House, Claire Bear - mascot of Claire House, Dr Paula Grey, Director of Public Health of Liverpool PCT and Vice Chair Cllr Alan Dean of Merseytravel celebrated the launch of the Liverpool Chester Liverpool bike ride, which is to take place on Sunday, 3 July 2011.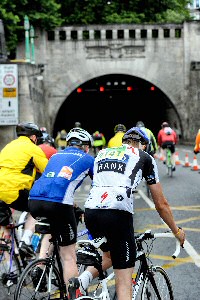 Claire Bear certainly got into the spirit of things by hoping on a bike to launch the much loved event. Claire House Children's Hospice are delighted to be the new charity beneficiary for the popular mass participation bike ride.

The event, also supported every year by Merseytravel, is the biggest bike ride in Merseyside, and is the only cycle event in the country that includes nearly 3 miles underground; traffic free thanks to exclusive access to the Birkenhead (Queensway) Tunnel. Without the help from Merseytravel the unique underground part of the Liverpool-Chester Bike Ride would cease to exist.

Mark Dowd, Chair of Merseytravel, said:- "This is the 18th year we have supported the event which reflects our commitment to sustainable transport choices. We have made Health and Wellbeing one of the core goals of the new Local Transport Plan and cycling offers an easy way for people to incorporate physical activity into everyday lives."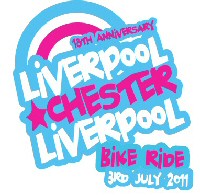 Sponsors Liverpool PCT are also working hard with its partners to promote better physical and mental health through the Decade of Health and Wellbeing, their support for the Liverpool Chester bike ride is part of their commitment to promoting events which encourage a healthier way of life.

Gideon Ben-Tovim, Chair of Liverpool PCT, said:- "We'd like as many people as possible to embrace the Decade of Health and Wellbeing, and our support for the Liverpool-Chester Bike Ride is part of our commitment to promoting events which encourage a healthier way of life. The Bike Ride is a great way for people to have fun and get active."

Mark Sandamas, Director of Pennine Events explains:- "The event launch has sparked a real buzz about this year's event; we are very much looking forward to it! The sponsors of the bike ride are of great importance as without them, it would be impossible to produce the event on such a huge scale, and with the event in its 18th year it is essential that we continue to run it to the highest standards."

This year, event organisers, Pennine Events want to see more participants taking part than ever before, with more than double the number of entries than at this time last year. If this continues it should be a success and raise over £10,000 for Claire House Children's Hospice.

For more information about the event and to enter online, people can visit:- liverpoolchesterliverpool.com.
Breckfield's Big Clean Up
VOLUNTEERS from the Breckfield area of Liverpool will be making major grot spot improvements through litter picking, painting and graffiti removal on Wednesday as part of a national campaign called:- 'The Big Tidy Up'.

Deputy Lord Mayor, Councillor Frank Prendergast said:- "I whole-heartedly support events such as this, it's vital that we assist community groups in building a better environment for everyone to enjoy. It's great that so many people are willing to give up their free time to ensure that their surrounding areas are not only litter free but a pleasure to walk through, only by working together can a neighbourhood become a community."

Sophie Brown, Community Engagement Officer for Riverside, which organised the event, said:- "We are keen to foster links between the community and service providers to make our neighbourhoods cleaner, greener and safer places to live. It is only by working together and encouraging local residents to take pride in their area and develop a sense of ownership that we can make a real difference."

The aim is to encourage local residents to take responsibility where they live. Up to 80 volunteers, including Liverpool student volunteers, are expected to attend to plant up a new community garden and put together 60 hanging baskets.

In addition skips will be provided for each street and support in removal of bulkier items. Each Registered Social Landlord will also have an hour long drop in session from a caravan onsite throughout the day providing general information and taking queries from residents.

Anyone wishing to help out can contact Sophie Brown (Riverside) on:- 0151 298 3402 or come along to the Breckfield Centre on Breckfield Road North to participate on the day at:- 10:00am.
New UCAS guide stands out from the crowd
WITH competition for university places greater than ever, UCAS' new 'must-have' Guide to getting into University and College is on hand to help would be students make sure their application is the best they can make it.

In the words of one teacher:- "This is the book we have all been waiting a long time for."

With good research an essential part of any application, applicants who are thinking of applying for 2012 entry should be making the most of the time they have now, before Course Search goes live in a couple of months time, to understand the process of applying and what they might want from their perfect course.

UCAS adviser, John Madden said:- "We know, from the phone calls we receive, that applicants sometimes don't know what to do first. Time should be invested at key stages - whether that is in research or writing the personal statement. Understanding that process now, before the cycle really begins will stand applicants in good stead."

Jack Sandrey, a future applicant from Yeovil said:- "Applying to university can be a very intimidating process but, with the help of this guide, the process is simple. There are useful symbols and tips throughout the book with helpful points to bear in mind. I especially liked the quotes from universities, and I now have a better understanding of what they're looking for in a personal statement."

Debbie Verdino, Post 16 Manager at Thomas Deacon Academy said:- "Absolutely brilliant! It's a must have read - not only for students who are thinking about higher education, but their parents, new advisers or anyone at all who wants to understand the process."

For more information on the book visit the UCAS website.