Major new road opens to motorists
THE new carriageway constructed to replace Hall Lane will open to motorists on Monday, 28 February 2011, creating a much improved route into the city from the east. These works are part of the £19 million Hall Lane Strategic Gateway scheme which will also take traffic out of residential areas. The main construction contract began at the beginning of the year and will be completed in early Summer 2011.

The new section of road is called Low Hall, (from the Prescot Road/Low Hill junction), and Mount Vernon Road, (from West Derby Street to Edge Lane). Hall Lane itself will become an access only road and will be blocked off at both ends. Access will be via Mount Vernon Green.

The new carriageway will be single lane in the first weeks after opening while the remaining works to the verges and other works are completed. There will be clear signage to direct motorists along the new route on Monday, 28 February. Towards the end of the scheme, at the beginning of summer 2011, the full carriageway will be open to traffic.

As part of the Hall Lane scheme, there are also improvements to cycling, public transport and pedestrian routes as well as new controlled pedestrian crossings, new street lighting, CCTV cameras and the planting of new trees.

Councillor Malcolm Kennedy, Liverpool City Council's Cabinet Member for Regeneration and Transport, said:- "We are delighted that this scheme is nearing completion and motorists will be able to start using the new carriageway. This will be a much- improved route in and out of the city centre which will improve road safety, journey times and reduce congestion. By making Hall Lane for access only, we are able to return this section of road back to the local community and take busy traffic away from this residential area."

Nick Kavanagh, the city council's Director of Regeneration, said:- "These works are progressing ahead of schedule which is great news. We believe it will make our city more attractive to visitors and inward investors, help the local environment with reduced congestion, and deliver better road safety for all."

For a full update on these and all other major roadworks in Liverpool, please visit:- liverpool.gov.uk/highwayprojects.
IRISH COMMUNITY HELPED IN MERSEYSIDE
MORE than 30 people from Irish communities across Merseyside have been helped in their quest to find work through an innovative partnership. The cohort, which includes a number of Irish Travellers, are being helped after employment and skills specialists Working Links teamed up with Irish Community Care Merseyside (ICCM). The project aims to assist members of the Irish community, their descendents and Travellers enhance their skills and, in turn, their chances of finding sustainable employment. Experts from Working Links, a public, private and voluntary organisation that helps people to social inclusion via the European Social Fund – regularly hold surgeries at ICCM offices and the local authority's Gypsy & Traveller site in Liverpool. Historically, the target communities face a number of barriers in finding work; most notably a lack of skills and qualifications. The partnership has provided training opportunities in care, hairdressing, security and driving as well as basic skills, CV writing, interview techniques. For those customers who required it, Working Links also paid for interview, transport costs and childcare whilst training was taking place. Three of the cohort have now found work thanks to the programme. Working Links Personal Consultant Belinda O'Shaughnessy said:- "The lack of employment is a major factor in these communities so we are here to help in any way that we can." ICCM Director Breege McDaid said:- "We work with many marginalised, excluded and multiply disadvantaged members of our communities who have had many negative experiences of trying to obtain gainful employment. This partnership has led to more than 30 people across a range of areas and diverse backgrounds completing training opportunities who are now proactively looking for employment, or have already found employment. The achievements to date in ensuring our service users have a strong and confident foothold on the ladder to employment are phenomenal." To find out more about how Working Links helps communities, visit:- workinglinks.co.uk. For more information about Irish Community Care Merseyside, visit:- iccm.org.uk.
Laura Strain from West Derby chosen to win a place on the Vodafone World of Difference UK programme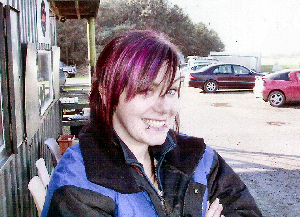 LAURA Strain, who is 26 and from West Derby in Liverpool, has won a place on the Vodafone World of Difference UK programme.
Over 11,000 people registered interest for the programme, which is delivered by the Vodafone Foundation, with 500 people from across the UK about to start work for a charity of their choice and get paid for it.

Vodaphone has told us that Laura has chosen to spend 2 months working for Liverpool's Rice Lane Community Association, that works to boost community spirit and neighbourhood relations. She will begin her new role in March 2011.

Laura, a livery yard supervisor, said:- "I was ecstatic to find out I had won a place on this year's World of Difference programme, especially after realizing how many had applied. I can't wait to begin my placement and hope I can help raise awareness of the charity and the fantastic work they do."

This is the second year that the Vodafone Foundation has delivered a UK World of Difference programme, giving 500 people the chance to make a difference. Last year, charities from all corners of the UK benefited and a massive 60% of those who took part have stayed connected to their charity, giving the UK's third sector much needed support.

The Vodafone World of Difference programme is open to anyone over 18 in the UK who has the passion, drive and commitment to
donate themselves to a charity. Taking part involved finding the right charity to suit their interests, skills and experience.
For further information please go to:- vodafone.co.uk.
Letters To Editor:- "Southport's War Memorial Is Taken Over"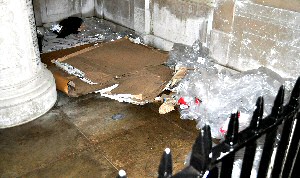 "THE War Memorial has been taken over by rude shouting drunks for the last month or so. Police seem to be powerless to take action and just seem to move them on. When they are at the Memorial, they disrespect it by using it a lavatory, leaving litter and worse. The monument is a key part of Lord Street and is not only a memorial to the towns fallen heroes, but also a tourist attraction. What does it say to people visiting the town to see these drunken adults, not teenagers, but fully grown adults, drunk and shouting abuse at each other and at passers by. When they are not drinking, shouting and fighting, they are hassling people for cash! this is becoming an epidemic and more and more are arriving in the town. What can be done to stop this. it is just amazing that they are getting away with this day in day out! Can any action be taken? I always thought it was illegal to drink in the town centre on the open street. do they have no respect for the people who have lost their lives keeping us safe? Also do they have no respect for the living?" Jim, a resident and business owner from Southport.