Widnes Vikings are pleased to announce a cross code affiliation with New Brighton RUFC
THE Widnes Vikings' Reserves, Academy, U16's and U15's will each play a number of 'home' matches over the coming months at the historic Hartsfield ground in New Brighton. As well as offering coaching and commercial expertise, this relationship will also form part of an ongoing strategy for cross code co-operation and expansion into the Wirral, South Liverpool and Cheshire areas.

Chris Shirling Rooke, Widnes' Head of Commercial commented:- "We're extremely focussed on opening up new opportunities for the club, and moving both the game and the Vikings brand geographically is a very important part of our process. We're comfortable that New Brighton has the right historical pedigree and by the same token, futuristic vision, to allow rugby league and Widnes Vikings in particular, to impress the great merits and strengths of the 13 a side code, both on and off the pitch, to the forward thinking people residing in the Wirral and Cheshire areas."

Ben Basterfield, President at New Brighton RUFC is hopeful the working partnership that has been forged between the two clubs can prove a win, win situation for all concerned:- "New Brighton are delighted to host Widnes Vikings Academy over the next couple of months and are hoping this will lead to a long term relationship between the two clubs that will be of mutual benefit. We're hopeful that it will also benefit the youth in general across the Wirral area and encourage both the youngsters and their parents to come along to Hartsfield and meet and support Widnes at these games and join in the sport of rugby."

The Vikings' Head of Youth Performance, Phil Finney added:- "This is a great opportunity for our young Academy teams to show off their continued development in the game to an entirely new audience. It'll be an invaluable experience for all our players and staff and I for one, welcome the move as a further sign of the clubs ambition."

The first of these Vikings' Reserves and Academy 'on the road' games take place on Saturday, 12 March 2011, when Sheffield Eagles and Harlequins will provide the opposition at Hartsfield.
The games kick off at 1.00pm and 4.00pm respectively, and we look forward to seeing you there!
EU energy proposals lack "courage and conviction" says MEP
THE European Commission proposals on energy efficiency and reducing greenhouse gas emissions have been damned by a North West Euro-MP.
The Commission published its "Climate Roadmap to 2050" on Tuesday which details how to slash greenhouse gas emissions across the EU by the middle of the century.
The Liberal Democrat environment spokesman Chris Davies MEP has blasted the new proposals for allowing countries like China to steal a march in developing future green technology. Meeting the EU's goal of cutting greenhouse gas emissions by 80% by 2050 will require an extra 270 billion Euros annually but figures in the roadmap show that the costs to the taxpayer could be less if Governments agreed to cut emissions faster.
Davies is calling on the EU to improve its 2020 target from a 20% cut in greenhouse gas emissions to a 30% reduction. Davies said:- "The Commission has today demonstrated all the courage and conviction of a rabbit caught in headlights and about to be run over.
Short term concerns have been put before the needs of our long term future.
European development has been condemned to stay in the slow lane, certain to be overtaken by the fast lane Asian economies.
With China investing half its GDP in low carbon technologies and developments, by refusing to insist that we raise our ambitions and make firm commitments to improve energy efficiency the Commission is condemning the European Union to failure. By opting for complacency and delay we could hardly have been let down more if the Commissioners were acting on behalf of the Chinese Government.
Fuel prices are rising and set to stay high so energy efficiency targets should be made legally binding now."
Trust teams up with Vikings to support local schools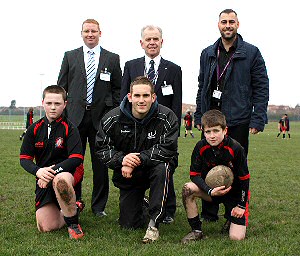 A unique partnership will raise money for local schools and encourage children to get involved with sport through watching rugby this year. Halton Housing Trust has teamed up with Widnes Vikings and together they aim to attract more children to watch home games at the Stobart Stadium during the 2011 season. Schools will be given the chance to sell tickets to pupils for the Vikings' home games and keep 30% of the money that is raised.

"It will work in a similar way to the school voucher system that you see used in supermarkets. We are on the cusp of successful times at the club and we want as many people as possible to share the experiences with us." said Rob Fuller, part of the community team at the Vikings.

Widnes Vikings find out on 31 March 2011 whether they will be in the Super League making 2011 a particularly exciting year for all the fans. The club will unveil more special offers as the season gets into full swing.

Noel Sharpe, Director of Customer Services at Halton Housing Trust, said:- "The 'Schools Promotion' opens up a fantastic range of opportunities for us to further engage with young people across Widnes and Runcorn. We already work with a number of local schools to encourage young people to get involved and to contribute to their community and the relationship with the Vikings will further add to this. We have a longstanding relationship with the Vikings and are really looking forward to continuing this during the 2011 season and beyond as we both go from strength to strength."

Schools in and around the Halton area have already received a letter from the club detailing the promotion, alongside a full 2011 fixture list and order forms. Through the Vikings' Valhalla Foundation, its community team has committed to working more closely with schools to help them and the wider community of Halton.

Widnes Vikings' Chief Executive Julie Gaskell said:- "This season is all about engaging further with our community and getting people into the stadium and this offer incentivises schools by giving them a direct benefit in cash. I would encourage as many people as possible to come along and cheer on the team in what promises to be an action-packed year for the club."
HUGH BAIRD COLLEGE STUDENTS RAISE MONEY FOR ANTHONY NOLAN
A students at Hugh Baird College in Bootle have raised nearly £300 for Anthony Nolan, the charity that saves the lives of people with blood cancer who need a blood stem cell, or bone marrow transplant. The students were inspired to help the charity after their tutor arranged for them to hear a Register and Be a Lifesaver (R&B) presentation about the importance of blood stem cell donation. The students, all on the Level 2 in Childcare and Education studies course, organised a number of activities to raise the money, including a competition for the best outfit made out of rubbish and a raffle, with prizes including a meal at the College restaurant and vouchers for the College salon. They raised a total of £299.86, which the students will present to R&B volunteer Carla Hay at 9am on Friday, 11 March 2011. Sophie Smith, a Hugh Baird student, says:- "I've enjoyed raising money for Anthony Nolan and taking part in the activities because my sister had leukaemia. I'm glad the lecturers at the College arranged for them to come in and talk to us about their work." Collette Hevey, the students' lecturer and Childcare Programme Manager, adds:- "I'm immensely proud of the students; not only have they illustrated their ability to make a positive contribution and work effectively as a team, but they've helped Anthony Nolan to continue their lifesaving work." The Register and Be a Lifesaver scheme is run by Anthony Nolan, and is designed to educate 16 to 18 year olds about the importance of blood, organ and stem cell donation. For more information on the project, or to arrange a presentation, please contact Katie Campling via email.