Groundbreaking online support directory for the Liverpool City Region is unveiled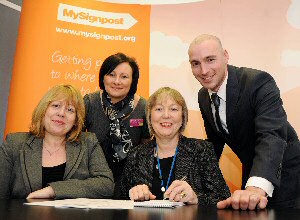 A new online directory providing a vital network of support for people in the Liverpool City Region will be officially launched this week.

MySignpost.org, which has been described as a 'practitioner's little black book', is a one stop shop featuring the details of nearly 3,000 services across more than 70 different categories, from out of school clubs to finance and debt support, and apprenticeship schemes to housing services. The website is the first practitioner resource of its kind in the region and it is hoped the concept may be replicated in other areas across the country. The website includes a dedicated forum where practitioners can network, ask questions and share knowledge. Employers and the wider community can also utilise the site, searching by theme or geographically to locate a wide range of services which span all aspects of work, learning and life. The website will be officially launched at an event at St George's Hall in Liverpool on Friday, 11 March 2011.

The site was commissioned by the City Employment Strategy as a direct response to requests for a centralised directory of the training, employment and guidance opportunities available to the 1.5 million people who live across the six local authorities of Liverpool, Knowsley, Halton, Wirral, Sefton and St Helens.

Sue Jarvis, Service Director at Knowsley Council and Lead officer for the City Region Employment and Skills Partnership, has played an instrumental role in the project and said:- "This website is a revolutionary new online resource which will allow organisations and employment and skills practitioners throughout the Liverpool City Region to access up to date information on a range of support services to help people back into work at the click of a mouse. Ultimately, this website will help to support more people back into work."

The site has also been commended by Chris Grayling, Government Minister for Employment, who said:- "The project is exactly the kind of initiative organisations should be involved in and I am sure it will prove to be very successful."

Kim Griffiths, Head of Employment Services at Liverpool City Council, said:- "It is a free directory of opportunities for practitioners across the Liverpool City Region and is essentially every practitioners little black book. It gives advisers all of the information they need across the six local authorities, so that ultimately clients have the best choice."

Margaret Wilson, a practitioner at The Liverpool Jobs, Education and Training (JET) Service, added:- "The website is an effective way of promoting our services and keeping up to date with the all of the latest projects, training and initiatives available across the City Region, which in turn benefits our customers. I have found organisations I didn't know existed and made some really useful contacts."

John McDonald of Greengrape Solutions, the Liverpool-based consultancy commissioned to produce the directory, also added that:- "The website is the result of an extensive mapping exercise setting out which agencies are delivering what, to whom, and where and there is no other directory of this kind in the Northwest. We have had excellent feedback to date and we will be hosting a series of launch events across the Liverpool City Region in the early part of this year to showcase the features of the website."
Introducing Peel International Trade Centre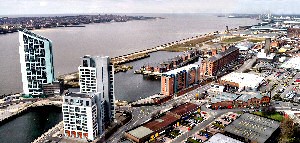 THE Peel Group have launched a new business concept which they propose to create in the Northwest called the "Peel International Trade Centre" (Peel ITC). The website which is now live and located at:- peelitc.co.uk.

Peel ITC is a concept that derives from the excellent business links and progress that the Peel Group made through the Liverpool Pavilion at the 2010 Shanghai Expo. This facility would be the first of its kind in the United Kingdom and the largest and most sustainable wholesale Trade Centre in Europe.

The building would be a two level facility with a ground floor building footprint of approximately 1 million square feet (100,000 square metres) giving a total floor space of approximately 2 million square feet (200,000 square metres). This would enable over 1,000 companies from countries such as China, India, Korea and other emerging economies, to exhibit, sell, assemble and distribute their goods into the UK, Irish and European markets.

Peel ITC would showcase an unlimited variety of high quality goods to the wholesale market that have been manufactured overseas. This would serve not just as a trading 'Gateway' into the domestic market but to the whole of Europe. Goods would include but not be restricted to:- electrical items, textiles and clothing, kitchenware, furniture, fixtures, fittings, building materials and more.

Peel ITC would include showroom and promotion spaces, warehousing/storage and assembly facilities, and would benefit from excellent transport connectivity via road, rail, water and air. For this purpose Peel has selected two prime sites amongst their extensive land ownership portfolio which meet all necessary requirements for a successful facility. One or both of these locations may be developed dependent upon demand, type of goods to be sold and how they could be grouped together.

The sites currently identified are on West Float in Birkenhead and near Ellesmere Port on the site of the former Bridgewater Paper Mill, now disused.

The decision on which location to progress is clearly for a later date but Peel is presently pursuing both sites by seeking the necessary consents from the separate Local Authorities who are generally supportive in principle. It is hoped these will be in place by Autumn 2011. The Northwest is emerging as a "Super Region" and Peel is firmly behind this concept. The Northwest is also accepted as a preferred alternative location to London, both for investment and as a location for new businesses and existing business expansion. Peel intends to make full use of these advantages in securing investors and occupiers.

Occupiers of Peel ITC would also benefit from Peel's massive development programme in the Northwest, notably from adjacent pioneering projects Wirral Waters and Liverpool Waters. Further benefits will also come from the Group's exposure and relationship with thousands of retailers as co-owners of some of the largest and most prestigious shopping centres in the UK.
On the 22 February 2011 and 23 February 2011, the Peel ITC was presented to potential partners and occupiers at Government premises in Beijing and subsequently in Shanghai. With the help of local development agencies in the Northwest and UKTI, the intention is to present Peel ITC to further emerging economies in the near future and create an international platform of partners of the highest quality.
Email our newsroom with your views on this report.