Paul Hammond, bike engineer at CREATE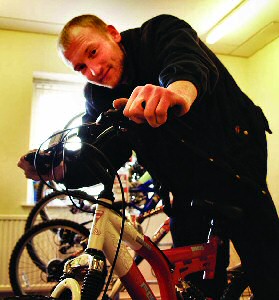 CREATE, a social enterprise and charity that specialises in recycling and refurbishing white goods, has launched the scheme for residents in Knowsley with help from a grant from Knowsley Housing Trust (KHT).

Residents can take their old unused bikes, regardless of the condition, and exchange them for £50 off the price of a new bike from CREATE. There are funds for 120 new bikes.

Chris Gold from CREATE said:- "This is a great way of recycling bikes that may have been sitting in a shed unused or headed for landfill, and providing an incentive to use a healthier, more sustainable form of transport. We have a range of new bikes, from children's bikes to adult mountain bikes. The unwanted bikes brought in to us will be refurbished and sold on at affordable prices to those who may not be able to afford a new bike."

CREATE, based in Speke, was set up in 1995 to provide training and work opportunities for the long term unemployed. CREATE achieves this by recycling and refurbishing white goods that would otherwise go to landfill, and then selling these in its retail showroom alongside new household goods and appliances, furniture, garden furniture and bikes.

Terry Bonner, Operational Director of Landlord Services at KHT, said:- "There are so many benefits to this scheme, from promoting health and wellbeing to diverting goods from landfill sites. KHT is a great supporter of social businesses like CREATE, which supports low income families and provides training and work in our communities. It is a fantastic way of providing a service while helping those families who need it the most."

To be eligible for the scrappage scheme you must prove you live in Knowsley and sign a document stating you are the owner of the bike.

For more information about the scheme, contact CREATE on:- 0151 448 1748.
Email our newsroom with your views on this news item and let us know what you think about the scheme.
Lord Mayor Cleans Up
LIVERPOOL'S Lord Mayor will be mucking in this week to help Netherley sparkle. Starting Tuesday 8, a special week-long spring clean will take place with 18 skips being placed in the area. And residents who are not able to carry items to the skips are even being offered a free pick-up service. Enterprise Liverpool staff will remove graffiti while pupils from 2 local primary schools will conduct litter picks with Riverside Lee Valley Environmental Enforcement Wardens. There will also be a crackdown on dog fouling. Liverpool's Lord Mayor, Councillor Hazel Williams, said:- "Giving an area a spring clean also gives a boost to residents and I am delighted to be involved in this project. It's a great way to encourage local schoolchildren to take pride in where they live as well as taking responsibility for improving their local environment." The week will conclude on Friday, 11 March 2011, with the Lord Mayor taking part in a tree planting ceremony and certificate presentation to pupils at each primary school in recognition of their involvement in the week. The Lord Mayor will visit Norman Pannell School at midday to plant a tree, then walk to St Gregory's School, conducting a litter pick along the way, followed by another tree planting ceremony at the school and presentation of certificates to pupils. The week ends, with an information day at St Gregory's Church on Friday, 11 March 2011, where free bicycle marking, dog micro-chipping and compost will be available to residents. Groundwork Merseyside will also be organising activities for young people. South Liverpool Neighbourhood Management Service (SLNMS), LCC Environmental Services, Riverside, Regenda, Arena and Plus Dane Housing associations, Enterprise Liverpool, Merseyside Police, Norman Pannell and St Gregory's Schools, St Gregory's Church, Groundwork Merseyside and ward councillors have all helped to organise the event.
Time for Banks to pay their way says Euro MP
VICE Chair of the Economic and Monetary Affairs Committee, Euro MP Arlene McCarthy speaking following the European Parliament's vote in favour of a Financial Transaction Tax said:- "For too long the financial sector has been under taxed and largely exempt from VAT. It's time that this industry started contributing to the real economy and a Financial Transaction Tax will help achieve this. A recent study showed how a 0.005% tax to the foreign exchange market could raise around £17.6 billion worldwide in new taxes - £7.7 billion in the UK alone. This would be new money that could go to go to fund UK poverty reduction, international development and climate change mitigation." On Tory MEPs voting against the call for an FTT Arlene said:- "It's a shame the Tories refuse to support citizens' campaigns for a financial transaction tax and yet again voted against an FTT and in favour of their friends in the financial sector. This Government talks tough but in practice we have seen Cameron cut corporation tax on the banks, and try to undermine new regulations to make the financial system more secure. Following the global economic crisis the banks received massive subsidies from the public purse for a crisis of their own making - costing £2,000 for every man woman and child in the United Kingdom. It's only fair they should now pay their way and not get a free ride. There is already clear public backing for a tax on financial transactions, through active campaigns for ideas such as a 'Robin Hood Tax' by charities like Oxfam and ActionAid. It is time to take action"