Southport 'Slotathon' Kicks off British Tourism Week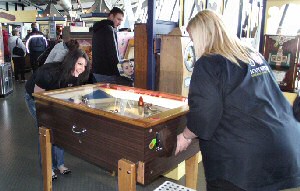 A team from Southport Conferences and Sefton Council have marked the launch of the annual British Tourism Week, that started on 12 March and and ends on 20 March 2011, in traditional seaside style, with a 'slotathon' in Southport Pier's Penny Arcade Museum.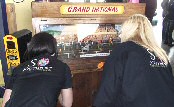 Joined by staff from Freshfield Animal Rescue, for which the event was raising money, the group took shifts to complete the 'slotathon'. Around £3,000 has been raised so far this year for the charity, with donations from the weekend's activities to be added to this. During the same week, the Southport Theatre & Convention Centre played host to the Aglow International Leaders & Members conference. The event, a key one in Southport's conference calendar, attracted around 600 people to the town and is estimated to have generated around half a million pounds of economic benefit.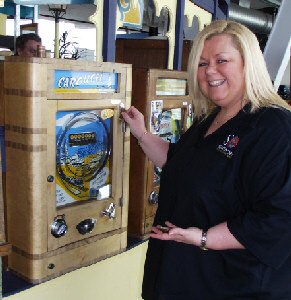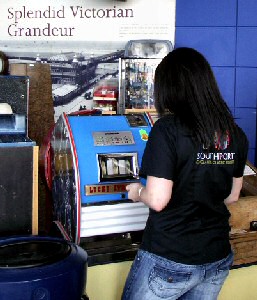 Alongside Southport Conferences, the area has a dedicated business tourism steering group and with recent investment in its venues and services, Southport is fully recognised as one of the premier conference destinations in the North West. For those wishing to make a donation to Freshfield Animal Rescue, please visit:- freshfieldsrescue.org.uk.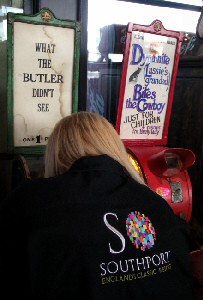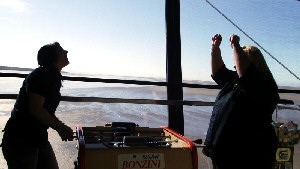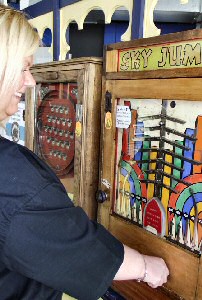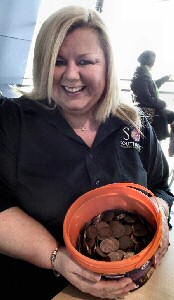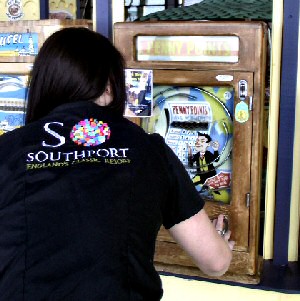 Breanne Loucks putts her faith in the Vikings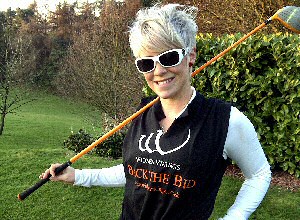 BREANNE Loucks has pledged her support to the Widnes Vikings; 'Back the Bid' campaign. Breanne, who is a professional golfer representing Wales on the Ladies European Tour said:- "I have grown up supporting Widnes. With Jonathan Davies being a fellow Welsh sportsperson, originally playing for Widnes, I was thrilled to be presented with my BBC junior Welsh 'Sports Personality of the Year' award in 2006 by him. I fail to see any reason why the Vikings would not be accepted in Super League this time around. From what I have seen, not only do the club appear to tick all the boxes on the field, but they also have a fantastic youth development programme in place, something which was invaluable, in the early days of my career." Breanne turned professional in 2009 and finished second in the Open De Espana amassing an impressive €48,000 in her rookie season. Last year Breanne was also voted Wales' 3rd sexiest woman in a poll conducted by Wales online. Breanne, who is currently preparing for the 2011 tour which kicks off in Morrocco on 31 March 2011 added that:- "I will be out on the course on the day of the decision but I will be making sure my caddy keeps me informed of the outcome." Find out more about Breanne by visiting her website.
CHARITY VOLUNTEER REACHES OUT TO PROUD SEAFARERS IN NEED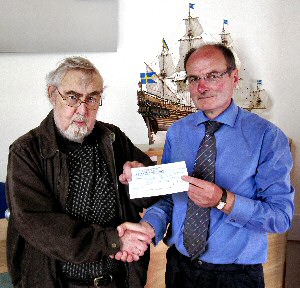 A local volunteer for the Shipwrecked Mariners' Society, which supports impoverished seafarers and their families, is urging the public to take part in the Wirral Coastal Walk to raise money for Merseyside's seafarers in need.

John Wilson, 55, from Birkenhead, acts as the local caseworker on behalf of the charity which supports around 220 former seafarers living in the region, but believes there are many more mariners who are too proud to ask for help.

The charity already distributes grants totalling £155,000 in the Merseyside area but wants to raise additional funds so these isolated mariners, who have devoted their lives to the sea, can receive the support they deserve.

John Wilson explains:- "There are many retired seafarers living in Merseyside who have worked in the maritime industry for 40 or 50 years, often in very dangerous conditions and yet they are not enjoying the quality of retirement they deserve due to less than adequate pensions and limited savings. It can often be difficult to identify those in need of support as seafarers tend to be very proud, having spent most of their lives being self-sufficient, and don't like to be in receipt of charitable contributions. Within Merseyside we have very large communities of Somali, Chinese and West Indian seafarers who are particularly difficult to reach, as they often live in very isolated communities. However I know from existing beneficiaries that there are many former seafarers' among these groups who need our support."

Mr Wilson has already identified several new beneficiaries through local Somali community groups, however he says it is the women in the community who are the real concern, as they do not engage with these groups and the widows often live alone supporting several children.

Malcolm Williams, Chief Executive of the Shipwrecked Mariner's Society, said:- "The Shipwrecked Mariners' Society would be very grateful for any support Merseyside residents can offer. Funds raised will make a real difference to the quality of life of the region's former seafarers. The Wirral Coastal Walk takes in some of the region's most beautiful coastline and is a fantastic way for families to get out and about this Spring while raising money for a worthy cause."

The Shipwrecked Mariners' Society has been supporting the seafaring community in Merseyside for over 172 years. In the last
12 months former seafarers in 2,750 cases of need across the country benefited from the Society's support and grants totalling over £1.6 million were distributed. The Society also helped beneficiaries access £31,000 in statutory benefits.

Malcolm added:- "Despite this, the organisation received 744 new applications for assistance last year – the highest since 2005 - showing that help for this vulnerable community is very much in demand, particularly in the current economic environment."

The 15 mile charity walk, organised by the Rotary Club of North Wirral, takes place on Sunday 22nd May and starts out from Seacombe Ferry at 10am, taking walkers through New Brighton, Harrison Drive, Moreton, Hoylake, West Kirby and finishing along the Wirral Way at Thurstaston.

For further information and to request a sponsorship form visit:- wirralcoastalwalk.org.

Information about the Shipwrecked Mariners' Society will be found at:- shipwreckedmariners.org.uk.