Entries open for Merseyside's biggest bike ride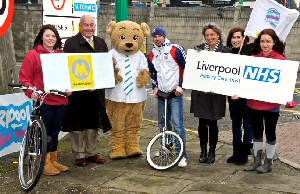 WITH Spring just around the corner, local people are being encouraged to get out on their bikes and explore the Merseyside's beautiful countryside in advance of the Liverpool Chester Liverpool Bike Ride. The mass participation annual cycle ride, which will take place on 3 July 2011, was launched recently by Paralympic Silver Medallist, Rik Waddon who is a Patron of this year's official charity, Claire House Children's Hospice.

Paralympic cyclist Rik Waddon said:- "I'm very happy to be part of the Claire House team and it's fantastic to be able to support the Liverpool Chester Bike Ride, which will hopefully raise a lot of money for Claire House and bring lots of enjoyment to those who take part in the event."

The event, which will once again be partnered by Merseytravel, is the biggest bike ride in Merseyside, and is the only cycle event in the country that includes almost three traffic free miles underground, thanks to exclusive access to the Birkenhead (Queensway) Tunnel. Without the help of Merseytravel, the unique underground element of the Liverpool-Chester Bike Ride would cease to exist.

Mark Dowd, Chair of Merseytravel, said:- "This is the 18th year we have supported the event which reflects our commitment to sustainable transport choices. We have made Health and Wellbeing one of the core goals of the new Local Transport Plan and cycling offers an easy way for people to incorporate physical activity into everyday lives."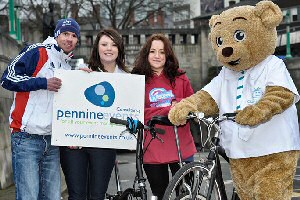 Sponsors Liverpool PCT are also working hard to promote better physical and mental health through the Decade of Health and Wellbeing, their support for the Liverpool Chester bike ride is part of their commitment to promoting events which encourage a healthier way of life.

Gideon Ben-Tovim, Chair of Liverpool PCT, said:- "We'd like as many people as possible to embrace the Decade of Health and Wellbeing, and our support for the Liverpool-Chester Bike Ride is part of our commitment to promoting events which encourage a healthier way of life. The Bike Ride is a great way for people to have fun and get active."

Mark Sandamas, Director of Pennine Events commented:- "The launch has sparked a real buzz around this year's event and we are very much looking forward to it! The sponsors of the bike ride are of great importance as without them, it would be impossible to organise an event on such a huge scale, and with the event in its 18th year it is essential that we continue to run it to the highest standards. Not only is cycling a great form of exercise, it's also an ideal method of transport and a great way to get out and enjoy the warmer days and lighter nights that we're starting to see, so I'd encourage everyone from complete novices to more experienced cyclists to dust their bikes off now and get out there."

This year, event organisers Pennine Events want to see more participants taking part than ever before, and with more than double the number of entries than at this time last year, they are well on the way. If this continues, the 2011 Liverpool Chester Bike Ride is expected to raise over £10,000 for Claire House Children's Hospice.

For more information about the event and to enter online, go to:- liverpoolchesterliverpool.com.
JLA completes £600k landing lights upgrade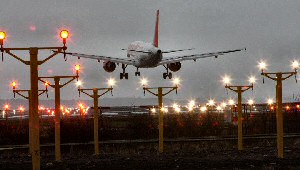 WHILST work on improving areas in the terminal building for the millions of passengers using Liverpool John Lennon Airport (JLA) each year has been high profile in recent months, the Airport has also been upgrading and improving essential facilities for its many airline customers too. Some £600,000 has been invested by Peel Airports to replace and upgrade the Airport's approach lights for Runway 27, at the eastern end of the airfield, which are essential in aiding the safe and efficient arrival of aircraft landing at JLA both during the day and night. Some 230 new lights have now been installed on 142 poles to replace those fitted some 20 years ago, with these works taking over five months to complete. The new approach lights will ensure that appropriate aircraft can continue to land in Category III landing conditions, which are associated with poor visibility. The work was carried out by Airfield lighting experts Edward Dewhurst Ltd who completed the job despite the severe winter weather experienced in early December.

Marcus Scrafton, Head of Development for Peel Airports commented:- "The previous approach lights had just about reached the end of their life, so it was important that we replaced these landing aids. As with any major works at an Airport, we don't have the luxury of replacing them all at one time. With aircraft movements throughout the day, the contractor has to work round the times of any arriving aircraft, so this has been a difficult job to complete. We expect to see these new lights helping our airline customers land at Liverpool for the next 20 years."
People encouraged to set their own Olympic legacy as 500 day countdown begins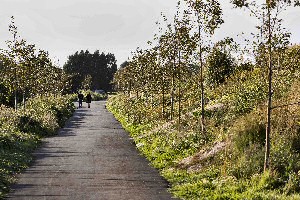 THE Forestry Commission is encouraging residents of Southport and Ormskirk to make getting fit their own Olympic legacy as we pass the 500 day landmark towards next year's games. With the Olympics now less than 500 days away there is a lot of talk about what lasting legacies hosting the games will have in this country. It is hoped that improved public health and fitness will be one legacy from the games and so people are being encouraged to be inspired to get fit themselves by using great public facilities such as Town Lane. People can use their local community woodlands, such as Town Lane, for free and they make excellent places to exercise and work out in a peaceful environment surrounded by nature. With cycle routes, pathways and links to national Sustrans cycle routes, Town Lane community woodland is an ideal place to start a personal Olympic legacy. Tim Oliver, the Forestry Commission's community woodlands manager, said:- "The Olympics are now less than 500 days away and soon the world's attention will be focused on the best athletes from around the globe performing in this country. This is bound to inspire future sporting heroes and at the Forestry Commission we hope that it will also inspire many people to start on their way to getting fitter and healthier. We have created fantastic public spaces, such as Town Lane in Southport, which are great places where people can go to do exercise in a natural environment, and for no cost. We hope community woodlands like Town Lane will help people start their own Olympic legacy towards a fitter future." The Town Lane community woodland is part of Newlands (New Economic Environments via Woodlands) - a partnership scheme involving the Northwest Regional Development Agency (NWDA) and the Forestry Commission. Sporting event organisers are also being encouraged to apply to use community woodlands like Town Lane. Information on how to obtain a permit to hold a sporting event at Town Lane can be found online. Southport's Town Lane is one of 7 Newlands projects that have been developed in the Mersey Belt area of Northwest England. The £59 million NWDA funded regeneration Newlands scheme has been rejuvenating around 381 hectares of the Northwest's derelict, underused and neglected land to stimulate economic growth and further opportunities for leisure and environmental improvements. Further information about Town Lane and other 'Newlands' projects is available online.