Economic change can't dampen Liverpudlian small business optimism
WITH the economic downturn hitting Liverpool particularly hard, small businesses in the area have been put to the test over the past year. Half (51%) are now feeling positive about how their business will fare over the next six months, according to the survey of over 200 small business owners in Liverpool released today by T-Mobile.

77% revealed they had made changes to their business to continue to succeed in a time of economic change. One in three (33%) are considering developing new services or expanding within the UK (32%) in order to spur growth in the next six months.

This flexible, adaptable approach could explain why 49% of Liverpool small business owners expect to see some business growth in the next six months. With the new Budget set to be announced on March 23rd and an ever-changing economic landscape, only one third (30%) are planning beyond the next six months and nearly half (47%) of Liverpool small business owners are refreshing their business plan at least once every six months, again showing just how adaptable Liverpool business owners have become in recent times.

As a supplier to small businesses across the UK, T-Mobile recognises the importance of flexibility and how 'change' makes business sense, and commissioned the research to understand how far in advance small business owners plan.

Commenting on the research, leading small business expert and founder of the Bright Ideas Trust Tim Campbell said:- "Small businesses have had a rough ride over the past couple of years but it is great to see that they are open to changing their business if it means they'll have a better chance of growing. Having the flexibility to adapt to new circumstances and explore new services and markets will play a major role in helping them to thrive in today's economy."

Martin Lyne, Director of SME at T-Mobile, said:- "We commissioned this research to take the pulse of UK small business and its attitude to the future. The research underlined the ability of Liverpool small business to adapt quickly to different circumstances by offering new services or exploring new markets. We know that this ability to adapt quickly is crucial to small business success, which is why we believe providing shorter-term contracts that don't lock them in for huge periods of time is the right approach to meeting the needs of today's small businesses. The more we can give UK small business the support and means to help it remain stable and grow, the better for UK plc overall."

Nearly a third of UK small business owners surveyed (31%) agree that shorter contracts would give them more freedom as a business. Just under a third (29%) want more flexibility in supplier contracts to reflect their changing business circumstances. T-Mobile recently launched the UK's first 6 month plan for business customers with a free phone.

T-Mobile is currently running a Small Business Change competition on its website where small business owners can win a prize of £2,000 by outlining how they would make positive changes to their business with the money. For more information or to enter visit:- t-mobile.co.uk/smallbusinesschange. Deadline for entries is 1 April 2011.
Blackpool Airport & Jet2.com back 'Fair Tax on Flying' Campaign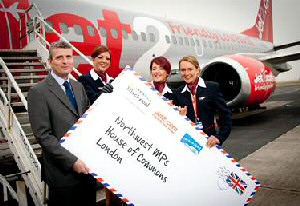 BLACKPOOL Airport and Jet2.com have pledged their support to ABTA's 'Fair Tax on Flying' campaign after it was revealed that British people can pay up to 12 times more than anyone else in Europe. They have joined forces to lobby local MP's and central government in a bid for a fairer deal for their passengers from across Lancashire and the Lake District. On flights within Europe, UK passengers pay twelve times as much in aviation tax as their French counterparts and for those travelling further afield, a family of four travelling from the UK to Australia pays £340 in flight tax, compared to just £15 if they left from France, or £11 from Ireland. More than 25 other leading names in the travel industry have joined the crusade to stop the government raising aviation tax, which is threatening the industry as a whole. ABTA has revealed that Air Passenger Duty has increased between 140 and 325 per cent since 2007. Belgium, Holland and Denmark are just three examples of airports that have seen their Governments abandon aviation taxes due to the negative effects on their economies. Paul Rankin, Airport Director at Blackpool Airport said:- "It is hugely important that as many people as possible get behind this campaign. Airports are playing a full part in making the industry more sustainable, through reducing emissions from aircraft on the ground, working with air traffic controllers to optimize flight conditions and making better use of energy. We also support the introduction of the European Emissions Trading Scheme in 2012, which will set a real limit on airline emissions. Analysis shows that, in the longer term, the UK economy will forego £750million of wealth and 18,000 jobs due to rises in APD, with around half the extra revenue raised offset by tax revenue losses in the wider economy. British airports contribute £18billion to our economy and support 250,000 jobs. To play our part in the economic recovery, we need a fair tax framework. Through the 'Fair Tax on Flying' campaign, we are urging the Chancellor to introduce a fair aviation tax stabiliser, which offsets European Emissions Trading Scheme revenue with commensurate reductions in domestic aviation tax."

Ian Doubtfire, Managing Director of Jet2.com said:- "We offer our customer's great value leisure flights to city, sun and ski destinations and want to make it possible for people to be able to travel from their local airport at a price they can afford. The taxes imposed on UK flyers, the highest in Europe, discourage people and are unfair, and they are set to rise with nothing for people to show for the high tax they have paid. This burden on customers will increase with the introduction of the EU emissions trading scheme in 2012. Jet2.com calls for the UK Government to ensure that APD is reduced with the introduction of emissions trading and not just used as an extra means of generating tax from hard pressed consumers".

The 'Fair Tax on Flying' campaign is supported by an alliance of over 25 airlines, airports, tour operators, destinations and travel trade associations calling on the Government to make UK aviation tax fairer.