NEW TOOL LAUNCHED TO HELP ADVISERS
THE Liverpool City Region launched a new tool to help advisers to find out what is in place to help people get into work. Mysignpost.org was funded through the City Employment Strategy, a partnership of six councils, Jobcentre Plus, Skills Funding Agency, universities and the voluntary and community sector.

The site, which has been described as a 'practitioner's little black book', is a 1-stop shop featuring the details of nearly 3,000 services across more than 70 different categories, from out of school clubs to finance and debt support, and apprenticeship schemes to housing services. The website includes a dedicated forum where practitioners can network, ask questions and share knowledge. Employers and the wider community can also use the site, searching by theme or location to find a wide range of services which span all aspects of work, learning and life.

The website is the first practitioner resource of its kind in the region and it is hoped the concept may be replicated in other areas across the country. It has been delivered in a partnership between Liverpool City Council and Greengrape Solutions. The idea for the resource came from staff in the Liverpool JET service, who could see the opportunities for this information to be provided on a wide scale.

Cllr Ron Round, Leader of Knowsley Council and Lead for Employment and Skills for the City Region Cabinet, said:- "This is another great example of people in the city region working together well. There is a lot of support available for people who are looking for work and it can be difficult for advisers to find the best option. This website contains all of those options and I know that advisers will welcome it."

Sue Jarvis, Service Director at Knowsley Council and Lead Officer for the City Region Employment and Skills Partnership, has played an instrumental role in the project. She said:-"MySignpost.org is a revolutionary new online resource which will allow organisations and employment and skills practitioners throughout the Liverpool City Region to access up to date information on a range of support services to help people into work at the click of a mouse. Ultimately, this website will help to support more people back into work."

John McDonald of Greengrape Solutions, the Liverpool-based consultancy commissioned to produce the directory, said:- "MySignpost is the result of an extensive mapping exercise setting out which agencies are delivering what, to whom, and where - and there is no other directory of this kind in the country. We have had excellent feedback to date and we have been hosting a series of launch events across the Liverpool City Region to show people the features of the website."

Visit the website to find out details of events in your area.
Southport man who lost mum to cancer fronts charity campaign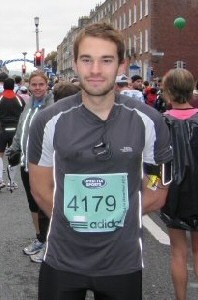 SOUTHPORT man James Felce has been picked to launch a fundraising campaign for World Cancer Research Fund (WCRF) because of his devoted support for the charity. James, who is 23 years old, has raised more than £3,550 when he ran for WCRF in the London Marathon last year – just 8 months after his mother Anne died from cancer at the age of 54. Now he features in a mailing being sent to thousands of homes around the country to raise the profile of the charity and raise funds for its cancer prevention research and education programmes.

He said:- "When mum passed away I decided the best way to remember her and contribute towards trying to stop this terrible disease was to take part in the marathon and raise money for WCRF. I was determined to raise as much money as possible for this cause, which I strongly believe in, and I was able to pass on the cancer prevention message to friends and family. It was a great day overall but seeing my family cheering at the halfway point really made me think about mum and how a part of the family was missing."

James, who is studying for a PhD in molecular immunology at Oxford University, hopes one day to lend his scientific skills to the fight against cancer. "It's certainly a possibility. Cancer immunology is quite big these days and there's a lot of treatments targeting tumours." He added:- "My mum died only two weeks after he initial symptoms and diagnosis. I would hate for others to go through what my family and I went through. Hopefully one day we'll live in a world where people don't have to feel the helplessness of watching a loved one die from cancer but to get there we need organisations such as WCRF to continue their excellent work."

James, who ran last year's marathon in just over three hours, shares his personal story in the mailing sent to WCRF supporters on 21 March 2011.