Iconic sculpture installed in new Museum of Liverpool
AN iconic sculpture highlighting Liverpool's local, national and global significance has been given pride of place in the new Museum of Liverpool, opening 19 July 2011. Created by international glasswork artists Inge Panneels and Jeffrey Sarmiento, the Liverpool Map has been positioned in front of a 28 metre wide window in the People's Republic Gallery overlooking the city's Three Graces. Made up of 6, 2 metre glass panels, it took four people to lift each 100kg section of the Liverpool Map on to its plinth, and for the first time daylight could be seen shining through the 17 fused glass layers. A 3D structure, the Map features many layers of sheet glass, each printed with different imagery and designs fused into a solid block depicting Liverpool as a city defined by culture and heritage rather than geographical lines. American glass sculptor Jeffrey Sarmiento, who was chosen for the project alongside Belgian artist Inge Panneels, in 2008, after a worldwide call for submissions, said he was pleased with the result.

Jeffrey Sarmiento added:- "I had not initially planned on coming up to see it being put in place because I find installs relatively terrifying and one single section of the Liverpool Map is twice as big as any piece I have made before, but I am relieved it is up and it looks extremely close to how we envisaged it."

An initiative spearheaded by the social enterprise Open Culture - devised to enable the people of Merseyside to create their own culture rather than just consume it - the Map aims to capture a snapshot of Liverpool people's living memory at a single point in time, during the city's 800th birthday year of 2007.

Members of the public chose the people and places they wanted to feature through a Liverpool Daily Post newspaper appeal, and contributions of handwriting were collected in a series of community workshops, which asked the public to copy out extracts of the Liverpool Saga and write personal comments about what makes Liverpool special.
The results of the polls and a selection of handwriting samples were translated into the design, embedding centuries of the city's heritage and cultural icons into each layer of glass. Ms Panneels said:- "I hope those who helped to design the Liverpool Map will be interested to see the result. So many people contributed to it and will want to know where their bit is, within the sculpture."

Visitors to the £72m Museum of Liverpool will be able to see the map from opening day on 19 July 2011, 100 years to the day after the nearby Liver Building opened its doors. More than 6,000 objects will go on display dating from the Ice Age to the present day.

Professor Phil Redmond CBE, chairman of National Museums Liverpool and founder of Open Culture, said he expected the Map to become one of the most popular items in the attraction. He said:- "It is a brilliant representation of what we set out to do in Capital of Culture year – create something multi-layered, textured and involving so many people. It is interesting to see how its appearance changes with the light. People will have to keep coming back to pick out all the different details."
Young People celebrate success at 'Oscars'
THE "Duke of Edinburgh Award Ceremony" has been organised by the city council's Integrated Youth and Play Service (LYPS), which provides support to schools in running the scheme, as well as offering an Open Awards centre which provides young people with the opportunity to complete the award outside of school. The event on Thursday, 24 March 2011, will see over 500 young people from schools and youth centres who have completed the bronze, silver and gold stages of the scheme presented with certificates at the BT Convention Centre. Also, a group of Street Mates who have recently completed the peer mentoring scheme run by LYPS will receive certificates acknowledging their development and the positive support they have provided for other young people. Deputy Lord Mayor, Councillor Frank Prendergast, said:- "The evening will be a great opportunity to showcase the talent and commitment our young people have. By becoming Street Mates and taking part in the Duke of Edinburgh scheme they are developing valuable communication and mentoring skills as well as experience of working as part of a team." Councillor Ann O'Byrne, cabinet member for the youth service, added:- "Not only do the young people involved benefit from personal development, they are also provided with structured, rewarding activities to take part in during their spare time and also the opportunity to act as role models for other young people. Universities and employers regard this type of work extremely highly, and that is why we are keen to encourage as many young people as possible to do something positive in their spare time. The aim is to encourage young people to give something back to the local community while achieving their own personal goals and raising their aspirations." Entertainment will be provided by a number of talented young performers, including dance performances from Alsop High & Empire Street Dance Company, a vocal performance from Shrewsbury House and the Justice – Just us! vocal group. More than a thousand young people at schools and youth centres are currently enrolled in Duke of Edinburgh in Liverpool, with participation and completion rates rising every year.
Rags to cultural riches
RECYCLED is the new black for a special clothes shop in Liverpool City Centre. Rags Boutique is a unique arts project which makes dresses, trousers, jackets and jewellery out of materials such as tyres, newspapers, plastic bags and shredded paper. Located in The Old Paint Shop (the former Rapid store on Renshaw Street), textiles artist Alison Little will work with Liverpool youngsters aged from 5 to 16 to help them design and create their very own 100 per cent recycled clothing range.
Every Friday and Saturday for the next 5 weeks, up to 22 April 2011, the shop will open its doors to the public. Fridays will showcase the fantastic work which has been produced and give people the chance to see the creations being made.
Each Saturday will give families the chance to drop in and have fun trying to make their own reclaimed clothing.
Rags Boutique is part of the Shops Upfront programme - a Culture Liverpool project which allows artists to use empty retail units for short term exhibitions, workshops and art events, providing a platform for artists' work and improving the look of the area. Pupils from St. Nicholas Catholic Primary School will be one of the first groups to get creative on Thursday, 24 March 20121, when they create hats and masks from recycled materials.

Alison Little said:- "Rags Boutique is a concept which will implant the ethics of environmental sustainability in the minds of today's youth. I'm looking forward to working with young people and their families and seeing the fantastic creations they produce."

All workshops with schools and community groups are free of charge and it is hoped that at the end of the five week period there will be a fantastic fashion show will exhibit the unique work which has been produced. Liverpool City Council's cabinet member for culture and tourism, Councillor Wendy Simon, said:- "The Shops Upfront programme really has brightened up empty shop windows in the city centre with inventive and eye-catching art projects. Rags Boutique is a brilliant concept - not only is it a great way to tap into the creativity of pupils and families, but it also gets people thinking about recycling and how we can reuse materials. It's bringing family friendly art to the high street and I'm sure some fantastic designs will be created over the next five weeks."

The city council is working in partnership with Merepark who are the developers behind Central Village project and own the Paint Shop on Renshaw Street and the former Lewis' and Watsons buildings – both of which, along with several other premises, have been used for Shops Upfront project since May 2010.
Shops Upfront is jointly funded by the city council, the Department of Communities and Local Government, Arts Council England and supported by various property agents and owners, and has been running since April 2010.
C'mon cheer the buoys!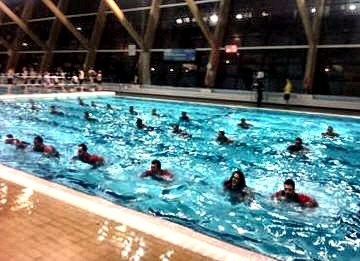 THE Vikings took to the water last week, at Wavertree Athletics Centre, based on Wavertree Sports Park in Liverpool. The venue is a training facility for the 2012 Summer Olympics and Denis Betts and his squad travelled there to take part in a training session with a difference. The entire first team were all in attendance, however, given the brand new piece of equipment they were about to trial, it was "out with the Speedo's" and "in with the TNAR suit". Terry Nelson, Master Trainer and Managing Director of Aqua Running Ltd, tells us more, "Real Madrid have been using and testing the TNAR suit for several months now, ahead of its official launch at Real Madrid's fantastic 'Training City' complex in Valdebebas. "In a similar behind the scenes capacity, I've also been allowing use of the TNAR suit privately to both Liverpool St. Helens and Leicester Tigers RU clubs in this country, so Widnes picking up on this news was very impressive and such forward thinking by their coaches should be applauded. First and foremost, the TNAR Suit is a buoyancy suit and players can train in it with no further impact on their joints or bones. This means that injured players can also train harder much earlier in their recovery and rehabilitation period and run and sprint in the pool with no added impact whatsoever. I truly appreciate the efforts of the players and their focus and professionalism throughout the session was first class, and I look forward to working with the Management team and Coaching staff again, in the future." Director of Rugby at the Vikings, Paul Cullen added:- "Recovery and variety are as important to us, as our mainstream training methods. Terry Nelson and his innovative systems, plus the fantastic facilities on offer at Wavertree Athletics Centre have both added a different and beneficial aspect to our performance as a team."