Liverpool Sound City Announce 4th Wave Of Acts
THE Liverpool Sound City has just announced yet another wave of acts all starring at this May's festival extravaganza in one of the most iconic and musical cities on the planet. The countdown is now truly on with less than two months until over 30 venues in the city are taken over by 300 bands from around the world, including some of the brightest stars, the hottest new talents and the next generation of melody makers all uniting for a music, arts and cultural showcase unlike any other. The scene is set for the 4th Liverpool Sound City which again will shape the UK's music manifesto; three days and nights of enrichment, excitement and discovery await across the entire city. As well as the current amazing wristband offers for festival and delegates wristbands, which again go up in price from on 10 April 2011, respectively – and there's the chance to buy single day wristbands too.

Scottish rockers The View headline, bringing their anthem-led cuts to Liverpool. Longstanding friends of the city and of the festival, they headline the O2 on Thursday, 19 May 2011. Post-punk revivalists Clinic represent Liverpool using their vintage keyboards/organs to incredible effect along with their beloved Philips Philicorda and peculiar off-scale chord progressions. The surgical mask wearing Domino recordings legends now deep in the game for over a decade and have just released their 6th studio album 'Bubblegum' and debut on Friday, 20 May 2011. There's a mouth-watering treat from Radiohead drummer Philip Selway too, who headlines the Bella Union showcase on Saturday, 21 May 2011.

DJ Target takes over Bumper on Saturday, 21 May 2011, with his Showcase; with a number 1 track under his belt with Green Light and the MOBO-Awards nominated Rolls Deep, the 1-Xtra 100% Homegrown presenter is one of the toasts of the scene. He was part of the ground-breaking garage act, Pay As You Go, and has worked with many huge stars including Dizzee Rascal, Jamelia, Wiley and Boy Better Know, and continues to showcase new music each and every week to the nation. Yasmin headlines this show; the hip-hop and R&B starlet offers a beguiling new angle for Target's hip-hop, R&B and urban excursions which will captivate LSC. The Bumper show also features many of the scene's brightest new stars, including Cherri V, The Cipher, Lioness and MZ Bratt. Liverpool's own singing sensation, Delta Maid, also stars; the hypnotic country and blues singer's debut album, Outside Looking, captures the essence of her American roots vocals, and Liverpool's hottest new talent is set to stun LSC. Back with the bands and they just keep coming; American punkers Set Your Goals headline the 02 Academy 2 on Friday, 20 May 2011, as their sound captures a new dynamic front at LSC, whilst Smoke Fairies' spooked-out spectral harmonies will enchant on Thurs 19th May. Dinosaur Pile Up's Growing Pains brilliance was in its simplicity, bursting with chugging guitars and exuberant pop-tinged choruses which will feature in the Masque on Thursday, 19 May 2011; they're joined by Broken Records, whom NME likened to Scotland's own Arcade Fire. Ninja Tune's experimental hip-hop star Dels will show why he's feted for a big future. New York lo-fi 60's revivalists Cults (USA) also star alongside Indie-rock outfit Cloud Control (Australia). Disco-indie-rock-popper The Jezebels (Australia) also feature at LSC; Aussie soloist Dan Parsons whilst Grimes' (Canada) ethereal and electronic pop reaches the places others fail to touch.

Expect art-rock experimentalism from Braids (Canada), Brighton's new-wave four-piece Flashguns, Mazes' indie folk rock and psychedelic, Leeds based FILMS, The Wombats-supporting The Good Natured and precocious hot talent Spark all star too at Liverpool Sound City.

LSC – The Acts So Far are:- Alessi's Ark, Amanda Blank, Beat Connection, Black Lips, Broken Records, Cast, Chad Valley, Chain & The Gang, Clinic, Cloud Control, Colourmusic, Cults, Dan Parsons, Delta Maid, Dels, Dustland, Dutch Uncles, Ed Sheeran, Fixers, Flash Guns, FILMS, Forest Swords, Frank Turner, Funeral for a Friend, Funeral Party, Fucked Up, Grimes, Handsome Furs, Idiot Glee, Jamie XX, Kid British, Kurt Vile & The Violators, Lanterns On The Lake, Lower Than Atlantis, Mazes, Miles Kane, Mona, Mugstar, Niki & The Dove, Philip Selway, Publicist, Rachel Sermanni, SBTRKT, Set Your Goals, Sound of Guns, Spank Rock, Smoke Fairies, Spark, Steve Mason, Target, Teeth!!!, The Chapman Family, The Good Natured, The Jezebels, The Lines, The Oxygen Thieves, The Phoenix Foundation, The Red Suns, The Rural Alberta Advantage, The Sand Band, The Suzukis, The View, The Whip, Three Trapped Tigers, Those Dancing Days, Trophy Wife, Veronica Falls, Wave Machines, Willy Mason, Wolf Gang, Worriedaboutsatan, Wretch 32, Yasmin, Young Knives, Yuck, Zeus and many more to be confirmed…

LSC - The UK's Coolest Boutique Urban Festival is already established as an epoch-breaking music, arts, cultural and multi-media extravaganza, LSC is rich in burgeoning new sounds and styles from home-grown local bands through to the most dynamic and fresh talent sourced from around the world. LSC is replete with the latest film premiers, art exhibitions and is a cultural celebration of the city's heritage and the wider scope of the UK's contemporary music scene, championing current innovators and mavericks whilst heralding the next generation of futurists and avant-garde play-makers. Featuring such a broad array of interest, from the commemorative John Peel World Cup through to daily conferences with legendary keynote speakers and special guests, Liverpool Sound City is the only festival which brilliantly combines the diversity, eclecticism and vibrant spirit of Great Britain's creative scene. Keep checking liverpoolsoundcity.co.uk for more information.
Southport Country Fair 2011 Are You Going??????
THE Southport Country Fair is back on Saturday, 23 April to Monday, 25 April 2011. The event will be held at Stanley High School, Fleetwood Road, Marshside, from 10am to 5pm all three days! For more information visit:- garden-festivals.com or call now on:- 01704 212 734.
Liverpool Pride Announces Festival for August 2011!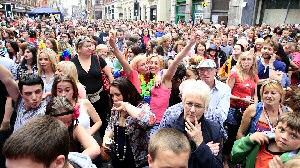 DUST off those Rainbow Flags and get ready to celebrate all things LGBT once more, Liverpool Pride is delighted to announce that this year's festival will take place on Saturday, 6 August 2011 in Liverpool City Centre.

Plans for this year's festival are already in the making, in order to ensure that Liverpool Pride 2011 is as successful as last year's, which was the first official LGBT Pride festival to be held in the city, attracting over 21,000 people.

For one day only the city will transform into a massive party venue with a celebration taking place around Liverpool's gay quarter. Following a march around the city centre, the Dale Street area will be closed off all day for the glittering Pride street party including stages, a wide range of live entertainment, musical acts, street performers, outrageous sideshows and a host of market and refreshment stalls.

The fun doesn't stop at sunset... far from it! As day turns to night, Liverpool's thriving gay scene will gear into action with a large number of venues holding exciting Pride events especially for the night

Festival organisers have also confirmed that the event will remain FREE so that everybody who can and wants to take part can do so.

Tommy McIlravey, Chair of Liverpool Pride said:- "Last year's event was fantastic and we couldn't have done it without the people of Merseyside who turned up to show support and have a fab day. We are now one of the biggest free Pride festivals in Europe."

The date chosen by the community will mark the third anniversary of the death of Michael Causer, a young gay man who was murdered in 2008. His death brought together the community and Liverpool City Council, leading to the revival of the festival.

Tommy Continues:- "I'm really glad we're keeping the same weekend as a tribute to Michael Causer and his family. This year, we don't clash with Brighton (or any other major pride), so no excuses for anyone not to come!"

The colourful Pride march saw 7,000 spectators come out to line the streets to show their support as more than 3,000 lesbian, gay, bisexual and transgender people, as well as their friends and families led the way to the festival from St George's Hall.

Cllr Ann O'Byrne, Cabinet member for community safety said:- "The festival was great as everybody came out to have a really good time regardless of their sexuality or gender identity. I saw kids, grannies, parents, friends and families all with a smile on their face. It is great news that it is now becoming part of the city's cultural calendar of events."

An independent economic impact assessment carried out estimated that the festival brought in more than half a million pounds to the local economy with over a quarter of visitors thought to have travelled from outside of the city region.

Liverpool Pride will shortly be announcing the theme for this year's festival picked by the community. The theme was chosen after the Liverpool Pride street team went out into Liverpool's gay community and through an online vote on their website, asking people to vote on what theme they want for the festival. The options were Film Noir, All at Sea, Hollywood Glamour and the Summer of Love – which would you, have chosen?

Make sure you check out:- liverpoolpride.co.uk to have your say and for all of the latest pride news.
ADVANCED NOTICE!
A Coffee Shop Book Signing in Southport!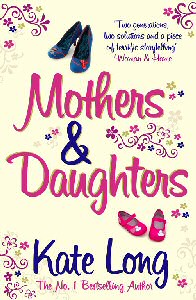 WE have a very special bit of news for you all... the author of the TV hit "Bad Mothers Handbook", Kate Long will be attending an event organised by Pritchards Books and ourselves (Southport Reporter), at the Esquires Coffee House on Lord Street, Southport. The event is on Thursday, 28 April 2011, from 11:30pm to 12:30pm. She will be on hand to sign copies of her new book called "Mothers & Daughters" that will is in paperback form. We will be selling copies on our online shop very soon! Also do not forget you can get copies from:- Pritchards Formby and also books will be on sale at Esquires Coffee House on the day! Keep an eye on Southport Reporter for more information! Also Esquires are going to offer a special promotion from next week for those attending! For more information about the book see:- katelong.co.uk and about the TV show see:- IMDB.