Red Tape challenge kicks off
MEMBERS of the public, businesses and community organisations are being invited to give a real boost to growth and personal freedoms by ripping up some of the 21,000 rules that are getting in their way.

The Red Tape challenge website will be launched today by the Prime Minister and Business Secretary Vince Cable. It will, for the first time, give the public a chance to have their say on regulations that affect their everyday lives; whether it's to speak up for well designed rules that are there to protect or challenge badly designed or badly thought through regulations that are an unnecessary burden.

The Prime Minister said:- "We need to tackle regulation with vigour, both to free businesses to compete and create jobs, and give people greater freedom and personal responsibility. Of course we need proper standards, for example in areas like fire safety and food safety. So where regulation is well-designed and proportionate, it should stay. But it is hard to believe that we need government regulations on issues such as ice cream van musical jingles. That's why I want us to be the first government in modern history to leave office having reduced the overall burden of regulation, rather than increasing it. Our starting point is that a regulation should go or its aim achieved in a different, non-government way, unless there is a clear and good justification for government being involved. Be in no doubt: all those unnecessary rules that place ridiculous burdens on our businesses and on society – they must go, once and for all."

The campaign is part of the Government's growth agenda and will tackle the stock of more than 21,000 statutory instruments that are currently putting barriers in the way of businesses, volunteers and the public. The first area of national life to go under the microscope will be retail. Following this, every few weeks a new set of regulations, organised around themes, will open on the website for anyone to comment on. Once a theme has closed to the public, the Prime Minister has said in a letter to all Ministers that they will have three months to explain why a regulation is still required, or it will be scrapped.

Business Secretary Vince Cable said:- "The retail sector is a key part of our economy and essential to driving private sector-led growth. It also has to deal with hundreds of different regulations covering everything from employment law and health and safety through to consumer protection and the sale of offensive weapons. Some of these regulations are there for good reasons, protecting employees, businesses or the public. But some, like the Indication of Prices (Beds) Order serve no purpose at all. That's why this campaign is different to the de-regulation drives that have gone before. The onus is now on my fellow Ministers and I to justify a regulation, rather than on you telling us to do something about it. I urge you to visit the website and take a few minutes to tell us the regulations you deal with on a daily basis. This is your chance to make sure that consumers are properly protected from unscrupulous traders or give us the evidence we need to remove the unnecessary bureaucracy that stops your business from growing."

For each sector theme, there will also be an experienced 'sector champion' who will provide expert knowledge on the issues faced by those on the shop floor. The champion will act as an intermediary between the sector and Government and help to direct the web-based debates and discussions.

Dr Kevin Hawkins, Sector champion for the Retail theme said:- "The moans and groans of businesses about regulation can't and shouldn't be ignored. By simplifying the trading environment we can free up your time to concentrate on the things that matter to your business. This is an opportunity for companies large and small to think hard about your business and what you would change in the regulation that plays a role in your everyday life."

Cabinet Secretary Gus O'Donnell has written to all Permanent Secretaries across Government to ensure that civil servants understand that this is an opportunity to find creative ways of achieving policy goals without resorting to regulation.

Gus O'Donnell said:- "This is a great opportunity for the civil service to help drive changes in the way that government delivers its policy goals – abolishing unnecessary regulations and using creative approaches to achieve the Government's objectives in non regulatory ways. I will be ensuring that all government departments engage with businesses and the public through this challenge, and present creative and credible options to Ministers on how they can deliver the government's ambitious goals on deregulation, to promote enterprise and enhance personal freedom and responsibility."
FAKE STUDENT LOAN EMAIL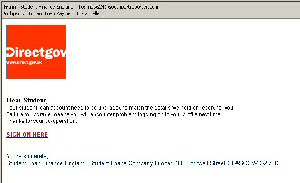 THIS email has hit a few of our readers in boxes and even hit ours. The email says it is from "Student Loan Finance England" but in reality it goes to a hacked website in Ireland. We have reported this email to the police and we would remind people not to click on this type of email. The full look of the email is available by clicking on the image. If you get this email look out for the following:-

1. Subject is:- "Student Loan Payment Is Cancelled"

2. The image for the logo is hosted on sefton.gov.uk

3. The body of the email says:- "Dear Student, Your student loan account need to be upgraded to match the details we hold on record for you. Failure to upgrade means you will encounter problem logging on to your profile next time. Thanks for your co-operation. SIGN ON HERE Yours sincerely, Student Loan Finance England. Student Loans Company Limited 100 Bothwell Street GLASGOW G2 7JD"
Easter holiday Spring clean for Liverpool Loopline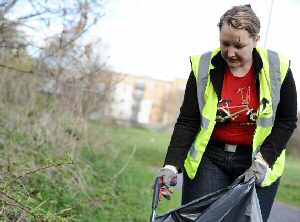 A spring clean along the Liverpool Loopline walking and cycling route will take place on Tuesday, 19 April 2011, and needs local people to come along and help. Volunteers from charity Sustrans will be working on the northern end of the walking and cycling route from 10:30am until 1.30pm, removing litter and making it a more attractive and safer place for everyone. Sustrans is urging more people to come along and take part. Volunteers will meet at 10:30am by the entrance to the path at Bull Lane Bridge. Alice Rickwood, Sustrans Area Manager in Merseyside, said:- "The National Cycle Network now extends 13,000 miles across the UK and the only way such a vast Network is able grow and be looked after is thanks to the help of volunteers. The Liverpool Loopline is a very well-used, traffic-free path that allows people to travel on foot or bike away from busy city roads. It's a great resource and deserves to be looked after. As the Spring clean takes place in the Easter break we hope to see families coming along to join in for a holiday activity that is free, friendly and very worthwhile." All are welcome to join in and equipment will be provided. To reserve a place contact Alice via email or via telephone on:- 07799 037044. You can also find out more about volunteering for Sustrans by visiting:- sustrans.org.uk and clicking on 'Support Sustrans'.
The Frank and Marilyn Show
AN evening of pure nostalgia with just a dash of sauce! Liverpool's brand new burlesque and cabaret club Mo Nique's begins its season in dazzling star style.

In a tribute to the glamour of Hollywood's Golden Era, for two nights only Mo Nique's will be hosting a star-studded tribute to Ol' Blue Eyes Frank Sinatra and the legendary Marilyn Monroe as they sing their most famous showbiz hits. Accompanying them and completing the classic 50's feel will be breathtaking performances from Gypsy Rose Lee and Daiquiri Dusk re-enacting vintage burlesque.

Set in Mo Nique's, the club that like the famous Windmill Theatre promises 'we never clothe', this evening of starry showbiz has all the lushness of the Moulin Rouge. Sample the high life with a complimentary drink on arrival and hostess service all evening.

Playing homage to Frank Sinatra will be David Knopov, bringing his amazing 'Perfectly Frank' routine, recently staged to uproarious applause in Liverpool's Philharmonic Hall as part of "Simply Big Band". With Knopov's note-perfect vocals and all the charm and swagger of Sinatra at his height, it's little wonder that he can count Dawn French and Bill Nighy among his celebrity fans. His sophisticated impersonation has garnered royal attention, he performed for King Constantine of Greece's 70th birthday and has also entertained Her Majesty the Queen!

Joining him on stage is Laura Nixon as Marilyn Monroe, who Steven Coogan swooned over as 'the sexiest Marilyn since Monroe' and she'll seduce you too with her spectacular act. Nixon is the exquisite image of Marilyn herself and sparkles just as brightly, perfectly imitating the legendary breathy voice and vocals of the effervescent Monroe. Voted the 'Most Sensational Marilyn Monroe Tribute Act' in the UK she brings Marilyn to life in a way that will "send shivers all down your spine".

Having previously wowed audiences at The Canary Cage, Susie Sequin will be interpreting the infamous burlesque of Gypsy Rose Lee. Like her muse, she is trained in dance and theatre and has an equally bohemian streak! Her routines involve fan dancing, classic tease and tassel twirling! With curves made for shaking and glint of mischief in her eye, this ruby-lipped brunette will bring an extra flash of brilliance to the show. Daiquiri Dusk is a delicious cocktail mix of originality, with her signature burlesque highland dance, and elegant, classic burlesque. An international performer of international renown she's "A little sweet and a dash of sour... perfect for the evening hours..."

With Creative Director Liz Lacey promising "Endless Nights of Vintage Glamour...Burlesque, Cabaret and Variety" Mo Nique's is destined to become the last word in theatrical cabaret and variety, indulging in serious old school glamour and showcasing the crème de la crème of alternative entertainment. Mo Nique's mission is clear; to banish the blues and celebrate the beauty, grace and talent of the vintage cabaret and burlesque world, all here in Liverpool, the Capital of Cabaret 2011!

PERFORMANCE DETAILS AS FOLLOWS:-

The Frank and Marilyn Show is on Friday, 15 April 2011 and Saturday, 16 April 2011 at the Mo Nique's, 3 Temple Court, Matthew Street, Liverpool L2 6PY. The doors open at 8.30pm anf the show will start at 9.30pm, with the bar open to late. Tickets are £20 and can be booked via visiting the website.