John Leech MP backs ivory surrender to save elephants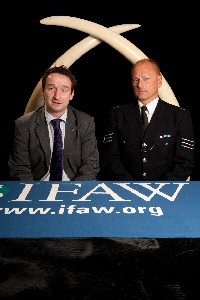 MANCHESTER Withington MP John Leech has shown his support for elephants by backing the International Fund for Animal Welfare (IFAW)'s ivory surrender.

John attended IFAW's campaign launch at the House of Commons and posed with huge elephant tusks. He is calling on members of the public to send in any unwanted items of ivory they may have to IFAW to ensure they do not end up back on the commercial market, and to highlight the illegal ivory trade.

John Leech MP said:- "I am pleased to be backing the ivory surrender, and urge my constituents to send in unwanted items of ivory to IFAW and back their campaign for greater protection for elephants."

Shockingly, new Ipsos MORI polling shows that more than 40% of adults in the North West are unaware that elephants have to die before their ivory can be obtained, while almost 4 million British residents are owners of ivory.

Robbie Marsland, Director of IFAW UK, said:- "Every piece of ivory represents a dead elephant. We are therefore very grateful to John Leech for showing his commitment to elephant protection. That is why we are holding a UK-wide ivory surrender to help raise awareness of the threats facing elephants and to encourage the UK Government to push its pledge to press for a ban of ivory sales internationally."

The global illegal trade in wildlife is estimated to be worth £12 billion annually, second only to the illicit trade in drugs and arms. Ivory forms a significant part of this. Seizures of illegal ivory are skyrocketing and recent stockpile sales to Japan and China sent a signal to poachers that it is open season on elephants.

Anyone who would like to donate ivory to the surrender can email or call:- 020 7587 6709. Further information about the campaign can be found online
Letter to the Editor:-
'Buzzing Past'
"For nearly thirty years now I've been collecting Vespa motor-scooters and the associated memorabilia. Needless to say, the little Vespa was a huge part of life in the 1950s and 1960s when the majority of such vehicles were made. My modest collection has been a regular feature at classic vehicle shows up and down the country, however, I am shortly to open a 1950s-style café which is to incorporate a Vespa/scooter theme, with badges, banners, pennants, etc. lining the walls. I am particularly interested in un-earthing more Vespa Club of Britain 'cog' badges (approximately 3.5 inches in the shape of a gear cog) which were issued to branch members locally, and to commemorate rallies and meetings. If any of your readers have such treasures gathering dust, and would be interested in seeing them appreciated by a wider audience, and/or have photos/stories that they wish to share, could they please contact me by email. Additionally, anyone wishing to keep abreast of progress regarding the opening of the café, feel free to drop me a line." Peter Selley.
PUBLIC SAY RESOUNDING NO TO BLOOD MONEY
"THE public have voted - it's time for the Government to back off from their ill-conceived plans to sell-off parts of the NHS Blood and Transplant service" said UNISON chief Dave Prentis. The call comes in the wake of a YouGov poll that shows an overwhelming 72% of the public who expressed an opinion would oppose the use of private companies running parts of the NHS Blood and Transplant Service. Given freely' is the ethical principle upon which the entire blood and organ donation service is built. It is unique and a principle which has sustained the lifeblood of the service. Dave Prentis, General Secretary of UNISON, said:- "The public have said a very resounding NO to blood money. The Blood and Transplant service is an inspirational service with millions of people willing to give their blood freely with no money exchanging hands. Letting private companies move in breaks that link and taints the whole service with the profit motive. There are also very real dangers to the safety of the blood supply if the smooth path from donors to patients is broken. Is nothing precious to this Con Dem Government – the NHS Blood and Transplant service is not for sale and UNISON will fight to make sure that it stays that way." Bev Easton, UNISON's Northern Blood Centre, Branch Secretary and a donor carer supervisor, said:- "We're fighting to stop the blood and organ donation service being sold off because we believe that private companies should not make a profit from blood and organs donated free by the public. This would undermine the very fabric of the NHS with potentially devastating consequences for patients."
Armed robbery at Aldi store in Ormskirk
POLICE in Lancashire are appealing for information following an armed robbery at a supermarket in Ormskirk. It is reported that around 8pm on Friday, 25 March 2011, two masked men forced their way into the Aldi store at Two Saints Place just after staff had locked up for the night. Once inside, the men, one armed with a machete and the other with a claw hammer, split up and approached two members of staff. They forced them towards the manager's office and demanded money from the safe. The employees told them they didn't have the keys at which point they began to steal money from a cupboard in the office. One of the assistants managed to push the panic alarm prompting the offenders to run off and make off from the scene in a silver coloured estate car, getting away with a small quantity of money. DC Paul Mulrooney said:- "I would like to speak to anybody who may have witnessed these two men in the area, possibly surveying the store, prior to the robbery, or perhaps as they made their getaway. Any amount of information not matter how small could be crucial to this investigation." A Nissan Primera Estate, which is believed to have been used in the robbery, was later found abandoned on Chaucer Road in St Helens. It was found to have been stolen from Linkstar Road in Liverpool two days before the robbery. DC Mulrooney added:- "Given the location of where the car was found abandoned, and where it was earlier stolen from, we believe to two men have connections to the Merseyside area and would ask anyone who has any information about any of these incidents to contact police." Anybody with any information is asked to contact Lancashire Police on:- 08451 25 35 45 or call Crimestoppers enormously on:- 0800 555 111.