NOTICE FROM THE ELECTORAL COMMISSION:- "GET IN POLL POSITION FOR 5 MAY 2011"
Images with thanks to Electoral Commission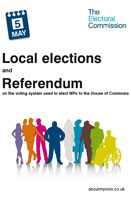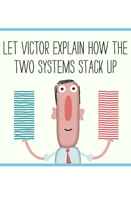 "WITH many local government elections taking place in England as well as the UK-wide referendum on the voting system used to elect MPs, Thursday 5 May promises to be a big day for voters. In our role as the independent elections and referendum watchdog, we're helping voters by sending an information booklet to every household in the UK. This tells readers what's going on and provides neutral, factual information, including how votes are cast and counted under the First Past the Post and the Alternate Vote systems, and the referendum question being put to voters. You can also get the booklet and more information, including an animated video where Victor the Vote Counter demonstrates both voting systems, on our website. Finally do not forget that on Thursday, 14 April 2011, it is the deadline for anyone who has not yet registered to vote to do so. Registration forms can be printed from our website. Anyone not registered won't be able to have their say on 5 May 2011." Clinton Proud, Head of Campaigns, Electoral Commission.
DO YOU WANT TO BE ON A BRAND NEW CHANNEL 4 MEDICAL SHOW?
"WE'RE looking for people who are worried about a health problem but can't get an appointment with their GP; or are leaving something to fester because they've no time to get to the Docs? Maybe they're looking for a second opinion or medical reassurance. We are also looking to consumer test some of the leading, readily available over- the-counter products used to treat Hay fever, colds, athletes foot and problem teenage skin. Our aim is to assess which products work best and as such, we need participants that currently have either of the above conditions to start testing the products as soon as possible. If any of your pupils or employees are interested in participating then please pass on our contact details. There will be a standardised protocol, a health questionnaire and we will be working with Health Professionals to ensure safety for all concerned. There are no cost implications for any participants. If you're interested or know anyone that might be, please get in touch with us now by logging on to:- www.channel4.com/bodies or call the hotline on:- 0121 224 8386" Lewis Evans, Researcher, Maverick TV.
Save Child Benefit and Working Tax Credit from the Tory deep freeze
THE shopworkers union Usdaw is calling on the Tory led Coalition to reconsider its decision to freeze Child Benefit and Working Tax Credit. The decision, which has taken effect and will last3 years, will leave many hard working families hundreds of pounds worse off at a time when family budgets are already being squeezed by rising prices and the increase in VAT. The freezing of child benefit will cost families with two children around £255 ayear by 2013 and the decision to freeze Working Tax Credit will cost families between £88 and £124 a year. Usdaw member Maureen Morgan, a single parent with an 11 year old son Corey, said:- "I'm still unsure how all the Government's cuts to benefits for working parents will affect me and my family but I am worried about the future. Freezing Child Benefit is a big concern as I stand to lose £150 over the next three years and that's a lot of money for me. I use Child Benefit to buy important things for my son. I really don't think cutting benefits for those that can least afford it is the right way to tackle the country's debt." John Hannett, Usdaw General Secretary added:- "Child Benefit and Working Tax Credit are essential income for many thousands of Usdaw members who rely on them to maintain a decent standard of living. Freezing their value means the government is cutting the incomes of some of the lowest earning households in the country and making a complete mockery of their commitment to reduce the deficit without harming the most vulnerable in society."
WARNING TO MOTORCYCLISTS TO LOSE SPEED NOT THEIR LIVES
MOTORCYCLISTS are being urged to lose their speed and not their lives in a new campaign aimed to reduce the number of road deaths and injuries across Merseyside caused by motorbike collisions. In the last three years 19 motorcyclists have died on the roads across Merseyside and 172 have been seriously injured. The latest monthly campaign by Merseyside Police's Roads Policing Department will target motorcyclists and other drivers to raise awareness of the dangers of inappropriate motorbike riding and inattentive driving. Officers will be out in force across Merseyside throughout the month and will be holding a special spotlight say on 12 April 2011, carrying out enforcement and educating those who are caught driving dangerously and breaking the law. Officers will also be present at the Wirral Egg Run on 17 April 2011. Thousands of bikers are expected to attend this charity event raising funds for children's charities and donates Easter eggs to hospitalised children. Merseyside Police Roads Policing Department will be on hand on their motorbikes offering advice and guidance to bikers. Sgt Paul Mountford, who will be helping to police the Wirral Egg Run, said:- "As the weather gets warmer we tend to see more motorcyclists who don't regularly use their bikes out on the roads again and often they won't be wearing appropriate clothing. We also see young riders with an 'it won't happen to me' attitude wearing trainers, tracksuit bottoms and a hoodie, which offer very little protection in a collision so we will be speaking to them about the benefits of wearing protective clothing as well as offering advice about safe riding. The majority of motorbike collisions involve other vehicles. We frequently see collisions at t-junctions, traffic lights, right hand turns, stop signs and U-turns, which are often due to a lack of concentration, failure to judge speed and distance correctly, illegal parking at junctions, poor turning or manoeuvring, or just even failing to look properly. Just one casualty on our roads is too many so our ultimate aim is to try and reduce motorcycle casualties by educating all motorists to drive responsibly and carefully."

Advice to motorists:-

► Before performing any manoeuvres on any part of a road check for bikes and motorbikes.

► Motorbikers should aim to be more visible on the road.

► When at junctions make extra effort to ensure no cyclist or motorbiker is present.

► Built up areas can be especially unpredictable - children or animals may run into the road or a car, bike or motorbike may pull out in front of you - stay alert and check your speed.

► It is every driver's responsibility to know his or her manoeuvre is safe.
Formby schools consider Academy conversion
AS our Formby Reporter email readers know the Governing Bodies of Formby's 2 secondary schools have decided to consider converting to Academy status under the model now offered to successful schools by the Department for Education. The Government has encouraged schools rated as "outstanding" by OFSTED, which both Formby schools are, to consider Academy status. Academies are funded directly by central Government and have a number of freedoms compared to maintained schools. Graham Aldridge, Headteacher of Range High School, said:- "The 2 schools have a long history of collaborative work with each other, with the primary schools of Formby and with other Sefton secondary schools, and we are committed to ensuring this continues if the schools were to become Academies." Brian Rourke, Headteacher of Formby High School, explained:- "Both schools will now undertake a process of consultation with parents, staff, pupils and other stakeholders, and that no final decision to convert will be taken by Governors until after the outcomes of the consultation have been considered, and more detailed information has been obtained from the Department for Education." Mr Aldridge added that the potential benefits would be examined carefully to ensure it is the best way forward for each school. Mr Rourke said:- "Both schools see this as an opportunity to move forward together for the benefit of our school communities and to maintain and enrich the educational experience of the pupils."