JAMES COLE'S F2 DEBUT
Photographs by Octane Photos and report by P. Trollope.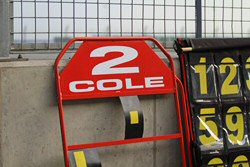 SOUTHPORT'S racing car driver, James Cole, aged 22, had a good debut weekend in the 1st round of the FIA Formula 2 Championship. All things being taken into account he put on a very confident show at Silverstone, over 15 April to 17 April 2011. Over the first round he consistently gained confidence and could be seen when looking at his classifications in Practice 1 being 15th and improving rapidly in Practice 2, where he came in 5th, from the pack of 24 cars. If he can translate his practice classifications into his race results, he will soon be getting into the major points. Only time will tell how his drive in F2 will go. Lets hope he does well. Good luck... Cole!!!