Serious child abuse reports to NSPCC Helpline at all time high
CALLS to the NSPCC Helpline reporting suspected child abuse and neglect have reached record levels, the charity has revealed. From April 2010 to March 2011, trained NSPCC counsellors working on the 24 hour freephone:- 0808 800 5000, service referred 16,385 serious cases to police or social services. These include cases from the Southport. This is 37% higher than the previous year and the biggest annual increase in referrals to the Helpline yet recorded.

Recent NSPCC research found nearly one in five secondary school children in the UK has been severely maltreated during childhood, most commonly through neglect1. There are currently around 46,000 children of all ages on a local child protection plan or register, and 6,798 in the North West.

The NSPCC is calling for a major shift in UK child protection policy towards earlier and more effective intervention in child cruelty cases. This relies on people taking swift action to report any concerns about a child being maltreated.

Almost half (46%) the people who contacted the Helpline last year were reporting concerns so serious they needed to be passed on to the authorities - up from 39% the previous year.

John Cameron, head of the NSPCC Helpline, said:- "We must pick up on children's problems as early as we can to stop their abuse. Social workers cannot be in the community all the time. But members of the public can be their eyes and ears. The NSPCC Helpline provides advice and counselling to people who have concerns about a child. It also brings abused and neglected children to the attention of local agencies and act as a gateway to local services. The increase in referrals over the last year shows more people want to play their part in keeping children safe. We refer only the most serious cases to local agencies for further investigation. More than one in three of these cases involve families previously unknown to local authorities."

Last year, the Helpline made 12,296 referrals about suspected child cruelty following contacts from neighbours and members of the public - up 4,588 (60%) from the previous year.

Other people contacting the Helpline included parents, other family members, and professionals such as teachers or health workers.

The biggest increase in referrals last year was for neglect, which jumped 81% to 6,438 cases. Neglect remains the top reason for people contacting the helpline. We also referred 4,113 cases of reported physical abuse, 1,520 cases of sexual abuse and 2,932 cases of emotional abuse.

John Cameron continued:- "The rise in serious child abuse calls shows our Helpline is needed as much as ever. It only takes a few seconds to contact us. We urge people in Southport not to hesitate even if they have doubts. It could be the difference between life and death for a child."

Anyone with concerns about a child should call the NSPCC Helpline on:- 0808 800 5000. They can also email or make a report online.
THRILL SEEKERS SOUGHT FOR
MERSEY TUNNEL ABSEIL
CHALLENGE 2011
A charity raising funds to retain a mentoring scheme for vulnerable young people in Merseyside is on the search for thrill seekers with a head for heights. Leading charity Action for Children, which supports disadvantaged and vulnerable youngsters and their families, is looking for people from across the area to take part in a 164ft abseil from the top of the iconic Mersey Tunnel. The event, which takes place on Sunday 19 June, aims to raise thousands towards the £120,000 total needed to keep the Merseyside Junior Mentoring scheme going. The project matches children aged between five and 11 with a carefully trained adult mentor who volunteers their time and meets with the child on a weekly basis for one year. These sessions help children, who are often struggling with behavioural difficulties, build communication skills, try new or different activities and have valuable time with someone independent of their family or school. Diane Goodier, Action for Children fundraiser, said:- "It costs just under £5,000 to mentor one child for the year but the end results of the relationship are priceless. Taking part in the abseil is a truly exhilarating experience and I hope people are inspired to get involved by the knowledge they will be raising money for a project which makes a real difference to the lives of families and children in Merseyside." Registration for the abseil costs £30 and includes qualified instructors and all necessary equipment. Participants are required to raise £100 in sponsorship for Action for Children. It is also possible to support the mentoring project by making a donation online. Action for Children's innovative fundraising website that provides a quick, simple and secure way of donating to the project. For more information and to register, please contact the fundraising office on:- 01925 715385 or via email...

Support group for secondary breast cancer patients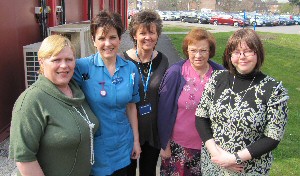 THERE is a CAMEO role for every woman attending a new support group for women with breast cancer in Southport, Formby and West Lancashire CAMEO (Come and Meet Each Other) meets on the last Tuesday of each month in the Salus Centre at Southport and Formby District General Hospital. It is specifically for women who have had a diagnosis of secondary (metastatic) breast cancer. Breast care nurse Trish Watkins said:- "Relatively little is known about women's experiences of secondary breast cancer in comparison with those diagnosed with primary breast cancer. There is rightly lots of support for women who develop breast cancer but less so for those who have a secondary diagnosis. The nearest similar group to ours is in Manchester. The support group meets in a safe, friendly and confidential environment. We look forward to welcoming new members." If you want further information about the group, contact Trish Watkins who is a Breast Care Nurse via calling:- 01704 704087 Sheila Jones, Palliative Care Nurse on:- 01704 704540.
Usdaw calls for equal rights for parents who adopt
DELEGATES at Usdaw's Annual Delegate Meeting (ADM) in Blackpool have overwhelmingly backed a call for parents who adopt to be given the same rights to parental leave and pay as that currently received by pregnant women.

At the moment pregnant women have a legal right of up to 52 weeks' maternity leave, regardless of length of service, while to be eligible for adoption leave, an employee must have at least 26 weeks' continuous service with their employer. Mothers who give birth qualify for maternity pay at 90% of average weekly earnings for the first 6 weeks, followed by standard maternity pay of just over £128 per week or 90% of your earnings, whichever is lower. Adoptive parents are only entitled to statutory adoption pay of just over £128 per week.

The position is even worse if adoptions take place privately, as is often the case in difficult family situations, as the new adoptive parents in these circumstances are not entitled to any adoption pay or adoption leave.

Usdaw will now lobby the government to change these different eligibility rules which it says are unfair and discriminatory and reflect the continuing low status and lack of recognition afforded to parents who adopt.

John Hannett, Usdaw General Secretary said:- "The current unequal treatment faced by adopters is simply wrong. Whether a child comes into a family by birth or by adoption should make no difference. All children need time to bond with their parents and no new parent should have to worry about whether they will get time off work to spend the first important few months with their child. Usdaw campaigns hard to improve rights for adoptive parents and we have achieved some notable improvements through our negotiations with employers. We lobbied the government for statutory adoption pay and were delighted when Labour introduced it in 2007, but it is now time for parents who adopt to be given equal rights to leave and pay."
MURDER INVESTIGATION AT MANOR HOTEL - EDGE LANE
MERSEYSIDE Police have named the man who was found dead at a hotel on Edge Lane on Sunday, 17 April 2011, as being 29 year old Thomas James Thompson. Mr Thompson, who is from Liverpool, was found at 9am in a room at the Manor Hotel. His next of kin have now been informed. Detective Chief Inspector Chris Green, said:- "The victim was found at his room in the hotel and since the discovery we have been making extensive enquiries to find the person responsible. We are keen to speak to anyone who may have seen anyone acting suspiciously in or around the hotel in the early hours on Sunday morning to come forward. In particular I am appealing for any taxi drivers who may have picked up a fare at or near the hotel in the early hours on Sunday morning to come forward as we believe they may have valuable information which may help us in our investigations. I would urge anyone who has any information, which can help us with our enquiries to contact detectives immediately in confidence." Anyone with any information about this incident is asked to contact:- 0151 777 4065 or Crimestoppers on:- 0800 555 111.