Karen Potter Craven Minor JFL
Results Week Ending 17 April 2011
Under 9 Leopards
Formby JSC White 5-0 Birkdale United DR
Town Green Jaguars 2-3 Birkdale Falcons

Final Positions
Formby JSC White
Town Green Jaguars

Under 9 Panthers
Redgate Green 2-3 Southport Trinity White
Birkdale United SAJ 2-2 Ormskirk FC

Final Positions
Town Green Pumas
Formby FC Juniors

Under 10 Eagles Tuesday
Formby JSC Black 1-0 Town Green Jaguars

Under 10 Eagles Sunday
Formby JSC White 6-2 Southport FC Black
Formby JSC Black v Town Green Jaguars
Burscough FC Juniors 0-5 Redgate Black

Final Positions
Southport FC Juniors Yellow
Redgate Rovers Black

Under 10 Hawks
Ormskirk FC 2-3 Hesketh Colts
Redgate Yellow 5-0 Birkdale Hawks

Final Positions
Redgate Rovers Yellow
Southport Trinity Blue

Under 11 Monday
Birkdale United R 8-0 Redgate Rovers
Formby FC Juniors 3-1 Ormskirk FC A
Formby JSC White 9-0 Southport FC Juniors
Southport Trinity 2-0 Birkdale United S

Under 11 Saturday
Ormskirk FC B 3-7 Formby JSC Black
Birkdale United R 2-1 Ormskirk FC A

Under 12 John Disley Cup Wednesday
Town Green 1-2 Kirkby Woodpecker

Under 12B Wednesday
Formby JSC Black 5-4 Southport FC Yellow

Final Positions
Great Crosby
Redgate Rovers Green

Under 13 Catherine Oldfield Cup Wednesday
Southport Trinity 1-4 Birkdale United

Final Positions
Birkdale United
Southport FC Juniors

Under 14A Wednesday
Formby FC Juniors 1-0 Southport FC Juniors
Ormskirk West End 7-1 Redgate Yellow
Town Green 2-4 Formby JSC White

Under 14B Wednesday
Ainsdale Juniors 4-2 Redgate Green

Under 15 Monday
Formby FC Juniors 7-2 Formby Dons
Town Green 1-0 Birkdale United

Under 15 Wednesday
Formby JSC 5-3 Formby Dons

Under 15 Saturday
Formby FC Juniors 6-2 Ormskirk West End
Formby JSC 4-3 Town Green

Under 16 Monday
Formby FC Juniors 0-1 Jaguars

Under 16 Saturday
Mitch 3-0 AFC Liverpool
Formby FC Juniors 1-4 Breeze
Jaguars 3-0 Town Green

Final Positions
Jaguars
Breeze

Under 17 Monday
Southport Trinity 7-0 Waterloo Park

Under 17 Saturday
Town Green 1-4 Formby JSC White
Formby JSC Black 1-1 West Lancs Colts

Final Positions
Town Green
Formby JSC White
Work on Kirkby's new walking and cycling project underway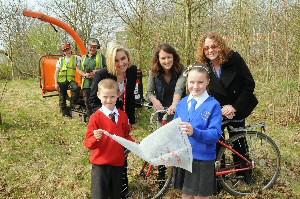 SITE clearance work has begun to provide new shared use pathways, upgraded crossing points and improvements to junctions will all be coming to Kirkby as part of a nationwide project aimed at helping more people make local journeys on foot or by bike.

Knowsley Council has joined up with charity Sustrans and the Connect2 project. Sustrans' Connect2 is a national project providing new links for pedestrians and cyclists that will help to overcome the barriers to making safe and easy everyday journeys. Connect2 was awarded £50million from the Big Lottery Fund following a public vote in 2007, and is delivering new schemes in communities right across the UK. Part of this grant will now be making its way to Kirkby.

This project will use a traffic-free greenway through Millbrook Park, providing new access into Millbrook and Kirkby CE Primary Schools and into Kirkby Town Centre with the provision of a toucan crossing at Kirkby Row. The scheme makes use of off-road links along Valley Road to the disused greenway through to Ribblers Lane, and will also use quiet roads. The final section of the scheme provides six toucan crossings at the East Lancashire Road-Moorgate Road junction, forming a key link into Knowsley Business Park.

The Connect2 project, which should be completed in 2011, forms part of wider plans in Kirkby to deliver an improvement network of walking and cycling links, helping people make local journeys without the need for a car.

The project will be led by a steering group, which will include representatives from the local community. Full details of the first meeting will be advertised in due course, but residents can register their interest in coming along by contacting Paul Buntin 0151 443 2230 paul.buntin@knowsley.gov.uk.

Alice Rickwood, Area Manager for Sustrans on Merseyside, added:- "We're delighted to be working with Knowsley Council to help deliver the Connect2 project in Kirkby. Alongside the wider plans for the town, these improvements will make a real difference in enabling local people to make their everyday journeys without needing a car, especially linking major areas of employment to where people live.

We've contacted a number of local community groups to ask them to join the project steering group, and we hope that interested members of the local community will come along and find out more about this scheme and offer some suggestions that could make it even better."

The Sustrans website - www.sustrans.org.uk - has a free online map service to discover how to get around everyday on foot or by bike. Search for local or national routes, plot journeys, or find what the local area has to offer from schools, supermarkets and local landmarks to car clubs, bus stops and bike shops.

More protection needed for SME owners facing malicious workplace disputes
THE Forum of Private Business is calling on the Government to protect small businesses against employees who exploit employment laws to make 'vexatious claims' against them.

Based on its Employment Panel research, in addition to 2008-09 employment tribunal statistics and data from the Civil Mediation Council (CMC), the Forum estimates that there are approximately 1,900,000 workplace disputes in the UK every year. As part of its new Get Britain Trading Campaign, the Forum is calling for more flexibility for smaller employers in order to free them to create jobs and drive economic growth.

Responding to the Government's 'resolving workplace disputes' consultation, the not-for-profit organisation is highlighting the results of its latest Employment Law member panel survey. According to the Forum's research, 92% of members support giving judges greater powers to 'strike out' weak cases, 86% back doubling the deposit and costs limits for vexatious claims and 73% encouraging settlements via greater transparency in revealing compensation sought and details of rejected settlements.

In addition, 62% support increasing employee claims eligibility from one to two years, 51% removing expenses payments to witnesses and 41% increasing opportunities for judges to sit alone and introduce legal officers to make the tribunals process more efficient. Further, 32% of respondents actually welcome a proposal to introduce financial penalties for employers who wilfully do not comply with employment law, suggesting smaller employers are more fair-minded than many critics argue. However, some members surveyed feel that this enforcement would be better managed outside the tribunal system, while others would prefer employment law to be made more manageable before introducing fines.

"There is often a misconception that businesses tend to ride roughshod over the rights of employees but this is far from true for the majority of small businesses that rely on recruiting and retaining key staff in order to grow. Clearly, we need companies that do engage in this sort of behaviour to be dealt with, but there needs to be a better balance so that employment law protects smaller employers as well as workers. We are currently in a situation where employment legislation designed to benefit employees can be a real barrier to creating employment, and favours individual workers at the expense of the rest of the workforce, often even when those claims are vexatious. This has to change. We need a fairer system focusing on mediation and conciliation rather than paving the way for disputes to reach the tribunal stage, allowing firms to flourish, create employment and drive economic growth." said the Forum's Chief Executive Phil Orford.

Overall, the Forum is calling for:-
► Greater powers for judges to strike out weak cases and vexatious claims against business owners.

► The deposit required from employees bringing actions to be increased to £1000 to discourage vexatious claims, and judges to be able to request a deposit before pre-hearing reviews.

► The addition of a category of 'lacking substantial merit' where businesses can look at recovering costs from the claimant.

► The extension of the qualification period for unfair dismissal to 2 years; which will not affect 'day one' rights of discrimination, in order to weed out some serial vexatious claimants.

► The greater use of a clause within unfair dismissal law that allows judges to take account of the size and administrative capabilities of an employer in the way a dismissal has been handled.

► More recognition of informal 'good practice' relationships between business owners and their staff rather than the presumption of managerial deficiency within SMEs.

► Greater awareness of and access to mediation services – the preferred method of dispute resolution.

► Greater balance between management and staff - work plans agreed in mediation, for example, should be legally enforceable on employees as well as employers.

► More use of pre-claim conciliation where mediation fails, providing sufficient resources are available within the Government and ACAS if this is made mandatory.

► ACAS to be able to request a two-week extension to its timescale for resolving disputes (a month has been proposed), if there is a realistic chance of a successful outcome.

► Clearer information for claimants so they are aware of any potential rewards – and costs – they might incur.

► Changes to the ET1 form that would allow employers – especially where they will represent themselves – to more fully understand the claims being made against them.

► If the Government is to allow tribunals to impose additional fines on businesses, the Forum believes a number of safeguards should be put in place:

► Fines should be proportional to the business as well as the award, recognising the disproportional impact of steep fines on small businesses.

► The window during which firms can pay 50% of the cost of the fine should be extended to two calendar months – or introduce a sliding scale shortening the time in which the 50% relief applies as the turnover of a business increases - in order to help them control their cash flow.

► Monthly repayments of fines at the 50% relief rate should be introduced where it has been agreed and commenced within the prompt payment period.

► No additional fine should be levied where businesses have failed on technicalities, as opposed to a wilful refusal to comply.
Mediation v tribunals
The Forum is arguing that the greater use of mediation would benefit employers and the public purse. According to the Chartered Institute of Personnel and Development, dispute resolution costs the economy £24 billion per year – or approximately £12,000 per case.

While 76% of Employment Panel respondents prefer mediation to tribunals, 20% have no preference. One of the major reasons given was that when a workplace dispute has escalated to the tribunal stage the relationship is already broken beyond repair and employers fear they will inevitably lose out. Another was the effect the disproportionate amount of time managing individual employees and mediation or tribunal claims has on the rest of the workforce.

Many small business owners surveyed are concerned that, coupled with the inflexibility of the tribunal system, increasingly complex employment law could make it more difficult to resolve disputes early. Another significant issue is the belief that tribunals are biased against employers because the burden of proof is on them to prove compliance with employment law. In the light of the Chancellor's promise of greater scrutiny of the use of 'no win, no fee' lawyers, some business owners pointed out that using these lawyers encourages employees to take what they believe is 'revenge' on their former employer.

According to respondents, the benefits of mediation as opposed to tribunals include that a third party can help deal effectively with internal communication problems, and generally that it achieves conflict resolution rather than producing a winner and loser, which has been a criticism of the tribunal system.
Internal dispute resolution
However, 67% of small business owners resolve the 'overwhelming majority' of workplace disputes internally. Just 5% said they resolve less than half within the workplace while 3% resolve none internally.

Creating a fairer tribunal system is a key element of the Forum's Get Britain Trading campaign, which is leading the call for simplified, proportional employment law and better, more business-focused training and skills provision.

The campaign is delivered via the organisation's Communications Director Business support solution. In addition, smaller employers can benefit from the Forum's Practical Employer, a complete guide to every aspect of staffing a business, which is part of its HR Director Service.

Email us your views on this to our news room via:- news24@southportreporter.com and let us know what you think about this issue raided by the Forum. Do you agree or disagree?