Meet Bestselling author Kate Long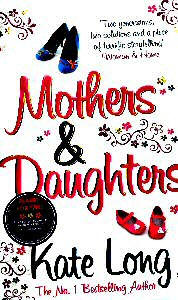 THE author of the bestselling 'The Bad Mother's Handbook' moves to Simon & Schuster for this novel Mothers and Daughters about the effects on infidelity on two generations of women. Carol married young -- to philandering Phil; and became a mother young -- to highly-strung Jaz. Carol put up with Phil's infidelities: suffer in silence and keep the family together was her mantra. Not so Jaz. The moment she discovers her own husband Ian's errant ways -- with a woman he barely knew -- she throws him out of the house, changes the locks and bans him from seeing their toddler son Matty. In so many ways independent and strong, where her daughter is concerned Carol is a coward. When Jaz finds out that her mother has enlisted the support of Ian's father David to try to get her back together with Ian, Jaz is beyond furious and disappears with Matty. With a deft lightness of touch -- and a dash of unexpected romance -- Kate Long takes us into the heart of this mixed-up but utterly recognisable family who fight for what they believe in, even if it puts the closest members on opposing sides.

ESQUIRES COFFEE HOUSE, LORD STREET SOUTHPORT 11.30 TO 12.30 AND PRITCHARDS, BROWS LANE FORMBY 1.30 TO 2.30

If you want a signed copy you can order them via can be placed in store at either venue or by phoning:- 01704 875765 or calling 079146 36545 or via:- pritchards-formby.co.uk or via our Online Shop on Mersey Reporter.
Short Benched Tigers Battle On
MERSEY Tigers coach Tony Garbelotto has praised his paper-thin squad after they reached the BBL play-off semi-finals with
just six senior players at the weekend.

The treble-chasing Tigers, looking to add to their BBL Championship and BBL Trophy successes from earlier in the season, saw off Leicester Riders in an intense double header to set up a last four clash with local rivals Cheshire Jets.

They did so without captain Drew Sullivan, who suffered an ankle injury in the final league game of the season against Sheffield, and Perry Lawson, who has been missing with an injured shoulder.

Garbelotto said:- "Our guys are on their last legs. I don't know what else to say. We've got Jamaal (Williams) who isn't like a Drew Sullivan who can run up and down the court for 40 minutes, but he's played something like 78 minutes over the two games. James Jones and Nate (Reinking) almost went the whole game. I told the guys that their heart and desire is unsurpassed. They showed so much heart - the heart of a champion really."

Garbelotto was also full of praise for the Riders and his opposite number Rob Paternostro after two high-intensity games which the Tigers edged 89 to 86 and 92 to 90.

He added:- "I know Rob really well, he's a passionate guy, and his team was unbelievable. They kept coming back and building momentum. They gave us a cushion and then they still didn't quit. They've had a really strong season, they've been way better than their ranking shows but they've had a lot of problems to deal with. I take my hat off to how Rob prepared his team because they came to win."

The Tigers travel to face Cheshire Jets at Northgate Arena on Saturday (7.30pm tip) before hosting the return leg at the John Amaechi Centre in Manchester on Sunday (6pm).

For more information on the club, visit:- merseytigers.com.

Cinderella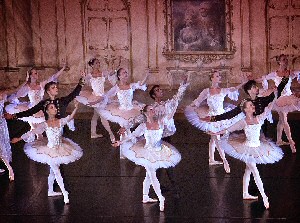 THE spellbinding tale of the girl with the glass slipper dances into St Helens Theatre Royal in just one week! Vienna Festival Ballet is proud to present their new Spring ballet, the classic tale of Cinderella, coming to St Helens Theatre Royal on Saturday, 30 April, 2011. One of the best-known rags-to-riches fairytales of all time, the spellbinding score and dazzling choreography are sure to touch the hearts of the audience. A mistreated young girl, a glass slipper, two comical ugly step-sisters and a handsome prince combine to create the perfect piece of story-telling. With a collection of music taken from the vast array of Italian composer Rossini's most famous operatic achievements, a magical melange of music has been chosen that is sure to astonish and amaze. Audiences will recognise some of Rossini's most famous operas featured within the ballet such as La Cenerentola (Cinderella) and L'italiana in Algeri (The Italian girl in Algiers) together with La Scala de Seta (Silken Ladder); all of which encompass the magical world of Cinderella. Chris Nicholls, renowned conductor and musical director, was appointed to rearrange and rewrite the ballet score. The music was then recorded especially for the company by the leading orchestra in Kosice, Slovakia, where it was conducted by Nicholls himself. One of Vienna Festival Ballet's most expert and idiosyncratic choreographers, Sheila Styles of Sadlers Wells Royal Ballet, has created an exquisite display of elegant movements with inspiration from the classic compositions that is sure to mesmerise the audience and impress even the most discerning of ballet lovers. Let yourself be whisked away by this classic fairytale this Spring at St Helens Theatre Royal.

PERFORMANCE DETAILS:-

Play:- Cinderella
Preformed by:- Vienna Festival Ballet
At:- St Helens Theatre Royal
Date:- Saturday, 30 April 2011
Time:- 7:00pm
Tickets:- £18.50/£16.50/£12.50
How to book:- Book in person at the Theatre Royal Box Office Corporation Street, St. Helens, Merseyside WA10 1LQ (Monday to Saturday from 10am to 5pm).
Website:- sthelenstheatreroyal.com
Wartime memories and 80 years of Arctic photography comes to Woodside
MERSEYTRAVEL will re-live the end of the war years with a 1945 themed weekend on 23 April and 24 April 2011, at Woodside Ferry Terminal, 11am to 4pm each day. Soak up the street party atmosphere with music and dancing from days gone by and re -enactors in period clothing. View visiting military vehicles, vintage stalls and listen to the Wartime stories at U-boat Story. PLUS a fascinating new photographic exhibition entitled 'Accessible Arctic' has been unveiled at Woodside Ferry Terminal. Organised in conjunction with the High Commission of Canada, the exhibition showcases eighty years of Arctic photography from the pages of Canadian Geographic. Curated by the Canadian Museum of Nature and featuring more than 30 photographs, the exhibition brings the beauty of the North closer as it speaks of its past, present and future. The Royal Canadian Geographical Society's magazine, Canadian Geographic, has featured stories on the Arctic since its first volume in 1930. This abiding interest has brought readers fascinating accounts of a region that remains, for most, distant and remote. Open 10am to 4pm daily, the free exhibition located on the first floor of the 'Home' café at Woodside, runs until 15 May 2011. The U-Boat Story, Woodside Ferry Terminal, Birkenhead - open 10.30am to 5.30pm daily (last admission 5pm) Telephone:- 0151 330 1000 or visit:- u-boatstory.co.uk for more information.