Liverpool welcomes return of Cabaret
Report and photographs by L & C Trollope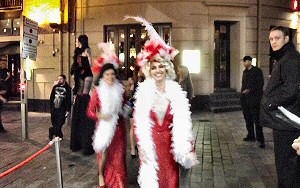 A welcome new entertainment venue has just opened at 3, Temple Court, off Mathew Street, in the Cavern Quarter of Liverpool. 14 April 2011 saw the inception of Mo'Nique's, which promises to be an interesting night spot with a big difference. The expressed aim of Mo'Niques is to reintroduce the lost art of cabaret and burlesque, previously well patronised in Liverpool, and throughout the land, during the height of the music hall era. This is the first such venue outside London. The club itself has been stylishly reappointed, and it offers good entertainment at reasonable prices. (£20 on Saturdays, with table service; and £5-10 on weekdays.) On the opening night, the scene outside was lively with dramatically dressed figures and a fire juggler. Inside, the rooms were thronged by an audience representing a wide spectrum of people of most adult ages, and all seemed to be thoroughly enjoying themselves lapping up a taster of things to come. Whilst awaiting the cabaret showcase, and being plied with a selection of canapés, cakes and sweeties, we were able to relax and appreciate the pleasant ambience of the place, and then the action began upstairs. After a teasing introduction, singer, Alan Cross put us in the mood, followed by the Hot Rockettes Valentino la Coil, whose acts were also well received. Ladyface and Lily Monster were also hugely entertaining. All strutted their stuff very effectively and left many of the audience declaring their intentions of returning for more. Later downstairs the DJ played a lively mix but thankfully not at such a volume that excluded conversation or even thought, a pleasant change. Speaking after the event, Creative Director, Liz Lacey, spoke of their mission to bring back the glamour and style of previous decades, in particular the 1920s and 30s. Some material will be Nostalgia, some Retro. It was definitely not about house music but rather a place where people can enjoy a chat and witness an evening of spectacle; including drag kings and queens, and burlesque; a place where women will feel comfortable and enjoy getting dressed up. The aim is to celebrate, and very much to tease with good, old fashioned sea-side postcard humour. Certainly we experienced a great evening of fun. The humour was risqué with innuendo and double entendre, risqué but not crude; unlikely to shock anyone but the most oversensitive maiden aunt. It certainly seems on track to become a sort after place to go. Good Luck!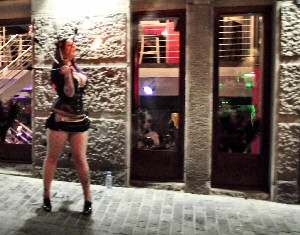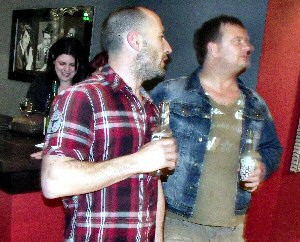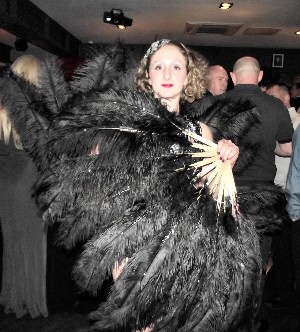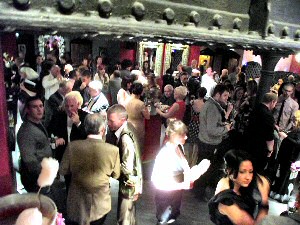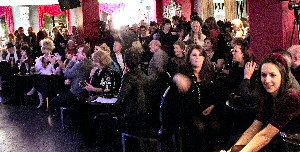 If you like the photos, please order them and do not copy them. Keep this site online.... Click on here to find out how you can get you copy of these photos.